Blindspot has been a generally fantastic show since it premiered 13 months ago, but Blindspot Season 2 Episode 6 is an honest head-scratcher.
"Her Spy's Mind" feels like what the series thinks it needs to do rather than what it actually should do to keep its place as one of TV's best dramas.
I'm a prisoner of the Bulgarian government...I'm a freakin' patsy!

Winter
The main plot concerns Weller and Nas finally locating NSA mole Douglas Winter, who is played by the fantastic P.J. Byrne from Vinyl and Intelligence. Honestly, P.J. Byrne is probably the best thing about this episode. His Winter understandably freaks out non-stop because he wasn't working with Mayfair after all; he was framed by Roman and Shepherd.
The realization that Mayfair doesn't have one last answer to give him sends Weller into a tailspin. At least that's the implied explanation for why he has sex with Nas. Because I think I speak for more than myself when I say where in the heck did this come from?!
Sullivan Stapleton and Archie Panjabi are two good-looking people, but there has been zero romantic chemistry between Weller and Nas ever. Even if there, were both characters are pretty smart; it's ridiculous that they would feel the appropriate time to sleep together is in in the middle of a mission.
And if their hook-up is supposed to be Weller acting impulsively out of emotion, then why, on the drive back, does he leave open the idea that they could do it again? You can't have it both ways, Blindspot. And either way, having them get together adds nothing to the show except a look at Sullivan Stapleton's abs.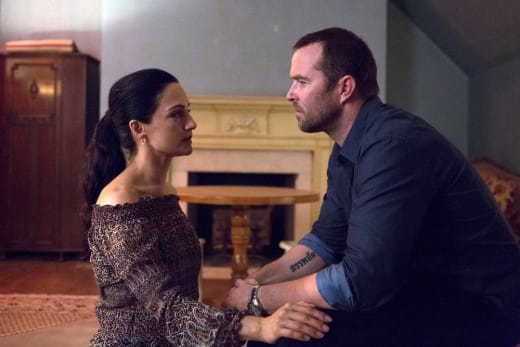 This subplot feels like a repeat of the tactic from the middle of Blindspot Season 1. Remember when Jane went back to Oscar, and Weller hooked up with Allie, and it was clearly just a move to keep Jane and Weller apart?
Now Jane is growing closer to Roman (platonically), and Weller is sleeping with Nas. Although hopefully he changed his mind on that when he found out she bugged Borden's office. And he still has Baby Weller to worry about, speaking of subplots that don't really seem to fit.
But let's move on and talk about the really important story: Reade, Zapata and who murdered Coach Jones?
Reade: We're the FBI. That's got to count for something.
Zapata: I'm your friend. I believe you. Ask yourself if anybody else will.
Reade continues to insist that he didn't kill the coach and so far there's nothing to say he didn't. It would not be surprising at all if it was his friend Freddy. The guy was equally upset about charges not being filed, and Blindspot can't have introduced Freddy for no reason.
Besides, if Reade really had killed Jones, then we'd have to wonder about how long Rob Brown would last on this show, and getting rid of him would be a huge mistake. When he gets something to do – like this episode – he's excellent.
So is Audrey Esparza, as Zapata once again proves she'll do anything for whatever her current goal is. Stealing potential evidence from a crime scene, lying to and intimidating a witness – she is adding to what's become a laundry list of sins.
All of this coloring outside the lines has to come back on her eventually. Maybe the next time the Assistant U.S. Attorney shows up he'll be looking for her. But at least we get more screen time for Esparza and Brown, even if their characters are reaching points of no return.
Cool is definitely not your default setting.

Patterson
Back at the office Dr. Borden is fans' leading candidate to be the mole, and after this episode either he is or Blindspot is going out of its way to make him the world's most red herring ever.
Having Borden just happen to show up in the lab as Patterson is analyzing Winter's recording? Having Patterson tell him that she's working on something classified? It's very obvious, and unfortunate for Patterson if she loses a second boyfriend in two seasons. The poor girl will never date again.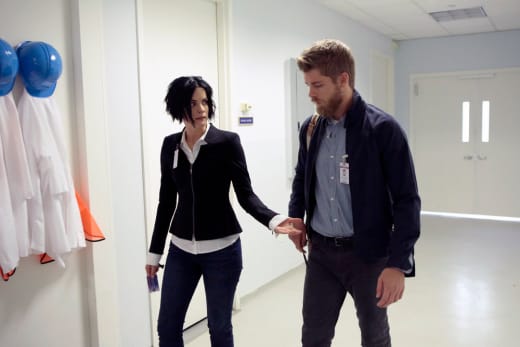 If there's any strong part of "Her Spy's Mind" it's the performances of Luke Mitchell and Jaimie Alexander. Roman is so very much a sociopath and good on Jane for calling him out on it, but at least we have some sympathy for him. We need to have sympathy for him.
It makes the entirety of Sandstorm more interesting if Jane has conflict and by extension the audience has conflict. If he's constantly just "must complete mission" like Shepherd, then we just see them as bad guys and it's just "Sandstorm bad, FBI good."
Mitchell is really the one selling Blindspot's idea that Sandstorm has good qualities. And the scenes between him and Alexander as they discuss how he turned out and their childhood are actually quite touching. You understand why Jane would choose Roman over the microchip.
He followed you once. He can follow you again - before it's too late.

Nas
But that and the Reade subplot are the only two things that you can understand about "Her Spy's Mind." It's an episode that might seem like a good idea on its own, yet when you look at the big picture of Blindspot Season 2 – or the show overall – it just doesn't make sense.
Whether you're a Jeller fan or not it's odd that the show thinks that if Jane is not around, Weller needs to have another woman in his part of the story to fill the void. First it was Allie, now it's Nas. Can this guy not just exist on his own for awhile?
Is anything Zapata does ever going to catch up with her? And why is the show trying so hard to make us suspect Borden? Ukweli Roach might not get a lot of screen time either, but the poor guy may as well just have a flashing sign over his head.
Blindspot is and has been a phenomenal show. It's incredibly well-acted and generally well-written, and one bad episode does not kill all of that.
But "Her Spy's Mind" should make everyone take a second to just think about where the show is going. It feels like it's going for what it thinks a bigger audience wants rather than what it does best. And the irony is that this may not even be what Blindspot fans want. At least it doesn't feel like it is.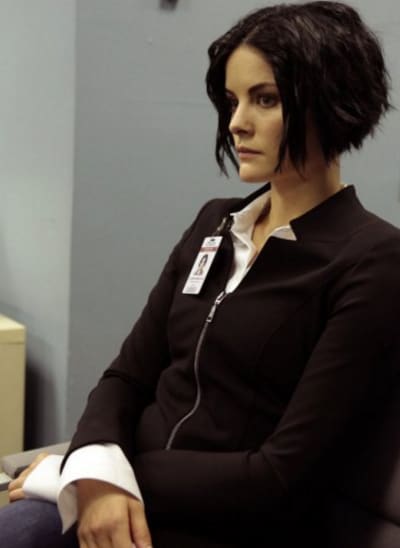 If you want to re-watch "Her Spy's Mind" or catch up on any of Season 2 so far you can watch Blindspot online. The show is pre-empted next week, but returns in two weeks with Blindspot Season 2 Episode 7, "Resolves Eleven Myths," which also brings back a Season 1 character. That will air on Wednesday, Nov. 2 at 8/7c on NBC.
What did you think of "Her Spy's Mind"? Are you happy with the current direction of Season 2 or is there something that's missing for you? Let us know your thoughts about this episode in the comments.
Brittany Frederick is a staff writer for TV Fanatic. Follow her on Twitter.