Dr. Jason Bull revisited the town where he didn't win on Bull Season 1 Episode 4 and he had something to prove. But the best thing about "Callisto" was that the sense of competition was fun. 
For the first time, we got to see Jason Bull as the fish out of water, even if he did see it coming. Taking him and his team out of their element was entertaining in ways we hadn't experienced previously during Bull Season 1.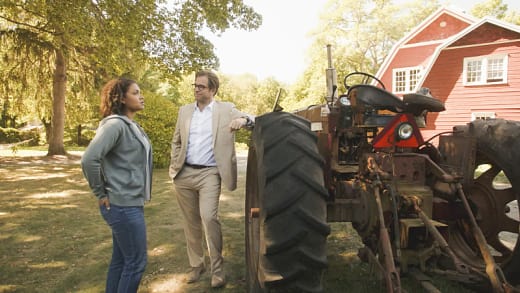 Still, it would have been interesting to find out more about Bull's deep, personal, downward spiral…
A lot of good can come from a deep, personal, downward spiral. From the bottom of a hole it's easy to see the light.

Bull
Yes, we know that Bull "didn't win," (he adamantly refuses to say he lost), and that he had a weekend fling with opposing attorney Diana Lindsay, which he seemed more than happy to repeat, even if it does end with him waking up hungover in a field with a no pants and a cow watching him. 
Diana was a wonderful opponent; incredibly likable yet strong and intelligent enough to go toe to toe with Jason Bull and have us believe that she could, in fact, beat him.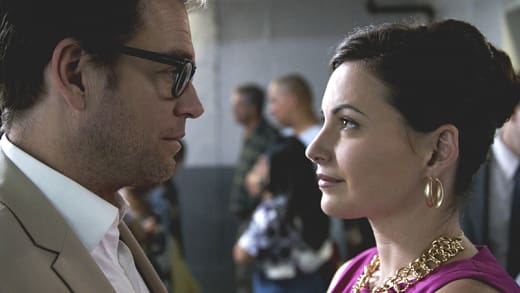 As much as I enjoyed it all, I still felt as though I wanted more details about the downward spiral that led to him dating his future ex-wife. Speaking of which, I'm hoping we get to meet her soon. 
Then there was the town of Callisto, which brought it's own amusement…
Callisto isn't a who. Callisto is a where, geographically situated in west Texas, population 25,000, but in the legal world it's located somewhere between the sixth and seventh circles of Hell.


Bull
Despite his disdain for the place that this Bull quote suggests, the doctor certainly seemed to feel oddly comfortable in the town; he even had friends such as Merrell. Also the adversarial nature of the town kept things lively, even though the case was based on "boring" science. 
The judge and jury hit just the right balance of folksy without going over the top and making it too corny. 
My only complaint was how Kerry and Windermere spoke about how she came up with the drug while the jury overheard through the vents. That just seemed far too easy a way to wrap things up. 
On the flip side, I didn't expect Windermere to do the right thing and drop the case…which of course led to Jason Bull winning with an asterisk. 
The cast of this show continues to gel as a team with each new episode, and Michael Weatherly couldn't be more charming. I'm curious to learn more about all of the characters, and since CBS just picked the show up for the full season, we'll hopefully get to know a lot more about Dr. Jason Bull and his team.
Now it's your turn TV Fanatics. Tell me, is Bull growing on you, too?
Check back next week for my review of Bull Season 1 Episode 5 and if you need to catch up, you can watch Bull online here at TV Fanatic.
C. Orlando is a TV Fanatic Staff Writer. Follow her on Twitter.