Chicago Fire Season 5 Episode 1 Review: Adopted Family Or Firehouse Family?

Brittany Frederick at . Updated at .
Following the cliffhanger that concluded last season, Chicago Fire Season 5 Episode 1 picked up exactly where we left off.
But you'd be forgiven if you were expecting a bigger bang from "The Hose or the Animal" because rather than finish the past plot threads it really just prolongs them.
Severide (Taylor Kinney) and Stella (Miranda Rae Mayo) are an official couple now and the episode gives us the obligatory cute morning after moment between the two of them.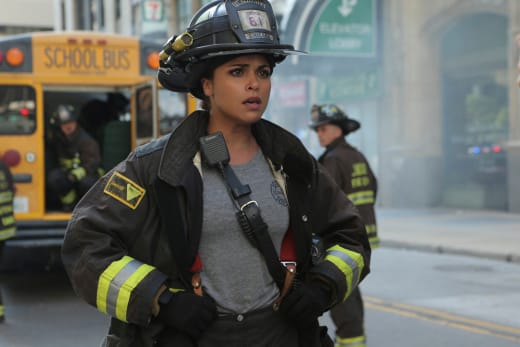 However, by the end of the episode this pairing seems to be going the way of Severide's many past relationships.
He catches himself looking at bikini-clad women when responding to a call at a pool party, then when Stella offers to let him move in with her - admittedly a very premature move, even if he's looking for a place to crash - he admits that he's not great with monogamy.
This lessens the impact when Severide comes to Stella's rescue from the psychotic Grant at the end of the episode. It takes the full 42 minutes for the Grant situation to really go anywhere, and it involves Severide fighting with him after he sees Grant threatening Stella with a knife.
It'd have more emotional weight if this was Severide coming to the defense of the woman he really wanted to try and make something with, but when we're getting hints already that they might not be long for this show it's just another fight scene, albeit an entertaining one.
The real story becomes not about Severide and Stella, but if Severide will be in trouble for nearly getting Grant killed.
Over on the more committed relationship side of the firehouse, Dawson (Monica Raymund) is once again the center of the primary plotline.
This time it's Dawson unable to reconcile the dangerous nature of firefighting with her responsibilities as a mother to Louie and deciding to return to being a paramedic.
This serves to point out just how difficult Dawson being a mother is not just on her but on Chicago Fire as a show.
Dawson has to get a caretaker for the kid, and how many scenes of her and Casey (Jesse Spencer) at home with Louie can the series fit in without taking away from the action that it's really supposed to be about? It'll be interesting to see how Chicago Fire navigates Dawson's parenthood throughout the season.
"The Hose or the Animal" did definitively do away with the show's attempt to split up its key couple, though, as Casey's would-be love interest Susan Weller (Lauren Stamile) officially exits in this episode.
Now I think it's best if I just concentrate on being a firefighter.

Casey
The most dynamic part of the premiere is the ongoing tension between Chief Boden and Jimmy Borelli. Borelli having an axe to grind with his boss over the death of his brother is perfectly understandable; oftentimes after losing someone, people look for someone to blame, and Steven R. McQueen dredges up every ounce of misplaced rage while Eamonn Walker doesn't let his character give an inch.
Both of them come out of this looking ridiculous. Borelli's actions may be understandable but that doesn't make them right, and how is it going to be when he returns to Truck 81 with everyone knowing that he's put a target on Boden's back? And for Boden, having the brass tell him that Borelli is going to get his way in the end has to chafe.
That situation has to be far from done.
That's where Chicago Fire really shines: when it's about these firefighters and paramedics out there saving lives, and the things that they go through physically and emotionally to be able to do that every day.
Dawson's situation is something she should've known and prepared for when she decided to adopt, but Borelli's is something more unpredictable, raw and just more fun to watch.
Walk out that door, Borelli, or I swear to God I will put you through it.

Boden
"The Hose or the Animal" also makes a botched attempt at humor by revealing that Mouch (Christian Stolte) is writing fiction that is obviously based on the crew at the firehouse, while everyone else tries to figure out who's behind the stories and Brett (Kara Killmer) offers up her services as a co-author.
If anyone can sell this as a subplot it's Christian Stolte, who's a well-established expert at bringing the levity into even some of the toughest episodes of Chicago Fire. But the general idea is just not that funny, unless you're a fan of short-lived 1980's TV shows and appreciated the "Manimal" reference.
Overall, this episode could've benefited by tying up the Grant story rather than prolonging it into more episodes, or at least making him a more threatening presence than just lurking in the bushes for a scene (even Homer Simpson has done that!) And the incident calls themselves were not that compelling.
But with the Borelli-Boden situation so messy and public, and Dawson now back as a full-time paramedic, maybe the big changes are just a week away.
You want to know what I think when the bells go off? That there's a family out there and they're just like mine and they're counting on me to help them.

Hermann
If you want to re-watch Chicago Fire Season 5 Episode 1 or get caught up with past seasons, you can watch Chicago Fire online. Next week's episode is called "A Real Wake-Up Call" and we wonder who's getting it, because a couple of characters certainly could use one.
That installment airs next Wednesday at 10/9c on NBC.
What did you think of "The Hose or the Animal"? Do you think Grant will live or die, and how badly will Severide be in trouble for his injuries?
Will Severide and Stella's relationship last through Season 5? How will motherhood really affect Dawson long-term?
And how awesome is Hermann, still? Leave your predictions from the season premiere in the comments, and join us right back here for next week's episode.
Brittany Frederick is a staff writer for TV Fanatic. Follow her on Twitter.