The theme of Chicago Fire has always been family. Chicago Fire Season 5 Episode 7 hit that nail on the head. Repeatedly. Until it beat the nail into submission.
"Lift Each Other" centers around the Dawson siblings as their parents are in town for a whopping anniversary party. But as it turns out it's more of a divorce party, as Papa Dawson announces that the couple are getting a divorce. And judging from Mama Dawson's reaction it's obvious that has to do with him not being able to keep it in his pants.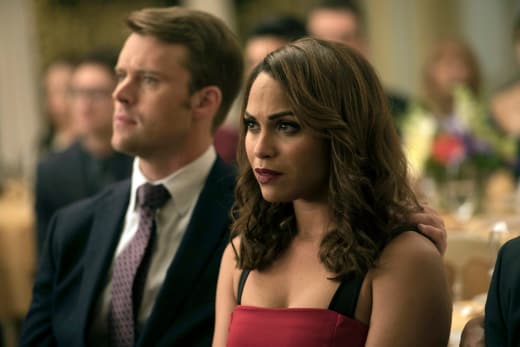 Antonio reacts the way that many of us would, which is to jump up and go straight for his father, to the point where Casey and a few other guys have to hold him back. Admit it: you were kind of hoping that he'd deck him. Or at least that Joey Greco would show up with some videotape.
Gabby has the more emotional reaction, wondering why she didn't recognize the signs and what she's supposed to do. You can't blame her at all: last week she hit a guy and thought she was being sued for a million bucks and now this. We would all need a good cry after that.
I love you. Whatever you need from me, I'm here.

Casey
In that sense "Lift Each Other" reminds me of a Sports Night episode called "The Sword of Orion." If you haven't seen it, the gist is that Jeremy Goodwin (played by Scandal's Joshua Malina) discovers that his father has been having an affair for a very long time, and has no idea how he's supposed to process that information.
It's the same plot here and Chicago Fire uses Gabby and Antonio to show us two completely different yet equally understandable takes on the issue. Chances are most people would fall somewhere between the two but we get to see both sides of the emotional fallout explored.
I love you. Whatever you need from me, I'm here.

Casey
Of course Chicago stops for no divorce party and so there are plenty of calls for the firehouse to respond to in this episode. The most notable is two boys who injure themselves playing around in a warehouse, one of which goes into a coma and dies. What is it with this show and comas? That's two in two weeks!
Anyway, the death is particularly hard on Casey and he decides not to tell Gabby about it because he doesn't want to ruin what was supposed to be a big day for her and her family. Casey and Dawson might have an up and down relationship sometimes but it's moments like these that remind you why they click together in the first place.
Severide is there to pick up Casey, which is nice to see especially after they spent much of the last two episodes at loggerheads.
I was there. You were unstoppable. You didn't quit until that kid was breathing. Anything that happened after that has nothing to do with our rescue.

Severide
The second major plotline in "Lift Each Other" concerns the Boden family, specifically his stepson James. You knew when James turned up at the end of Season 5 Episode 5 it wasn't just because he wanted to reconnect with Boden and now we know the full reason for his return.
James is being physically abused by his mother's new boyfriend and while it takes awhile for the pieces to come together, when they do Boden delivers a world-class smackdown that more than makes up for Antonio not getting a punch in.
An angry Eamonn Walker is not something you ever want to see heading in your direction. But it is something you can stand up and cheer for; speaking of trends, Walker has gotten some of his best material ever in these last few episodes of Fire.
These are kids. They don't think beyond what they're doing in the present moment.

Casey
What's interesting about this subplot is how it's handled after the fact. It's refreshing to see that the CFD brass are sympathetic to Boden instead of being the clueless wonders from above, and likewise that Boden's ex-wife not only immediately leaves her boyfriend but also comes to apologize to James.
It would've been really easy for neither of those two things to happen - for the white shirts to once again be shortsighted pains in the behind (like, you know, last week) or for Boden's ex to go into some kind of denial. But everyone involved recognized the wrong and did the right thing, at least as best they could.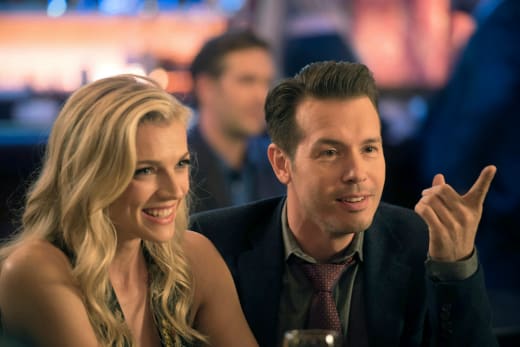 "Lift Each Other" also has to have some comic relief to go with all that family drama, and here's where the episode falls short. The first bit concerns Brett mortified about making her first public appearance as Antonio's girlfriend. Totally understandable, but did this episode jump ahead in time, because these two are all over each other.
The opening scene - in which Brett and Antonio are out on a double date with Casey and Dawson - features so much cuteness between the former that it sent me into sugar shock. For a couple that only got together last episode that's pretty fast unless there's been a move ahead.
Kara Killmer's reaction shot, though, where Brett downs the rest of her drink watching Antonio fly off the handle, is pretty priceless.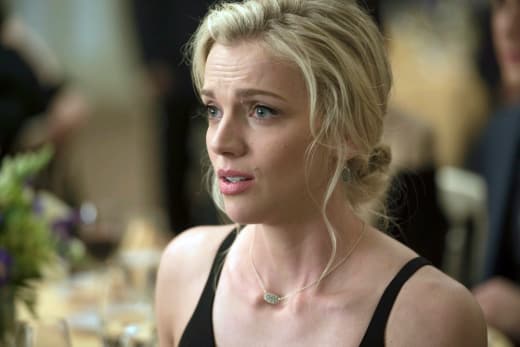 The other comedic subplot involves Otis and Stella competing against each other in the "Mud Hundred" race. Fine, but again it seems like it comes together pretty fast. The two have one disagreement in the kitchen and suddenly they're challenging each other? I know it's rude to insult someone's cooking, but that seems a bit harsh.
The only saving grace of that subplot is that it ends with Molly's getting a ton of new visitors, although Hermann subsequently has to spend a long time cleaning all the mud out of the bar.
I'm the brains of the operation and you are the brawn. Make Molly's proud.

Herrmann
"Lift Each Other" is a story about two families, one that is broken up and the other sort of finding its way back together, and in that sense it succeeds. We feel for everyone involved and in the case of Boden's storyline we have hope that maybe things will turn out better for James in the future.
The funny parts of the episode really aren't as funny as they think they are, but that's okay. Especially coming off an episode as strong as Chicago Fire Season 5 Episode 6 you expect there to be some dropoff. And with the 100th episode of Chicago Fire just around the corner things should pick right back up.
You did all you could. And you gave the family a chance to say goodbye.

Maggie
If you want to re-watch this episode or catch up on any of Season 5 so far you can watch Chicago Fire online. It goes without saying that you shouldn't miss the 100th episode, appropriately called "One Hundred," next Tuesday at 10/9c on NBC. (Although for those of you who saw the teaser after this episode, why does it feel like it gave a huge plot twist away? Darn you, teasers!)
Until then let the speculation begin! Tell us what you thought of this week's episode and what you think will happen in next week's 100th episode in the comments. Can you believe it's been 100 episodes already? Sound off below and come back next week as we celebrate the milestone.
Brittany Frederick is a staff writer for TV Fanatic. Follow her on Twitter.