Empire Season 3 Episode 7 Review: What We May Be

Lee Jutton at . Updated at .
There was no new episode of Empire just before Thanksgiving, but needless to say, the show keeps giving me a lot for which to be thankful.
Cookie's colorful, curve-hugging wardrobe, Hakeem's absurdly immature life choices, Lucious' almost comical ruthlessness, Angelo's existence: for these and so many more things, I am thankful.
Yes, Empire continues to deliver drama as delicious and decadent as your grandma's pecan pie, and Empire Season 3 Episode 7 was a prime example of it at it's best. Why was it so good? Even more than Empire normally does, "What We May Be" focused on family.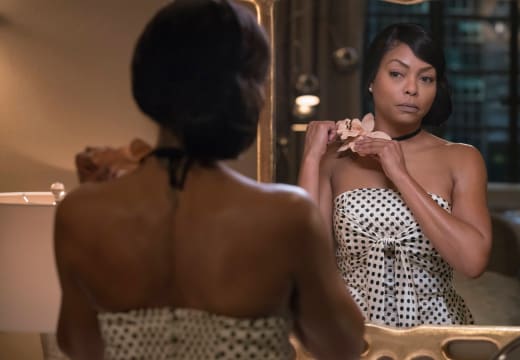 The effect one's family has on one's identity – for better or for worse – loomed large, from Cookie being forced to face her painful memories of her father, to Shyne insisting that Nessa is far more at home in their old neighborhood than with Andre, to Freda Gatz putting her beef with the Lyon family behind her to make music in memory of her father.
Much of the dialogue in "What We May Be" was downright hilarious; I don't think I've laughed out loud at any sitcom this season as much as I laughed when Lucious showed up at Cookie's big dinner and started gleefully detailing the various scandals and tangled relationships of the people in the room.
But in between the moments of humor, there were also glimpses of sadness.
That's why all roads lead to Lucious. For Carol, for Candace, for all of us.


Cookie [to Jamal]
We already knew that Cookie was originally from the right side of the tracks. We also knew her father had big plans for her; he wanted her to marry a nice boy, go to college and make something of herself. Instead, she succumbed to the lure of young Lucious. 
In this episode, we saw what happened after Cookie chose Lucious. Her father kicked her out of the house, and three days later, he died of a heart attack with Cookie's sister Candace blaming the stress and disappointment of Cookie dating Lucious for his death.
(Speaking of which: You can't talk about this episode without giving a shout-out to Candace and Carol, who may be polar opposites in character but are equally entertaining every time they show up. I would watch a spin-off starring these two sisters.)
You can talk to me. If you love me, you ain't got to lie to me.

Jamal [to Cookie]
The entire series of flashbacks was just devastating, with the frantic reactions of Ajiona Alexis as young Cookie, torn apart by her father's total disappointment in her, juxtaposed with Taraji P. Henson as adult Cookie, struggling to contain the emotions brought up by these memories. Both actresses (who do look remarkably alike) gave great performances.
We love Cookie because she is a tough...well, cookie. We love her because she doesn't take crap from anyone and stands up for herself and her family in the face of all kinds of adversity.
But, it is nice to get a glimpse of her vulnerable side. It makes her feel less like a caricature of a "strong woman" and more like a flesh and blood human being. 
Okay, teach me how to be a society bitch, Candace.

Cookie [to Candace]
Another way that Cookie is relatable? Despite being a high-powered executive, she still feels obligated to impress her boyfriend's mother. In this case, she went so far as to redecorate her entire apartment in order to make a good first impression on Angelo's high-society mother, Diana.
Casting the positively regal Phylicia Rashad as Diana was a masterstroke. After all, who better to play a mother who can rival Cookie for fierceness than Clair Huxtable herself? 
What should I say to that bougie bitch? Oh, I shouldn't call her a bitch, that's his mama.

Cookie
Watching these two queens go head to head was a delight. When Diana walked into the apartment and immediately guessed that Cookie had redecorated for her, I cringed on Cookie's behalf. When Jamal floated in on a high and started fawning over Diana and kissing her hand, I cringed even more.
By the time Hakeem stormed in with a pacifier in his mouth and a crying baby in his arms, I knew we were in for an unforgettable time.
Am I to understand that I'm going to be stood up by this woman who everyone saw sagging in her pathetic little naked photo?

Diana [to Angelo]
All of the Lyons were at their outrageous best during the dinner scene; their natural chemistry made the dialogue absolutely zing. And what better way to end it than with a beautiful Jamal Lyon ballad about his mother and the adversity she faced for picking his father? No wonder Lucious ducked out feeling all guilty. 
I see you've met the gay one, and you've met the irresponsible one. Where's Andre? Where's the crazy one?

Lucious [to Diana]
I hope this means Jamal will find the strength to start performing in public again soon. Not because it's good for business, but because expressing himself through music is clearly good for him. It's much better than numbing himself with drugs, even if he continues to do that thanks to the enabling of D-Major.
Speaking of which: I am looking forward to seeing where this love triangle that Jamal seems to have fallen into ends up going. Obviously, Philip is a much better choice than D-Major, but I can also understand the bad boy appeal of the talented producer.
Cookie: I don't ask for much.
Hakeem: Yes you do. Have you met you?
Either way, I just want Jamal to get clean and happy. Even with Cookie's human side on display, Jamal remains the most outright likeable and sympathetic character on the show. 
So, what did you think of "What We May Be?" Were you surprised when Andre showed up at the memorial instead of at the family dinner? Are Lucious and Anika getting back together for real instead of just in name?
Remember, you can watch Empire online via TV Fanatic. 
Lee Jutton was a staff writer for TV Fanatic. She went into retirement in July of 2017. Follow her on Twitter.