"Yet again, I give you my personal maxim: Everybody should be in therapy, always.
Okay, the always may be taking it a tad far, but seriously, if Will didn't prove my point on Madam Secretary Season 3 Episode 7, I don't know what would. His guilt was understandable. But carrying it around for at least 20 years? Yikes. 
Of course, he wasn't the only one that could have benefited from some time on the proverbial couch. Nadine's anxiety over meeting with Arabelle was interfering with her life in a way that was not healthy. At least Elizabeth was able to keep things together during the crisis du jour.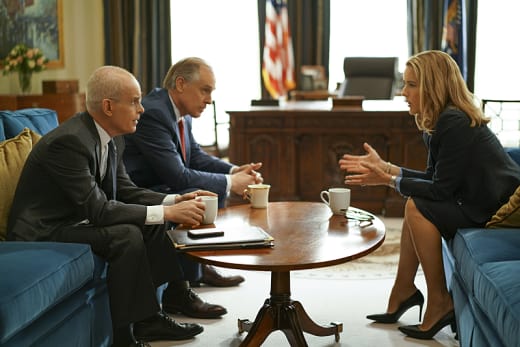 The flashback and Will's subsequent revelation about keeping a secret from his big sister certainly did a lot to explain both his relationship with Elizabeth and his relationship with, well, everybody. Not that it took a genius to figure out that he had a hero complex and abandonment issues.
The hard thing for me to grasp was that he couldn't relate his experience as a parent to his mother and recognize that the only thing she (or any parent) would be thinking in that situation would be "Thank god my baby is safe." Isn't psych a required class in med school?
All harping aside, Eric Stoltz (as always) did a wonderful job. I just hope that Will's new job at Walter Reed in Bethesda means that Will, Annie, and Sophie will be stopping by more often. Tara Summers may be working on Mercy Street, but the Virginia filming locations are just a short Acela train ride away.
Henry: Jason's upstairs, claiming to be doing his homework. *sigh* He's probably gambling online.
Elizabeth: As long as he wins.
Nadine's melt down was less obvious than Will's, but she could probably still use a session with her therapist. She did manage to muddle her way through in the end though. I think she made the right call in not telling Arabelle about the affair. Honestly, I'd forgotten that it'd even happened. 
There's a difference between apologizing and seeking forgiveness after all. One is for you and one is for the person you've offended. Nadine offered Arabelle the best advice she could without burdening her further. It was the gracious move. But she's still going to have some unresolved guilt that she'll need to get out.
I did find this little B-plot interesting, not for its content, but because...well, why bring it up at this point? Call backs are nice, but Nadine has moved on from her guilt about the affair, the shame that she didn't know that her lover was plotting against the president, and her grief over his death. There was nothing wrong with it, it was just so out of left field.
Nadine: All we know so far is President Suarez was addressing the National Assembly when the earthquake hit. We have no idea why he called a session on a Sunday.
Matt: Other than he thinks he's God?
Having a natural disaster cause a constitutional crisis was certainly a tricky curveball to throw at Elizabeth. I would have felt more concerned about the future of fictional Venezuela if the presidential wannabe had seemed a little more hard care and less like an entitled rich kid who just really wanted attention, but I guess we can't have it all.
I love the solution they came up with though. The creative problem solving was excellent, but for me, having three political opponents work together for a common goal was the stuff of fantasies. As great as it was, I was waiting for Russell to beg for permission to release what happened to the press. Imagine the positive campaign coverage! 
Elizabeth: As Russell said, when there's no rule book, you don't have to worry about breaking the rules.
Russell: *scoffs* Sometimes I just say stuff.
Thank god that the election story line will be winding up on Madam Secretary Season 3 Episode 8 ("Breakout Capacity"). I am usually all about elections and the nitty gritty of politics, but 2016 broke all of us, no? Also, it hasn't actually been enough of a focus to be interesting. Just frustrating. Thank god it will be done.
Of course, little anarchist wannabe Jason is going to embarrass his parents, and Elizabeth will have an unrelated international crisis to solve (the Iran peace deal is in jeopardy). But most importantly, Daisy's gonna get a little airtime, albeit related to her love life and not her professional accomplishments, but still! Daisy!
If you missed out on the excellent Eric Stoltz, or just want to see him come to terms with something a little therapy could have easily handled over and over again, you can always watch Madam Secretary online. You might also want to go catch up on some of season one so that you recognize Daisy's ex when he makes an appearance on "Breakout Capacity."
Let us know what you thought of "Tectonic Shift" down in the comments section. We love to hear your thoughts!
Elizabeth Harlow was a staff writer for TV Fanatic. She left the organization in October 2018.