The Exorcist Season 1 Episode 8 Review: The Griefbearers

Carissa Pavlica at .
Turns out, it ain't over even after the fat lady sings.
Was that the lesson we were to learn after The Exorcist Season 1 Episode 8? It was a bizarre, rather scattered hour with a lot of disjointed pieces that didn't feel like they worked as a whole, but the surprises did fine on their own to propel the story forward.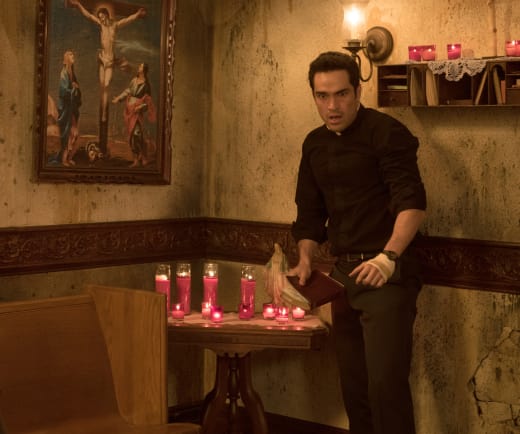 Was anybody else surprised with how easy it was to free Casey once Angela got involved?
Of course, once we learned Angela was Regan MacNeil and Captain Howdy and the Salesman (who was THE demon and not an actual saleman doing a pitch for a bigger demon who was on the way), it made sense that he was was using Casey to get at Regan. 
And after the conversations between Angela and Chris, and Angela's bizarre cleansing ritual of the family photos in her drinking glass, it was also obvious Angela would do pretty much anything to free her daughter from the torment she was suffering.
Was it necessary for Captain Howdy to seduce Angela, showing her the first time Regan was inhabited by the demon and how she felt overcome in a physical way that, at least according to him, ruined her for all men?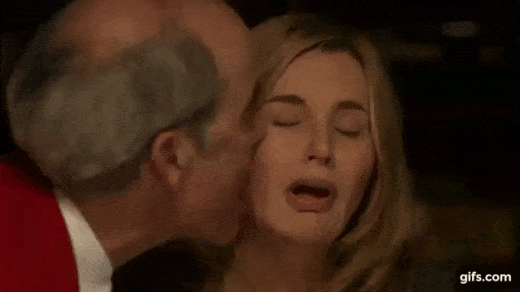 No, not really. She would have been on board without the dramatics. But while she was reliving that, Marcus and Father Tomas were getting ready to whip out a simple Act of Contrition, which ultimately freed Casey. 
My first thought was to whip out an email to my college guy, for whom I learned the Act of Contrition because he couldn't believe I was a Catholic and never learned it. If that's all I need to shuffle out a demon, a thank you seems in order. If anyone is reading, "David" thanks.
But I'm not so sure my mom would take into herself a demon to save me. She'd probably assume I have better faculties to handle that, you know? I sure didn't see that coming. But, that fat lady singing was really odd.
A priest and an exorcist walk into a bar and there's an amazing guitarist and singer on stage and you wouldn't believe what she looks like, but it's just to prove a story point. That's the joke, I think.
Wasn't Jessica's "husband" one of the group who hangs with the friars or whatever the devil worshippers call themselves? I'm still not clear why that group needs or wants Tomas to be a part of their crew. He's such a lost little soul that it seems he'd hardly be worth the massive effort taken to recruit him.
Did ANYBODY think it was a good idea for Bennett to go talk to the French dude? As soon as that happened, it was apparent he was part of it. 
And how rude was he anyway? He spoke English, but made us read the TV instead of just speaking English? Rude. That should have been the giveaway right there. 
At this point, all I can gather is that the entirety of the Catholic church hates the Pope and wants him gone and this kindly group of devil worshippers stepped in to help them out. How has a group of devil worshippers with access to the Pope managed to infiltrate the Church from so many different locations?
It has to go up pretty darn high. I see no way someone other than a devil worshipper approved the artwork for the Pope's visit. That poster is blasphemy, pure and simple.
And if one person at the Pope's side approved it and nobody stepped in to stop it from happening, then how many others must there be? It's also very unlikely the Pope is going to one place during his foray out into the world. Do other national cities have that art and similar groups assembling demon gangs?
Now we have Marcus and a heavily damaged Tomas to fight against them. At least Mother Bernadette witnessed something good at the end of Casey's exorcism, so maybe she'd be willing to lend out her sisters again if she got wind of what's going down with the Pope.
What I'm not looking forward to is what's next for the Rance family. 
Is Regan back? Is Angela more powerful than Regan?
Will they move and start all over with a demon mom in Florida? Talk about being on the run. A movie star just died in their house. 
Can you imagine Angela reigning over the friars? Oh my. 
The real kicker is we only have two episodes remaining. This story isn't wrapping up in two episodes Sure, Angela/Regan could kill herself and put an end to one demon, but we're not coming to the end of the Pope's visit or Marcus' story by that time. 
What's your hope for what's ahead? Hit me with your hopes and what you thought of this rather disjointed hour. You have plenty of time now to watch The Exorcist online if you want to try to find even more clues to all of this!
Carissa Pavlica is the managing editor and a staff writer and critic for TV Fanatic. She's a member of the Critic's Choice Association, enjoys mentoring writers, cats, and passionately discussing the nuances of television and film. Follow her on Twitter and email her here at TV Fanatic.