This Is Us Season 1 Episode 7 Review: The Best Washing Machine in the Whole World

Carissa Pavlica at .
Who knew that the first time we got a good chunk of time with Randall and Kevin we'd also get to deal with their 36 years worth of baggage?
That was definitely the highlight of This Is Us Season 1 Episode 7, as I've been waiting for the two of them to share scenes together. I wasn't disappointed. But now that they've started, I want more.
The other stories didn't quite add up as much as I would have liked, but I'm kind of excited about that. It's the first time This Is Us didn't score practically perfect, and considering this is about family, that's bound to happen now and again, right?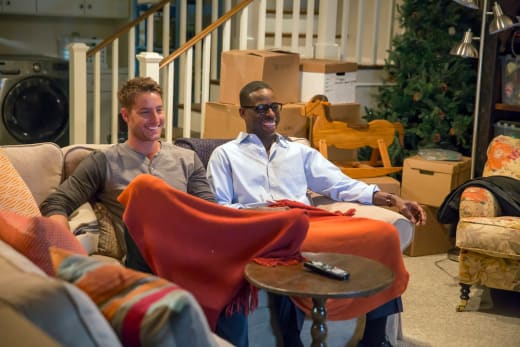 I enjoyed seeing the family move into the 90s.
Jack and Rebecca were still going strong, which meant he's still alive. Thank God! Any new timeline closer to present that is introduced he has to be the first character walking through the scene to ensure he's still with us.
Rebecca was still singing and Jack was still doing well with his job, but he wasn't happy. Work wasn't his happy place, and he was missing time with his kids. It was obvious Rebecca was the more visible parent and not because Jack didn't want to give 112%.
He was working to provide for his family so they could get that amazing washing machine, even if the real memories came from the ones that required a little more work to get the job done.
Kate was looking fine in high school. She wasn't rail skinny, but not even as heavy as she was as a young girl. While weight has always been with her, she was doing something to keep herself in check at that time. Perhaps she was moderately happy and wasn't thinking about it at all times.
Randall and Kevin, though, were at each other's throats. Their relationship was playing out in the past and the present simultaneously. As adults, they were just as competitive as ever and even a morning jog became a race to see who's best. 
Beth laughed at her husband when he mentioned the possibility of spending time alone with Kevin. But the reality was even worse than she anticipated.
It was painful watching Randall talk to Rebecca about cancelling their dinner plans, holding back the phone from Kevin who was begging like he was still eight years old to just say something to his mom, anything, please, put on the speaker!
It was only later, when Randall admitted his part in the brother saga that the scene really fell into place, that all of their past scenes fell into place. But first things first.
It was shocking their disdain for each other went so deep that Randall didn't even watch The Manny, especially because the girls watched it. But when Kevin said, "Replaced by another black man," after seeing the new billboard, that really started things in motion.
Randall: What are you harboring? Because God knows I would really love to hear this.
Kevin: You always got special treatment.
Randall: Because I'm black?
Kevin: No, because you're black and you're adopted.
Randall: Oh, yeah. Hit the jackpot with that combination. Couldn't have had it any easier.
Kevin: In our house you did. With our mother, you did.
It sucks for a kid to feel that way, but it made complete sense. And it was heartbreaking. Utterly and completely heartbreaking, especially since we have known all along how desperately lonely and starved for attention both boys were, but they were craving it from different sources.
Kevin: What does that mean?
Randall: It means you treated me like a dog. And just like a dog, I kept coming back again and again, just hoping for a scrap from you. Like a crumb of affection or kindness. Or respect.
Kevin: Respect? Oh, you wanted my respect?!
Randall: Yeah.
Kevin: Oh, OK. No, you wanted to show me up, Randall. Which is what you did every single chance you got! You showed me up!
When they took to the street brawling, right in front of The Manny billboard, that was too much. When someone asked Kevin if he was The Manny, I almost expected him to point at Randall and say HE was the new Manny! That would have been hilarious. Instead, Seth Myers was walking by. Because of course he was.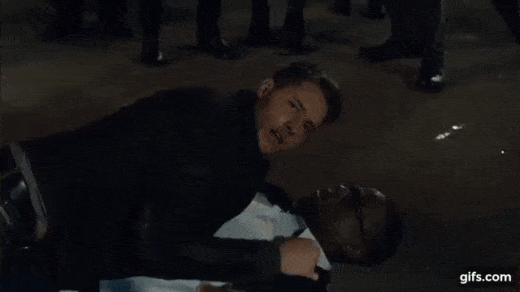 Seth Myers: Kevin. Hey, Kevin. You alright man? Do you want me to call someone.
Kevin [actively scrapping in the street with Randall]: Oh. It's a. No. This is my brother.
Seth Myers: Oh. Hey, man.
Randall: Hey Seth Myers.
The fight on the football field when they were kids matched very well with their fight as adults. Nothing changed for them in 36 years. It's horrible, but also interesting that something, at this point in his life, drew Kevin to Randall's house while he was in New York.
While it's easy to say it's just loneliness, it could be that as an adult, he has really grown to understand life a bit more. Maybe he didn't even realize what made him go to his brother, someone he never even called brother before, at a time he was so lost. 
Randall: You're right. Mom did favor me. She did. She showered me with attention. Took my side more often than not and I ate every bit of her love up. Ate it up like Pac Man. You know why? Because the one person I wanted it from the mo...You know, back there with those people, that was the one time in 36 years you said the words, "he's my brother."
Kevin: Come on, Randall. That can't be...
Randall: Claiming me. My brother.
Kevin: Well then, that really sucks.
Randall said Kevin claimed him, but it's almost as if Kevin himself was waiting to be found, to be discovered as more than the kid who has to fight for everything (whether he did or not is beside the point) against the kid his mom made feel so special.
Kevin had sports and when Randall took those too, it was like the last straw. And the bigger Kevin tried to get, the smaller he felt. And all the love Rebecca was willing to give, Randall kept from her because his brother didn't like him. And you know he knew it hurt Kevin. 
Oh, how I hope this is a new start for the two. With the news Rebecca held back knowing William his entire life, Randall is going to need someone to understand him and the life that came before his family. Maybe this is where two brothers forge a new bond. I really hope so.
And Kate. Kate admitted to Toby she only dated him because he would support her on her weight loss journey. But her journey isn't going so swell, so now she's uncertain about him.
Yeah, the sugared donuts? Unless she's eating a crapload of those every day, one little box isn't keeping her from losing weight if she's seriously doing all of the other things on a consistent basis. There's more to this story.
Unfortunately, it's not a story I'm interested in. When it's about weigh-ins and measuring food, I feel like I'm watching The Biggest Loser instead of This Is Us. I know I'm alone in that thought, and everyone else is really into her journey, so I promise I'll try to get more enthusiastic about it before the next airing.
I'll read up on the topic and get more involved, see where that takes me.
What about you guys? What did you think about this installment and what are you hoping from the Thanksgiving episode? Do you think the entire family will be together for the first time? If you need to catch up, watch This Is Us online and then drop me a comment!
Carissa Pavlica is the managing editor and a staff writer and critic for TV Fanatic. She's a member of the Critic's Choice Association, enjoys mentoring writers, conversing with cats, and passionately discussing the nuances of television and film with anyone who will listen. Follow her on Twitter and email her here at TV Fanatic.