Vanderpump Rules Season 5 Episode 1 Review: Summer Bodies

Sarah Hearon at . Updated at .
Will the SUR staff (past and present) ever learn how to act like normal human beings?
If Vanderpump Rules Season 5 Episode 1 is any indication, the answer is hell no, and the world should be grateful for this group of 30 somethings that aren't afraid to put themselves out there. Way out there.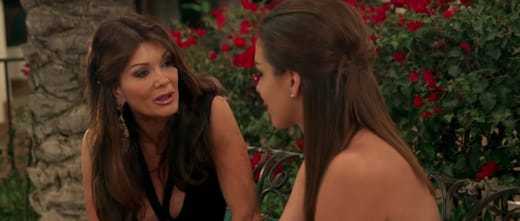 The first thing that stood out during the premiere is Tom Sandoval's horrible highlights. Are they pink? Are they white? Did someone sneak into his room in the middle of the night and dye his hair against his will?
He is also the one who brought up the infamous OK Magazine party.
The OK Magazine party has become the SUR Christmas party.

Tom Sandoval
I wonder if the people working at the local Chill's can say the same.
Speaking of SUR, Lala is back working as a hostess, despite claiming she just wrapped an Adrian Grenier movie (even though she doesn't know how to say his name). Jax's girlfriend Brittany is also working at SUR, even though she does not know how to pronounce Sauvignon Blanc.
It's safe to say at SUR, it's less about your vocabulary, and more about your willingness to get botox.
Our favorite former employees, Kristen and Stassi, are still as tight as ever, and working on their own relationships. Stassi is experiencing ups and downs with her (now ex) boyfriend Patrick, while Kristen has a "stable" (she is wearing a fake engagement ring) boyfriend of 10 months.
Kristen, we're trying to convince people that you're not a psycho.

Stassi
It's clear the big storyline of the first half of the season is going to be about Brittany and Kristen. Jax says he saw the two hooking up, but instead of being upset about his current girlfriend and his ex hookup getting together, he preceded to joke about it with Sandoval and call it karma. 
Did Kristen just jax Jax?

Tom
He then decides to tell everyone (including Lisa) about the hookup, and Queen Vanderpump has the best reaction of them all.
If it was anyone else I don't think I'd believe it, but Kristen chowing down on Kentucky muffin.

Lisa
Ariana's reaction was a close second. #NeverForget that time Kristen hooked up with Jax on the couch (while watching the movie Drive) when Sandoval was asleep in the next room.
You can't go to sleep when Kristen's around.

Ariana
At the OK Magazine party, James and Lala roll up and immediately begin insulting Katie (and everyone else) for being fat. Sorry Lala and DJ James, you lost me there. It's one thing to be entertaining for the sake of a reality show, but it's another to fat-shame every other girl in the cast.  
Stassi, Katie, Kristen and Scheana might be a lot of things, but fat is not one of them.
It's not a shock that the fight got physical within minutes, and James reacting to a drink being thrown on him was perfect.
You ruined my Yeezy's, nearly!

James
Do you think Kanye will donate new Yeezy's to James because a vodka cranberry was spilled on them? Or does Mr. West not support local DJs?
After Tom and Ariana stand up for  Lala and James, they cause a fight between Tom Schwartz and Katie. It's unclear how Tom still does not understand that he needs to side with his fiancé (at least once a month.)
Katie also throws out accusations that Lala's boyfriend is married with kids. If it's true it would not be that surprising, considering that this whole show kind of started because Scheana was sleeping with Brandi Glanville's husband.
The rest of the episode is the cast gossiping about everything that happened at the OK Magazine party over Stassi's "bedazzled" wine glasses. At least she isn't selling her wine glasses with fake jewels on them on Etsy a la Snooki from Jersey Shore.
Finally, we learn that Katie is working as Lisa's assistant for $30 an hour? $30 AN HOUR? Sign. Me. Up.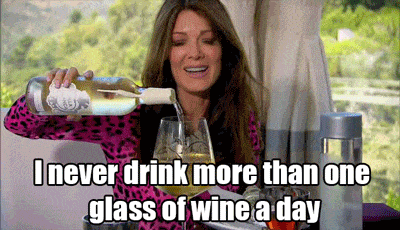 What did you think of the premiere of Pump Rules? Could it be the most dramatic season yet? And most importantly, did Jax make up the rumor about Kristen and Brittany?
Watch Vanderpump Rules online to stay up to date with the servers at Hollywood's most popular restaurant. 
Sarah Hearon is a staff writer for TV Fanatic. Follow her on Twitter.