You've got to feel for Cookie Lyon. Everything she does is for the good of her family, and everything they do seems designed to sabotage it. 
You want proof? Well, on Empire Season 3 Episode 8, Cookie set up a big crossover event for Empire by securing prime placement of her biggest star during a big-name fashion show, only for her eldest son to nearly destroy it all for his new girlfriend. 
Andre arranged for Tiana to be her own downfall by having Nessa destroy the gown Tiana was supposed to wear during her performance at a fashion show for designer Helene Von Wyeth.
This ignited an angry outburst from Tiana that Nessa secretly recorded and uploaded to the Internet. 
It ain't as bad as Kanye West going off on SNL. Or that girl with the ponytail licking that donut.

Porsha
Naturally, the video went viral, and threatened to make Empire's partnership with Helene history.
That is, until Andre subtly and sinisterly suggested that featuring a real soul singer like Nessa during the show in Tiana's place would help repair the damage done to Helene's image by Tiana's accusations of racism. 
I'm not going to lie, even though it was the result of Nessa's deviousness, I absolutely loved Tiana's big blowup.
The way she called out Helene Von Wyeth for her racist, whitewashing ways was absolutely fabulous. In my book, she should have been rewarded for speaking her mind like that, not punished! 
That skinny racist bitch can't handle my realness!

Tiana [on Helene]
Speaking of which: Guest star Gina Gershon was deliciously awful as Helene.
Empire always knocks it out of the park with its guest stars, Naomi Campbell, we will never forget you – and Gershon's pursed lips and poisoned tongue made her perfect for the part of Helene.
The look on Helene's face when she realized that all of her daughter's long, shiny, silky, straight hair had been cut off was something straight out of a horror movie.
And her offensive comments – from her stance on straightening Tiana's hair to her insistence that she couldn't be racist if she had employed black people – served as necessary reminders of the kinds of ignorance prejudiced and privileged people like her deal out to others on a regular basis. 
If I were a racist, would I let her play with Michael Strahan's girls? They've been swimming in my pool, for Christ's sake.

Helene
I hope that Hakeem and Tiana are able to get some kind of payback for what Andre and Nessa did, mostly because it's always funny when Hakeem tries to prove he's capable of being on the same playing field as his elder brothers.
But also because the moment between the two of them watching the fashion show at home, eating ice cream, was actually very sweet.
There was a subplot in this episode concerning Lucious and the way he was able to get his mom, Leah, to manipulate Tariq and stall his investigation.
It also prominently highlighted all of the hot sex Lucious and Anika are now having.
Philip: Lucious is your PTSD trigger.
Jamal: Man, Lucious is everyone's PTSD trigger. You tripping.
Honestly? It was boring. And I'm usually a sucker for a good double-cross.
But in this instance, the rest of the episode was already so full of drama that the scenes involving Lucious felt like a distraction from the good stuff.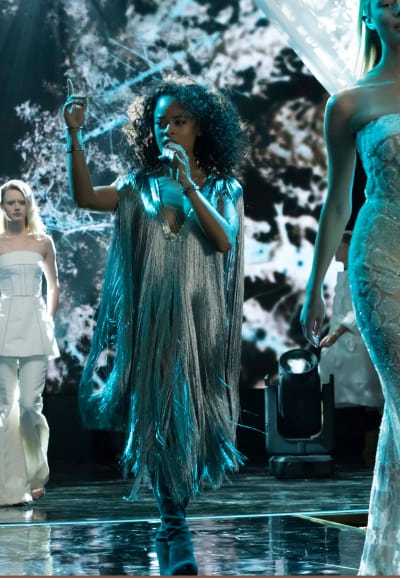 This episode was a particularly strong one musically. "Aces High" was a truly danceable banger, the kind of song I would put on a marathon running playlist to get me hyped again when I'd inevitably start to drag at around mile 16.
Angelo: See, Mom, that's Tiana, one of Empire's hottest pop stars.
Diana: I know who Tiana is, dear, but why is she prancing around with those tall skinny girls?
And even though I was pissed off about Nessa's willingness to throw Tiana under the bus, "Black Girl Magic" was a worthy apology for her actions – simultaneously soulful, playful and fierce. 
But the musical highlight by far was Jamal's angry ode to Lucious, "Cold Cold Man."
Jamal's performance of this raw ballad, followed by his announcement that his next album will focus on his family – the good, the bad and everything in between – was a double-whammy of a punch to the gut. 
I broke my daddy's heart, and I never got to say goodbye.

Cookie
The best music is often the most personal; it comes from a place of truth and vulnerability, and listeners recognize that. (And so do the Grammys this year – look at Beyonce's nominations for Lemonade and Adele's for 25.)
I hope that by focusing all of his swirling emotional energy – including all of his complicated feelings towards his father – on this new music, Jamal will be able to gain control over his PTSD and perform at Diana's fundraiser for Angelo as planned.
And, of course, really stick it to Lucious. Every time Lucious Lyon is proved wrong, an angel gets one of his gold records for a halo. 
What did you think of tonight's episode? Do you think Andre's plotting will continue to succeed, or is it only a matter of time before it backfires?
Will Cookie and Angelo's relationship continue to thrive? And on a scale of one to platinum, how much drama will there be in the midseason finale?
Remember, you can watch Empire online via TV Fanatic. 
Lee Jutton was a staff writer for TV Fanatic. She went into retirement in July of 2017. Follow her on Twitter.