Don't be shocked, but the era of Peak TV seems to be on the upswing.
FX has released some new research about the phenomona, and it's pretty clear there's no slowing down.
If you recall, it was FX President John Landgraf who coined the term Peak TV as a way to explain the overabundance of scripted originals, whether their quality is top notch or below par.
"Peak TV was once again far from peaky in 2016, with a record 455 scripted original series across broadcast, cable, and streaming sources," said Julie Piepenkotter, Executive Vice President, Research, FX Networks.
"This estimate reps a +8% increase over just last year (421 in 2015) ― but an astonishing +71% increase over five years ago (266 in 2011) and +137% over a decade ago (192 in 2006)."
The change in the television landscape over the past 14 years is mind boggling.
If you look back to 2002, we were still getting the majority of our content from broadcast networks. And it's no wonder.
Shows airing at the time include Frasier, Friends, Buffy the Vampire Slayer, The West Wing, Firefly, The X-Files, CSI and ER. Not too shabby.
Basic cable offered The Osbournes on MTV, The Shield on FX and Monk on USA.
Pay cable offered The Sopranos and The Wire on HBO.
There were no originals on streaming services, as streaming services were still DVD mail in providers.
Jump ahead 10 years, and broadcast was getting squeezed a bit.
The number of basic cable originals had bypassed network for the first time.
On broadcast, it looked a lot like it does today, with shows such as Modern Family, The Big Bang Theory, New Girl, Scandal, Grey's Anatomy, The Voice, Supernatural, Grimm and NCIS.
On basic cable, AMC was ruling with The Walking Dead, Breaking Bad, Mad Men, as well as FX with Sons of Anarchy, Archer, Justified, and American Horror Story.
Pay cable had Game of Thrones, Veep and Boardwalk Empire on HBO, Homeland and Dexter on Showtime.
Netflix released its first scripted original, Lillyhammer, in 2012, followed shortly thereafter by House of Cards and the revival of Arrested Development.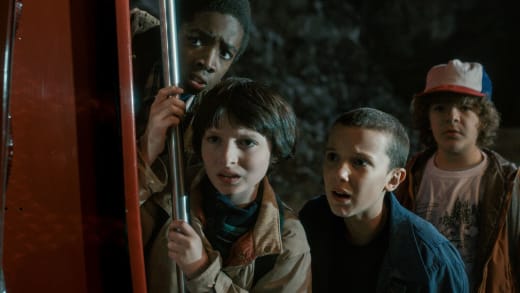 Which brings us to today.
As you can see in the chart above, there are now 93 streaming channel originals, almost triple what is offered by premium pay networks, and double what streamers offered in 2015.
All other networks have slightly less than they offered in 2015.
A lot of streamers dump their shows on their networks for binge watching, so that, in essence, their series become one long, ten hour movie.
After all, how many of us really have the willpower to watch one a week when our friends are powering through? If we wait, who will we talk to about a series we may love...or hate?
And that's really the reason for my post today. Given all this information, a glimpse into the past and what has come before, how have your viewing habits changed?
Are you a binge watcher? Would you rather see an entire 10-hour production in one or two sittings?
Or do you like having time to digest what you watch, discuss it with friends or an online community? Do you enjoy the anticipation of what comes next?
Are you good with the basic humor found on a broadcast network, or do you prefer the more complex comedic tones of series such as Divorce on HBO?
Do you enjoy your gritty dramas with as little blood and gore as possible, best left to your mind's eye, such as with Criminal Minds, or flat our go for the gusto with something like Game of Thrones?
After all of these years and the changing landscape that has created Peak TV, where do your loyalties lie? Broadcast, basic cable, pay cable, or streaming?
Let us know!
Carissa Pavlica is the managing editor and a staff writer for TV Fanatic. She's a member of the Broadcast Television Journalists Association (BTJA), enjoys mentoring writers, wine, and passionately discussing the nuances of television. Follow her on Twitter and email her here at TV Fanatic.