Star Season 1 Episode 1 Review: A Star is Born

Lee Jutton at .
Lee Daniels has answered the prayers of every Empire fan who spends that show's winter hiatus missing its weekly doses of music industry drama, family drama, lawbreaking drama...really, there is enough drama on Empire to fill several television series.
So, Daniels has decided to launch another one while the Lyon clan hibernates for the winter.
Star chronicles the rise of its titular heroine, a tough-talking foster kid with an incongruously angelic voice.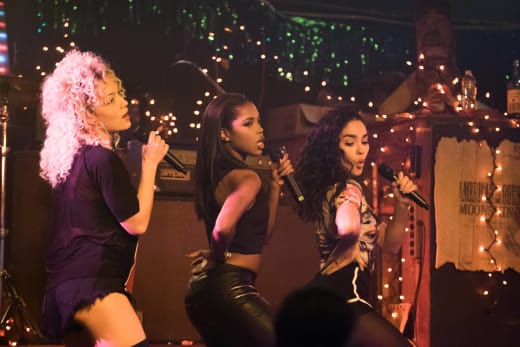 On Star Season 1 Episode 1, Star talks her way out of the foster system and into freedom after getting fed up with being treated like an indentured servant instead of part of the family.
Her plan? Track down her sister Simone, also a naturally gifted singer, and her friend Alexandra, an aspiring songwriter she "met" via Instagram, and head to Atlanta.
In Atlanta is her mother's old friend Carlotta – and, Star hopes, a manager willing to give her fledgling girl group a big break. But, this is a Lee Daniels show, so naturally the road to stardom won't be easy.
Instead, it's paved with stones practically made out of melodrama. We're talking sexual assault, attempted murder, transphobia, and references to drug addiction – and that's only in the pilot!
Look at Kim Kardashian. I love her. She showed every hole in her body and now she's famous.

Simone
While the narrative isn't really anything we haven't seen before, I enjoyed the pilot episode of Star primarily for two reasons – and they're the same two reasons why I devotedly tune in to Empire every week as the storylines veer off the rails into the diamond-studded stratosphere.
The first is the cast. Newcomer Jude Demorest, who plays Star, has an excellent look; it manages to be simultaneously sexy, edgy and effortless – not an easy combination to pull off.
I envied her stylishly messy mop of blonde hair (and striking dark roots), gigantic hoop earrings, and tomboy flannels over bandeau bras.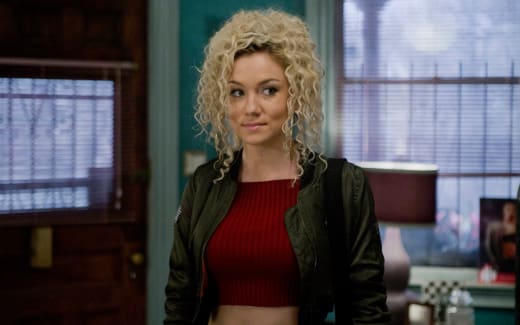 But it's not just Demorest's look that makes her perfectly cast as a wannabe pop star willing to do almost anything to crawl her way out of the gutter that swallowed her equally talented, but drug-addicted, mother.
She has the charisma that the role requires. When she performs, she captures the attention of everyone around her – and that includes the audience. 
Star's immense self-confidence can make her come off like a bossy brat some of the time, but even in those moments, I couldn't help but admire her.
I can't fathom the kind of childhood she must have had, being shuttled from one indifferent foster home to another, wondering where her beloved little sister was.
The next time you see this face, it's gonna be on the cover of Vanity Fair.
Said little sister, Simone, is probably my favorite character so far. She's clearly very troubled and dealing with some mild PTSD.
Wouldn't you be, too, after being sexually abused by a foster parent and then watching your long-lost sister repeatedly stab him while he was still lying on top of you? 
That murderous moment felt more ridiculous to me than anything that has ever happened on Empire, and remember, Empire had Chris Rock guest star as a cannibal. But, as with Empire, I'll suspend my disbelief for the sake of sheer entertainment. 
I'm not taking it off. It has his blood on it and I like it because he's dead. I'm free.

Simone
Anyways, as played by Brittany O'Grady, Simone is very bizarre but in an utterly believable way. She behaves erratically, from devotedly attending church choir practice to pounding scotch at the party where the girls made their big debut.
Importantly, she seems to have held on to her snarky sense of humor despite what she's been through.
I feel the most invested in Simone as a character because I want to see her gain some stability and start to deal with the darkness in her past.
As Star pointed out, their music can save them all – but it feels like Simone is the most desperately in need of being saved. 
Star: You're shorter than I thought.
Alexandra: And you're heavier than I thought.
Alexandra, played by Ryan Destiny, was the least interesting character to me, mostly because her prissy, privileged attitude was a bit irritating.
But the contrast she provides to Star and Simone is guaranteed to create all kinds of drama between the girls, and I look forward to seeing how it all plays out. 
I'm also intrigued by Alexandra's flirtation with racial equality activist Derek.
As a child of great economic privilege, Alexandra has suffered less at the hands of white privilege than people like Derek. She's been sheltered, and I think he'll open her eyes to the wider world out there. 
So, you want me to open your trust fund for some white trash you met on the Internet? She's just using you to get to me.

Roland [to Alexandra]
The real standout, though, is Amiyah Scott as Cotton, Carlotta's transgender daughter, who works in her mother's salon by day and dances in Atlanta's clubs at night.
It's great that the show actually cast a transgender person to play a transgender character; it's even better that Scott is a sharp-tongued scene-stealer.
My fingers are crossed that the character of Cotton will be more than just a figure hovering in the background with a few funny one-liners in each episode.
I'd like to see her get a chance to be front and center, and to see transgender issues handles with sensitivity and empathy on a major network show like Star. 
Of course, in addition to these newcomers, Star's cast boasts Lenny Kravitz as Alexandra's famous musician father, Benjamin Bratt as music industry insider Jahil Rivera, and the always-amazing Queen Latifah as Carlotta. Carlotta's big church hymn was one of the highlights of the pilot.
And that leads me to the second great thing about Star: the music. The songs sung by Star, Simone and Alexandra are all insanely catchy with clever lyrics full of come-ons and comebacks.
I thoroughly enjoyed all of the performance sequences. Even the weird one in the strip club that felt as though it were ripped from the film Chicago (conveniently also starring Queen Latiffah).  
My daddy always said you needed three things in life. Your Bible, your word, and your gun.

Carlotta [to Jahil]
A music-driven show has to have songs that are both enjoyable and effective at helping tell the story.  The songs in Star, so far, fit the bill. 
Based on one episode, it remains to be seen if Star will go above and beyond the usual "started from the bottom..." narratives. But I'm hopeful.
And if nothing else, I know Daniels, co-creator Tom Donaghy and showrunner Chuck Pratt will deliver good drama. 
Ever since Star was little, she believed her name was who she was. But I told her, fame is a trip, it ain't love like a lot of people think. But Star wouldn't listen. Star don't listen to nobody but herself.

Carlotta
So, what did you think of Star's pilot? Will Jahil be able to succeed with Star and the girls in a way he couldn't with her mother and Carlotta? Will Star cozy up to his hot football star godson? And when will the truth about Alexandra's famous father come out? 
Remember, you can watch Star online via TV Fanatic. 
Lee Jutton was a staff writer for TV Fanatic. She went into retirement in July of 2017. Follow her on Twitter.