Oh goody!!
On The Affair Season 3 Episode 3 we got to revisit that revolting discussion about sex and consent with Audrey. A discussion only made revolting because Audrey was in the conversation. She's a real piece of work.
But in seeing it again, that meant we were seeing it from the perspective of someone else at the table, which was cool. If anyone wasn't sure as of yet, it was made abundantly clear on whom The Affair focuses when Noah's friend, visiting professor Juliette Le Gall, became a voice of the show.
More than ever before, Noah is the center of The Affair. All other characters have faded into the background a bit, and seem to be there to support his story. 
That's not surprising, really. Noah was married and had an affair. The woman with whom he had an affair had a child by another man and appears to be blowing off Noah despite the tragedy that befell his family and ex-wife at her (their) hands. Without any blood ties to Alison, she'll likely end up nothing more than a bad memory.
That's the way it would go in real life, anyway. Whether that's the way it will go in reel life remains to be seen. We don't even know if there will be a fourth season. Did we sign on to watch the Noah Solloway story? I'm not sure. But no matter how maddening he is, at least he's not boring.
So we got back to that student/teacher dinner at Juliette's place and saw it from a different angle. Of course, Juliette wasn't as sexy, Noah wasn't as dowdy, and Audrey was a little more bawdy. In fact, Audrey was kind of threat to Juliette and in the way of what she wanted with Noah.
We already know how Noah sees Juliette (very sexy and hot) and Audrey (whiny and childish), so Juliette need not worry, but it's still interesting to get the second opinion on the matter. This is very welcome. I've missed new insight into things, even if Juliette isn't quite as strong as I'd hoped.
But she exudes to the public something far different than she thinks of herself, which is probably the same of most women. Unless they're delusional or a Kardashian. Most women probably don't give themselves the benefit of the doubt. 
Juliette has students stopping her in the quad to share their enthusiasm for her class. She readily accepted that, but she still didn't give herself enough credit when it came to Noah or Mike at the dinner. 
Audrey: That's why the university needs to establish and enforce a mandate of verbal consent.
Juliette: I understand how such a thing would protect the university, but I don't see how sex itself would survive.
Audrey: Why not?
Juliette: Because I'm afraid the articulate is the enemy of the erotic. Isn't the whole point that you don't know what your love will do next, that you give yourself over to a sensory experience that you haven't planned and can't control? The reason I like sex is because I can finally, for a moment, turn off my neurotic mind, and just be consumed. If I give my lover permission, yes, no, touch me, not there, don't I undermine the potency of his desire?
I find it hard to believe anybody would want to sleep with Audrey. That whole conversation is just nuts. What do you have to do, record your verbal sexual consent on your phones to have it on record? How sexy. 
Juliette understands desire and the reckless nature of it far more than Audrey, who only thinks about screwing Noah Solloway. I have to wonder how much of what we've seen of Audrey from our two perspectives makes up the real girl.
It was also ironic that just after that conversation Juliette found herself in the kitchen pushing away a lovesick Mike. No was barely enough for him, and he only left when Audrey barged into the room, further agitating the already sexually anxious young man. 
And it grossed me out that Juliette so easily accepted the fully naked Mike nailing her from behind as her Noah substitute after everyone else left. She's fully clothed and bent over the sink while naked Mike was pounding away like nobody's business. Nothing sexy about that, either.
There was something about the two conflicting states of their attire that threw the whole thing into disarray and made what could have been a sexy, sensual quickie into an ugly bump and grind.
She was so dissatisfied with that act that wrapping herself up in Noah's jacket sent her to his place after 1am. All's well that ends well, though, because if not for her, he'd be dead. 
By giving us that time with Juliette, skyping with her ill husband and a couple of calls with her daughter, I felt like we knew her enough to feel her shock after Noah was finally taken away by ambulance. The way she looked at her hands and sank to the sidewalk was really powerful.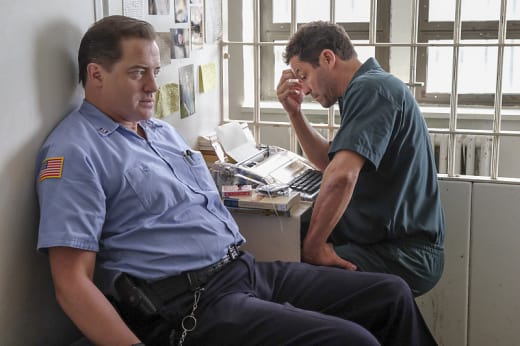 And despite Noah's thoughts that the person who attacked him was John Gunther from high school and prison, something tells me the Gunther we got to know during this hour would have stuck around to enjoy Noah's suffering. 
We only saw a few encounters between Noah and Gunther in his cell, but when Gunther wasn't feeling appreciated, he let Noah know it in no uncertain terms. 
Waaaaay back when, I got a DUI. I'm old, so it was before DUIs were considered this side of murder, so don't judge. I did crash my car, and the cop who came to the scene took me under his wing. Why? He liked me. He even called to ask me out, which is a big no no.
To me, he was gross, so I didn't go out with him. My mom said I was an idiot and should have dated him just until my court date. What could it have hurt? Of course, what he had been telling me and what he told the judge after I rejected him were NOT the same. He flattened me in court. It didn't work, but he tried.
My point is I saw in Noah the same idiocy I felt from my mother. There are times when you just suck it up and be nice to people, even when you don't want to be nice to them. Gunther was obviously a tad unhinged. He wanted to be Noah's friend. But every time he came around, even by Noah's recollection, he was being a dick.
Can you imagine what it must have felt like from Gunther's side? The full on, no-holds-barred Noah Solloway would be really hard to take, especially if you had a dude crush on him in high school and wanted him to be your friend, and he was still treating you like dirt while you were his prison guard.
Look what he does to Helen. When Noah's close to death, in his mind, everyone is garbage. He had Helen acting as the worst nag.
We can assume she headed to the hospital to care for him, but she loves him. As scared as she was, she'd be burying those feelings in pain and rage over what happened, but she'd not come off nearly as harsh as he saw her in his mind's eye.
Why does Noah blame Helen so much more than he does Alison for what happened with Scotty? Because he had stopped loving her? Hell, he had just learned his child wasn't his child, too, but still clung to Alison. What gives with that man, anyway? It's hard to say he and his piss poor attitude don't get what they deserve.
And if it wasn't Gunther who came after him, he sure as hell will when he becomes a suspect. Noah should have talked to his parole officer, first. 
One more thing. What is the argument between Noah and Nina? What happened 30 years ago that keeps him from wanting to go back to the house, her from selling it and the two of them at odds over it? Thoughts?
So...what do you think? Did Gunther do it, or was it all in Noah's head? Do you like the fifth perspective? Are you on board with the show revolving around Noah? Hit me up!
Don't forget, if you want to catch up, you can watch The Affair online for all the latest and greatest.
Carissa Pavlica is the managing editor and a staff writer and critic for TV Fanatic. She's a member of the Critic's Choice Association, enjoys mentoring writers, conversing with cats, and passionately discussing the nuances of television and film with anyone who will listen. Follow her on Twitter and email her here at TV Fanatic.