The Real Housewives of Beverly Hills Season 7 Episode 1 Review: Stronger Than Ever
Becca Balayance at .
In life we are often reminded of 'that which doesn't kill us, makes us stronger'. If you happen to be going through troubled times, you often don't see a difficult experience as an opportunity for growth.
This realization doesn't occur until after the dust settles. That is usually when we gain true perspective.
I think the underlying theme of the first Episode is actually all about strength, but not just in the obvious way as suggested in the title; 'Stronger than Ever'.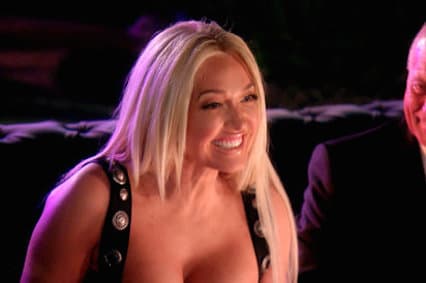 I think we see a lot of strength in many of the ladies in this Episode, but let's dig a bit deeper.
The first few scenes in Episode 1 touch base with the ladies that have returned for another Season. We see Lisa Vanderpump and husband Ken Todd hosting a dinner at their restaurant 'Sur' in West Hollywood.
Lisa has invited good friend Kyle Richards and husband Mauricio Umansky, as well as new cast member Dorit Kemsley and her husband Paul, known as PK.
Kyle and Dorit appear to immediately bond over their connection to the iconic Boy George. Kyle connected with Boy George earlier this year when they both competed on the Reality TV show Celebrity Apprentice. 
We also discover early on that Boy George has been a permanent house guest at Dorit and PK's home since they moved to Beverly Hills 2 years ago.
In fact, Dorit describes him him as a very dear friend, as well as Godfather to her daughter.
Boy George for the better part of the last 2 years has lived with us. He's like a sister, maybe not so much. He's more like a husband, but like a really, really, really fun Gay husband.

Dorit Kemsley
At their dinner, Dorit asks Kyle about the trip that the ladies went on last Season to Dubai and she is curious if Kyle enjoyed the adventure. 
It's fairly obvious that Lisa becomes guarded as Kyle tries to focus on the positive moments. Lisa blatantly reminds us that many of her own tears were shed on that trip..
Even Ken chimes in saying that he felt as though he was on the trip because he received lengthy calls from Lisa each night as she was in tears. 
In fact, many of Vanderpump's fans were concerned that she may resign from the Reality Franchise as they felt she was being harshly treated by the Soapie Stars Lisa Rinna and Eileen Davidson.
Social media went crazy during that time with many followers believing that Production had allowed things to go too far. Pleasingly though, the ladies are back, are are claiming to have new outlooks. 
We can afford to be optimistic at this point, after all it is only The Real Housewives of Beverly Hills Season 7 Episode 1.
In Lisa Rinna's first scene, we learn that sadly, her beloved father passed away in January this year. In previous seasons we explored her relationship with her parents and her close bond with her father. 
Rinna does mention that his death was not a shock, but her entire outlook on life has completely changed since then. 
She said that she is no longer concerned with the drama that occurred between herself and Vanderpump and states that she believes that she deserves a 'pass' given all that she is dealing with.
Not long after, we see what seems to a luncheon date with Erika, Eileen and Kyle. We also learn that Eileen's mother also passed away before the last seasons Reunion. 
Erika tells Eileen that her ability to sit through the Reunion and not let anyone know she had just lost her mother was a real testament to her strength. Eileen explained that she didn't want the loss of her mother to change the natural course of events during the reunion.
At this point if you think about it you can see the underlying strength emerging within Eileen, Rinna and Vanderpump. They had different reasons but still all 3 ladies have stated that their perspectives (thankfully) changed since last Season.
Grieving the loss of a parent is never an easy thing. I think Eileen showed tremendous professionalism by keeping that out of the Reunion. I was reminded of the old Ethel Merman song, 'There's No Business like Show Business', if you're too young to remember it, I recommend you look up the lyrics. 
On a much lighter note, Kyle raises the question of Rinna and Vanderpump seeing each other again and she would like to think that they will sort through their differences.  
Erika points out that anything can be resolved if the people involved want to resolve it. At that point, my eyes rolled deeply into the back of my head right along with Kyle's, as Eileen stated it was "a slippery slope". 
'Sigh', how many times did she say that in previous episodes. Kyle quickly says she is experiencing deja-vu and thank goodness for that, as I really think we all had just as much as we could take of 'apology-gate', 'Munchausens-gate', and 'manipulation-gate'.
Here's some words that I don't ever care if I don't ever hear again. Bipolar. Manipulative. Munchausen's. Sniper. Own it

Kyle Richards
Now its time to party! Erika is being made up by her Glam Squad on the big night. She really does look stunning, and we preview the party area and it looks fabulous!
Disco balls and the Studio 54 theme surging through their property. It's her 45th birthday after all!  I have grown to really like Erika and I think there are so many qualities within her which we are yet to see, both as her alter ego/performer Erika Jayne, and as Mrs Erika Girardi, wife of,famous Attorney Tom Girardi,
Tom is the famous attorney who won $130 million dollars for the famous case representing employees of the Lockhead Corporation over chemical exposure (If you know the movie 'Erin Brokovich', he's the attorney). 
Erika is also a very straight shooter which is a quality that I admire in anyone. Sometime's though, she does state the obvious and I do find myself laughing, in particular when she said that turning 45 put her her in her mid 40's - but hey, that's just me. 
Erika was in high spirits though as she began receiving her guests and was excited about the theme Studio 54. We were able to get a deeper glimpse into the bubbly party girl that we are  all growing to love.
I've decided that I would have a Studio 54 party for my birthday. Studio 54 was a fabulous time, it was fun! This is when people were really being free and cocaine wasn't addictive...allegedly

Erika Girardi
Her own songs were playing in the background, in particular, 'How many F**** (do I give)' which I personally love! It may be very offensive to some people but I find it a very catchy song. 
Her adoring husband Tom surprised  her by inviting her mother Renee. He had already given her a million dollar painting, and another magnificent Cartier ring so she was really doing well for herself. 
Eileen also arranged for Erika to play a role with her on The Young and the Restless which she was absolutely gleeful about! We learnt a little more about her background too, and that her father basically abandoned them when she was only 9 months old, leaving her mother as a Sole parent.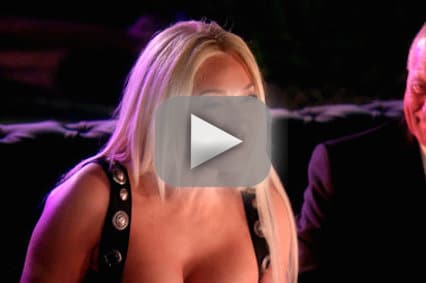 Finally though, its time to address the issue that everyone was waiting for. Exactly how did Lisa Vanderpump's reunion with Eileen and Rinna play out?
Lisa Vanderpump arrived at Erika's party with her friends, but separately to Eileen and Lisa Rinna. We see Lisa Vanderpump as quite cheerfully greeting Erika, meanwhile Eileen and Rinna are shown in a huddle debating how things will go with Vanderpump.
Lisa Rinna approaches Vanderpump and is introduced to Dorit. The conversation between the two Lisa's appears to be drenched with undertones of sarcasm and Lisa Vanderpump tells Rinna that she may give her wig "a well deserved tug later on". 
At the time, Rinna seems quite passive allowing Lisa Vanderpump to take a few swipes at her, but later Rinna says she was thinking that its 'game on' again with both of them making fun out of each other, and sarcastically said its what they do best.
This could be a Red Flag, as we have seen Rinna ruminate over events after they happened and in some cases it really didn't end well.. 
Rinna asks Dorit not to listen to everything that Lisa Vanderpump might tell her, and Dorit assures her that she has her own mind. 
Meanwhile, Eileen is struggling with the situation. Lisa Vanderpump tells Dorit that she said hello to Eileen but received a cold response. t the same time Eileen feels Lisa Vanderpump is ignoring her.
Dorit sparks up a conversation with Eileen and tells us that she can't understand how Eileen could have been responsible for the things that she has heard, as Eileen seems to be very 'sweet and nice' towards Dorit.
It's going to be interesting to see what position Dorit might take in future episodes. The previews certainly suggested conflict and more drama.

In the final scene the ladies all hit the dance floor while Lisa Vanderpump remains  with husband Ken and friend PK. They encourage her to go and join in, and much to my delight she happily does.
The episode ends as Lisa finally explains to us that she thinks that Eileen and Rinna would be pleased to see her removed from the group of friends, but in true Lisa Vanderpump style, she tells us that shes coming back, and coming back stronger than ever!
I think maybe Eileen Davidson and Lisa Rinna would probably be thrilled if I wasn't part of this circle of friends, but no. I'm coming back stronger than ever!

Lisa Vanderpump
So, has the Queen really reclaimed her crown?
Do you think Lisa Vanderpump has really recovered from last Seasons conflicts? Remember, strength comes in many forms, and we did see strength in the ladies in this episode.
However, I predict that things are going to get a whole lot hotter. So shift that Lamborghini into gear, and join me this Season for what looks like a drama fuelled ride down Rodeo Drive! 
NOTE: Need to catch up on past seasons? You can always watch The Real Housewives of Beverly Hills online right here and now!
Becca Balayance is a staff writer for TV Fanatic. Follow her on Twitter.