Younger Season 3 Episode 10 Review: Pigeons, Parrots and Storks

Carissa Pavlica at .
I'm getting mixed signals from everyone!!
There are some pretty intense near events on Younger Season 3 Episode 10, and as a result our dear characters are experiencing a lot of different feelings, some of them life altering.
Will Josh (with the magical help of Manhattanhenge) break Liza like Diana's parrot broke her for Richard? Will more exposure work out in favor of Millennial Print?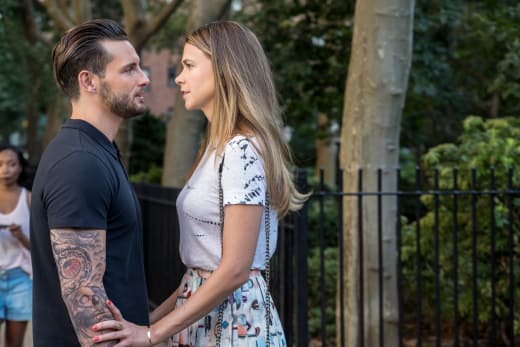 OK guys, I've been using Nuvaring hairbands for a couple years now, and I love 'em. Has anybody else tried them? I don't know how Nuvarings work, but I buy colored versions at Walmart from Scunci. No-Slip Grip. The clear are my favorite. 
I am guessing Liza doesn't use the hairbands and the Nuvaring. That would be confusing.
It consistently surprises me that Liza can't get a good read on Josh. Is it because she really doesn't see how he's feeling or because she merely doesn't want to see it?
Even after their discussion about the issue of having kids, Josh was less than convincing that a future with Liza was all he needed. It was written all over his face. His words said one thing, while his expressions betrayed them.
Let go of what should happen and open yourself up to the vast world of possibility.

Pigeon Author
Is Liza looking for signs? Is she holding on to what she thinks should happen instead of letting go? 
The thing is, it's really hard to tell what Liza's thinking, because it appears to me she's dragging Josh along. He's wholly and completely in love with Liza. He's not afraid to express it, to tell the world and her alike. 
The same cannot be said for Liza, which was evident when she had to force the words out to him, and later, at the Pigeon party, while Josh was connecting with Charles' daughter, Liza was connecting with Charles. 
Liza simply doesn't seem ready to commit to Josh, despite her body melting a little bit as Josh said, essentially, they were star-crossed lovers.
I'm really glad Charles agreed to allow Kelsey and Millennial Print to go to some fairs, because I'm worried about her losing herself in Colin.
Although, Colin is shaking out to be a pretty great guy. Even if he seems to be leaning on Kelsey, he's doing it because he's into her and trusted her first with his work. He obviously wishes he was with Millennial Print and not Random House, but that not how it worked.
Even so, Kelsey can't focus too much on him and his book without being compensated in some way. 
Charles was seriously holding losing him to Random House — and losing the promotional space in EW to Random House, as well — over Kelsey's head. 
But geez. Yes, the book will be huge, but how can an author turn down a $1.2 million advance? Do books even make that much money anymore? Kelsey should have countered with a larger advance and a bigger return based upon sales. 
With the EW piece, the book should have still gotten interest from movie studios and the end result would have been the same. Colin would have been working with Kelsey and Empirical would have been the winner. Since when does an agent make the final decision on deals?
Oh well. We're here now, and Colin is at Random House. I just hope Kelsey's relationship with Colin is more than this book.
And since I'm in the worrying frame of mind, surely I'm not the only one who has noticed our Diana isn't nearly has happy with Richard as she was without him.
Sure, she got to hold onto his arm — a DOCTOR'S arm — when she introduced him to Charles at the Pigeon deal, but with Richard, she's more like the Diana we first met than the one we've grown to know over the past two seasons.
And by reverting to old behavior, that leads me to believe she's regressing in any growth she has made as a result of her relationship with Liza.
That regression feels like it's coming because Richard is forcing himself on her by his uncanny ability to say exactly what she wants to hear. Only she'd rather hear what he's saying from someone other than Richard.
Richard: No, what doesn't make sense is a beautiful, talented woman hiding behind a big, brick wall and never letting anyone in.
Diana: It's not brick. I don't like brick.
She barely knows Richard, and in just a couple of minutes she went from wanting him out of her apartment to wanting him to move in, just because he stroked her ego.
He knows women like her. It's his job to know. But we know he's had at least one failed marriage. What does Diana know about him? I will not stand for our Diana being hurt, so this dude better just seem like a douche and not actually be one.
So what did you think of this episode? Where do you stand on all of these relationships? Drop me a line and let's chat about it!
If you want to see more of this wonderful show, you can watch Younger online right here via TV Fanatic!
Carissa Pavlica is the managing editor and a staff writer and critic for TV Fanatic. She's a member of the Critic's Choice Association, enjoys mentoring writers, conversing with cats, and passionately discussing the nuances of television and film with anyone who will listen. Follow her on Twitter and email her here at TV Fanatic.