Peter Capaldi is taking his last ride on the TARDIS during Doctor Who Season 10.
Steven Moffat previously announced he will be stepping down and making way for incoming showrunner Chris Chibnall.
Now we know Capaldi will also be making way for the 13th incarnation of Doctor Who.
Capaldi shared his news on BBC radio.
"One of the greatest privileges of being Doctor Who is to see the world at its best," he said.
"From our brilliant crew and creative team working for the best broadcaster on the planet, to the viewers and fans whose endless creativity, generosity and inclusiveness points to a brighter future ahead."
"I can't thank everyone enough. It's been cosmic."
Capaldi last appeared as The Doctor on Doctor Who Season 10 Episode 1, "The Return of Doctor Mysterio," co-starring his new companion, Bill (Pearl Mackie) who joined The Doctor after the death of Clara.
Justin Chatwin of Shameless also joined the pair on the 2017 Christmas special.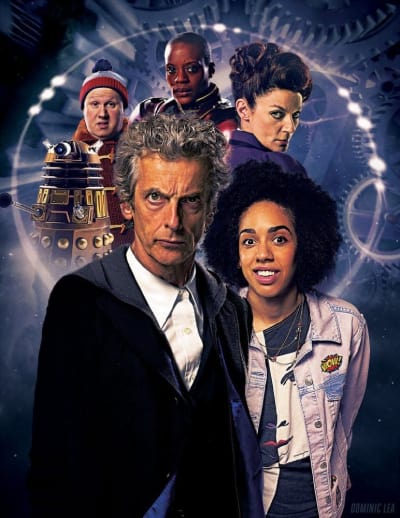 One thing is for sure, the next 12 months will mean Doctor Who is on the minds of everyone around the world as they not only watch Capaldi's final season and Mackie's first, but wonder who will be the next Who.
Will it be a man of color or perhaps a woman?
It wouldn't surprise me in the least if people started putting together websites and began campaigns today hoping to bring attention to their favorite actor or actress for the role.
It's also going to be an even tougher go for Mackie, who not only had to have a rapport with Capaldi and Moffat, but now has to team up well with the next Doctor Who and the incoming showrunner.
We wish her the best.
There may already be someone perfect for the role in Chibnall's mind. There was for Moffat when Capaldi took over.
"For years before I ever imagined being involved in Doctor Who, or had ever met the man, I wanted to work with Peter Capaldi. I could not have imagined that one day we'd be standing on the Tardis together," said Moffat.
"Like Peter, I'm facing up to leaving the best job I'll ever have, but knowing I do so in the company of the best, and kindest and cleverest of men, makes the saddest of endings a little sweeter."
Do you have a person in mind for Doctor Who? 
How to you hope Mr. Capaldi ends his run on the decades old series? Hit the comments and share with us everything that's tearing through your mind!
If you need to take a look at all that he's done since he started waving his own sonic screwdriver (or donned his groovy sunglasses), watch Doctor Who online now.
Carissa Pavlica is the managing editor and a staff writer for TV Fanatic. She's a member of the Broadcast Television Journalists Association (BTJA), enjoys mentoring writers, wine, and passionately discussing the nuances of television. Follow her on Twitter and email her here at TV Fanatic.