Sherlock Season 4 Episode 1 Review: The Six Thatchers
Robin Harry at . Updated at .
Well, the wait is over, and the game is once again on for our favorite high-functioning sociopath.
After a two year cliffhanger, Sherlock Season 4 Episode 1 returns in fine form, with mystery, action, humor, the character development we have come to expect from Sherlock, and a few heart-wrenching surprises.
After the excessively convoluted and exhausting mind-trip that was the movie special, "The Abominable Bride," I was quite happy to see Sherlock return to form with an elegantly told mystery. The mystery of the six Thatchers ran deep and complex, but was still intriguing and quite fun to follow.
My favorite part of the mystery was its origin. I absolutely loved how the case of the six Thatchers came to life from a simple random observation by Sherlock. The simplicity made it so much more fascinating than the dead Willborough son in the car.
I thought the six Thatchers would turn out to be about the black Borgia pearl, so often mentioned. I also thought that would somehow also be related to Moriarty's posthumous revenge plan.
Therefore, I was quite surprised when the whole mystery actually revolved around Mary Watson. I will admit that I didn't quite expect Mary's past to come back to bite her quite so soon.
The mystery was mostly a vehicle to explore Mary's relationships with Sherlock and John. Sherlock's loyalty to his friends and his determination to keep his vow were admirable.
Mycroft: Is that sentiment talking?
Sherlock: No, it's me.
Mycroft: Difficult to tell the difference these days.
The fact that Mary understood Sherlock at all showed how well she understood people. Norberry clearly had a chip on her shoulder, an understandable one given how everyone dismissed her conversation with Sherlock in the beginning. Mary knew that pushing Norberry's buttons was not a good idea.
However, Sherlock's arrogance and need to prove himself smarter than his targets has always been his Achilles' heel. While his rant at Vivian Norberry wasn't any worse than it normally is. It showed that Sherlock still has ways to go to control his hubris and to truly understand people.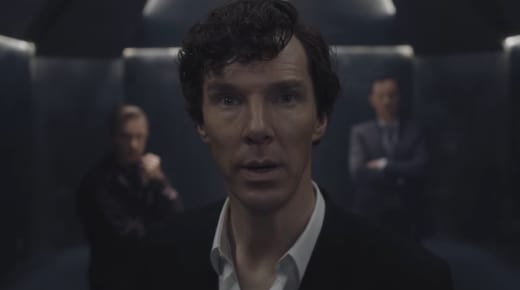 Despite Mary's lies and secrets, she truly loved her friend and her husband, and she gave the ultimate sacrifice with the same loyalty and love that Sherlock showed to her.
Feeling the pain of being shot, she apologized to Sherlock for the pain she caused him and said goodbye to John Watson with her last breath.
Which brings us to John Watson.
My dear Watson had a secret of his own. When we saw the young lady on the bus making eyes at John, my only thought was, "Well, yeah, the man's a silver fox." The fact that he not only got her phone number but actually initiated a secret conversation with her completely surprised me.
At first, this "John almost-maybe-sorta-in-a-way cheated on Mary" just seemed so out of character for John Watson. John is grounded and honorable, and would never seem like the type of man to stray, especially with a new baby.
However, it seems that this might be a result of John feeling insignificant in his three-way partnership with Mary and Sherlock.
He replaced himself with a balloon, and Sherlock didn't notice for hours. Sherlock flat out told him that Mary's mercenary skills were more useful than he was.
Sherlock: You two, take a bus.
Lestrade: Why?
Sherlock: Because I need to concentrate and I don't want to hit you.
Mary had a secret and Sherlock found out before John did. I think John really just wanted to feel wanted, to feel noticed. He's the most empathic of the three, and he's only human.
John's actions are out of character, but I think that's the point. Mistakes often are.
I don't believe he's actually angry at Sherlock. Yes, Sherlock made a vow to protect their family, but John also knows that Mary's life before him was dangerous. Sherlock's arrogance may have goaded Norberry, but this was not Sherlock's fault.
Mary made a choice, and as she said in her posthumous message to Sherlock, her life had consequences. John's bound to be feeling even worse now that his wife is dead, and he couldn't protect her.
It will be interesting to see how this develops. John was about to confess to Mary before she ran off and got shot, so the guilt alone is going to eat him alive.
Sherlock, on the other hand, has developed so much empathy and insight that he willingly went to a therapist to figure out how to help John. He willingly shared moments of sadness with Mrs. Hudson.
Sherlock knows beyond any doubt that he needs help to stay grounded. However, the difference this time was that he didn't fall into despair without John filling that role. Rather, he reached out to Mrs. Hudson, another friend.
Sherlock: If you ever think I'm becoming full of myself, overconfident or cocky, would you just say the word "Norberry" to me, would you?
Mrs Hudson: Norberry?
Sherlock: Just that. I'd be very grateful.
The concern on his face during his talk with Molly was so evident. Even Mycroft noticed that Sherlock acts and speaks with more sentiment than he used to.
I have a feeling that Sherlock and John will have a bit of role reversal this season. Given how much growth Sherlock has had, and how much pain John's going to be in, it may be that Sherlock may very well save John.
After all, Sherlock was the man that John saved.
I've read a lot of the original stories and know that Mary Watson dies, but I certainly did not expect it to happen now. I'm going to miss her. I loved her rapport with Sherlock, and I will miss their banter.
I thought this episode was the best one since Sherlock Season 2 Episode 3.
It had all the things I love about Sherlock;  his brilliant mind, the visuals, the character development, and a good mystery.
OTHER NOTES:
That pool fight scene was a thing of beauty. Loved it.
I wonder if we'll hear about the Borgia pearl again.
My goodness, Sherlock still can't remember Lestrade's name. Giles?! Really??
That said, the joy Lestrade had after Sherlock said the right name was just too cute for words.
Speaking of Lestrade, who's this new investigator lady? What will her role be on the next two episodes?
Given that this mystery was all about Mary, what's the deal with Moriarty?
What did you guys think? Was Sherlock to blame for Mary's death? Was John's behavior in character for him? Will you miss Mary?
Sound off in the comments. I'd love to hear your thoughts!
Also, remember you can always watch Sherlock online.