Vikings Season 4 Episode 17 Review: The Great Army

Stacy Glanzman at .
Are there not enough women to go around in Kattegat? 
Even after finding out that Ubbe intends to marry Margrethe on Vikings Season 4 Episode 17, Hvitserk still jokes about him not keeping her all to himself. 
Then we find out Bjorn is sleeping with Astrid?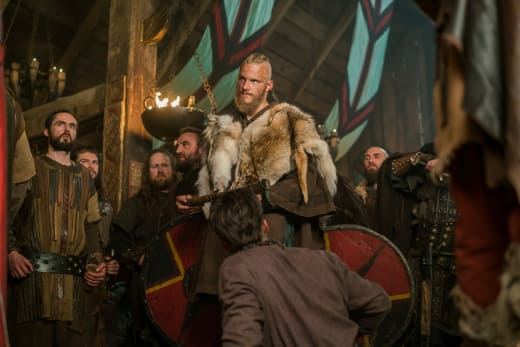 These are sons of Ragnar Lothbrok, they can have any woman they want, and yet they all seem content with sharing. It's weird, not to mention creepy.
Also, remember when young Bjorn was mad at his father for cheating on Lagertha?
Now, not only is he cheating on his own wife, he's doing it with his mother's girlfriend.
When did Vikings turn into a soap opera?
At least it appears that Lagertha will be safe for now thanks to Bjorn's impeccable timing.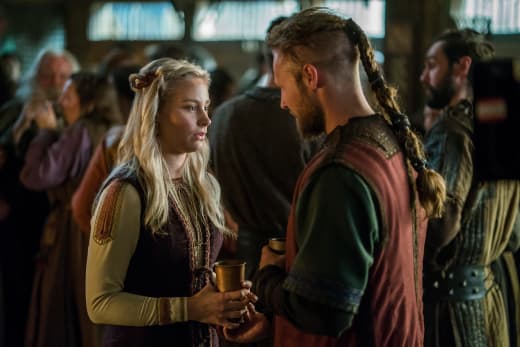 Taking down both Lagertha and Bjorn would be quite the feat, and the brothers (minus Ivar) don't seem too enthusiastic about taking that on right now. 
Instead, they'll focus on raising a giant army and avenging their father, one thing they all can agree on at least. 
Ivar will still want revenge on Lagertha of course. His frustration is building and it's only a matter of time before he explodes.
But, though reluctant, even he seems ready to focus on Ecbert and Aelle. 
Ubbe: So we declare war on England.
Ivar: No, in the name of our dead father, in the name of Ragnar Lothbrok, the greatest hero of our country, and in the name of Odin, we declare war on the whole world.
Will Vikings Season 4 end with an epic battle to avenge Ragnar? It's sure starting to look that way. 
I can't say I would complain if that ends up being the case. It might be the biggest, most brutal battle we've seen yet, and I can. not. wait. 
It won't be an easy win either, because both Ecbert and Aelle are preparing themselves for the inevitable wrath of Ragnar's sons.
Granted, they both don't appear to be taking it as seriously as they probably should be. 
They will underestimate just how strong the Viking army will be, especially now that they have enlisted so much help. 
Lagertha has concerns about bringing all these people to Kattegat, and it will be interesting to see if it puts the town in danger.
It certainly wouldn't be surprising if some of these newcomers have ulterior motives. 
I loved Ivar and Floki's little reunion. It's fun watching them mess around and joke with each other.
These are the two oddest characters on the show, which also makes them two of the most interesting.
They certainly make the most of their limited shared screen time. 
Ivar: What is it?
Floki: It's your legs, Ivar. It's your wings.
Okay, so I am a little confused about how this horse and carriage thing is going to work.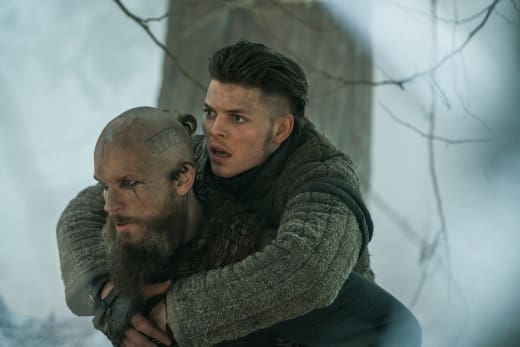 Can Ivar take it on board the boat to England with him? 
Sure, it looks like a great way for him to get around at home without having to crawl all the time, but would that really work on a battlefield? Wouldn't someone just kill the horse almost immediately and render it useless? 
It's a cool idea, and I'm looking forward to seeing it in action, but he may want to have a back up plan in case he ends up on his ass in the middle of a battlefield. 
Floki: You should have killed him when you had the chance.
Bjorn: Why would you say that?
Floki: Because I have a bad feeling that he will reach more fame than any of you.
I wonder if we will see Rollo again this season. It would be interesting to see if he decided to get involved with the plan to avenge Ragnar.
I almost wasn't expecting him to go home. His wfie made it pretty clear he would not be welcome, and she definitely did not seem too happy to see him. 
She'll probably get over it now that he's back, but he's going to be paying for the decision to leave for awhile. 
I'm not really sure what to make of Ecbert teaching Alfred the ways of a king, but at the very least the kid learned a valuable lesson about peer pressure. 
So what did you guys think? Are you ready to see the revenge of the sons of Ragnar? I know I am. 
Don't forget, you can watch Vikings online any time!
Stacy Glanzman was a staff writer for TV Fanatic. She retired in March, 2019.