I know my TV Fanatics, and you are all up to date on the latest Vikings news.
So, proceed at your own risk. There is a spoiler ahead if you've been a poor Vikings fan and your head has been in the sand.
Since I watched what I'm avoiding talking about over the Christmas holiday, hopefully you've either watched or turned back by now. And...we're off!
Deadline announced Travis Fimmel will remain with the History family after his expected, but nonetheless sad and shocking death on Vikings.
What's his next project you ask?
It's very exciting. Even if you haven't been a fan of his previous work, you'll be able to see the value to his project.
It's based on an original idea by Fimmel, and he's written the first episode and is also going to be executive producing and starring in a new anthology series.
The scripted series will track some of the most infamous characters in history, on History.
First up is Wyatt Earp. Sure, we may think we've seen him before. But with the Fimmel touch? No way.
The first chapter of the new series will track his life from Dodge City to the OK Corral.
Within the tale, you can expect details on the complex relationships with Doc Holliday and Bat Basterson, as well as the true story about what went down at the OK Corral.
Of course, all of this will come with Fimmel's personal touch, which we've seen not only on Vikings but up close and personal at places like San Diego Comic-Con.
"I've always been fascinated with what motivates people's transgressions and the scandalous journey into infamy," Fimmel said.
"I wanted to re-examine stories people think they know without the rose-colored glasses of Hollywood and let the audience decide for themselves if people like Wyatt Earp were sinners or victims of life circumstances."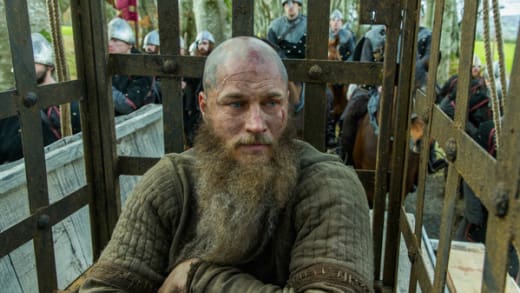 There's no doubt that Fimmel was integral to the success of History's first scripted series, Vikings.
"Travis is a remarkable actor and we're honored to continue our relationship with him after his recent magnetic performance on Vikings," said Arturo Interian, SVP, Scripted Programming, History.
"Just as Travis brought a completely fresh and unexpected approach to his character Ragnar Lothbrok, this would be an unconventional portrayal of Earp like you've never seen."
"We intend to capture the violent spirit of the great Sergio Leone films through telling the true story of criminal turned lawman."
What do you say? Are you in?
What other infamous characters are you hoping to see in upcoming seasons of this new anthology series? Should Fimmel take the lead in all chapters?
My vote is yes.
If you've missed the latest on his other History character, watch Vikings online now to catch up. 
After all, you've already been spoiled by reading this far into the article!
Carissa Pavlica is the managing editor and a staff writer for TV Fanatic. She's a member of the Broadcast Television Journalists Association (BTJA), enjoys mentoring writers, wine, and passionately discussing the nuances of television. Follow her on Twitter and email her here at TV Fanatic.