Bones Season 12 Episode 8 Review: The Grief and the Girl

Christine Orlando at . Updated at .
Who knew cream soda could break your heart?
But it did just that at the start of Bones Season 12 Episode 8. 
Because when it comes to grief, it's the little things, the small reminders that someone isn't coming back that can shake you to your core.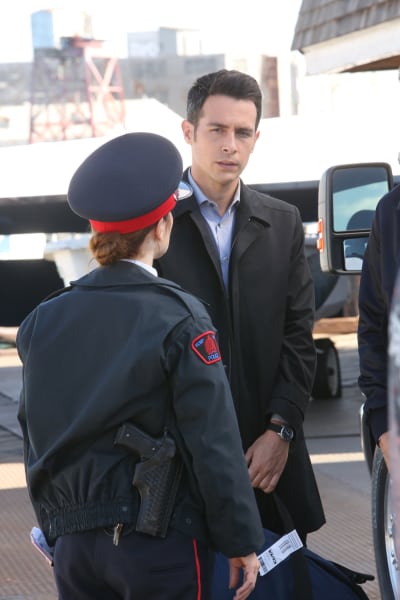 In this case, it wasn't Booth being insensitive or forgetful, it was him trying to console his children who just lost their grandfather. 
Booth is a good man, and I dare say, he was hurting almost as much as Brennan. 
I may not have killed that girl, but if it wasn't for me, she'd still be alive.

Kathleen
Kathleen Tobine's words were all the more poignant because they were exactly what Booth was feeling about Max. 
There was no way anyone, including Booth, could have known the kill shot he delivered to a mass murder would cause ripple effects that ended with his father-in-law's death two decades later.
No one could have predicted such a thing, and yet Booth still carried the guilt for Max's death, and it weighed on both him and Brennan.
Angela: How are you?
Brennan: Everyone keeps asking me that, I don't know how to answer that question.
When Brennan is hurting, her first instinct is to shut down, and that's what I attributed her behavior to now, but it turned out to be more complicated than that. 
Whenever she was around Booth, she could see his guilt, and she felt the need to reassure him that none of this was his fault. But simply dealing with the grief over losing her father was taking all of her energy. 
Grief does things. It mixes you up.

Sully
I didn't think I was going to like Sully's return. I was wrong. 
Instead of being some sort of threat to Booth and Brennan's relationship, he turned out to be just what Brennan needed – a friend she could talk to and one who would assure her that she and Booth would get through their grief together. 
Everyone's reaction to Sully was far more fun than I expected…
Cam: Tim Sullivan, Sully.
Clark: And he is?
Angela: The only guy besides Booth who ever stood a chance.

Brennan's friends and colleagues were either shocked at Sully's return or wondering who the heck was the guy was hugging Brennan. 
Sully, the ex-boyfriend, ex-Special Agent, now sandwich maker and Aubrey's idol.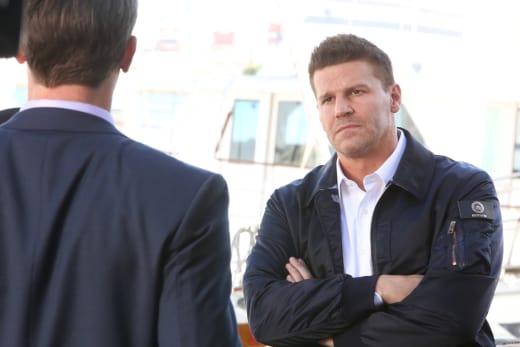 Booth's sandwich sounded great, but I really wanted to know what was on a Tempie. 
There were no bad guys here unless you count the rich developer who accidentally murdered Sarah and then threw her body off a cliff.
It was horrible that Sarah and her family lost so much time together because of this guy's arrogance and greed.
The best thing about Sully's return was how Brennan explained it to Booth in this Bones quote…
Brennan: I want you to understand why he's important. It's because without Sully I don't think I would have been ready for you, for this, and because of that I will always be grateful to him because I love this. I love you.
Booth: I love you Bones, always.
I kept wondering if Russ was going to make an appearance at his father's funeral, but that never happened. At least they addressed his absence, and it's good to know that he and Temperance keep in touch. 
Brennan had me in tears at Max's funeral, but I think his loss brought the Jeffersonian team even closer together.
Check back on Friday to get our Bones round table team's take on "The Grief in the Girl."
Then look for my review of Bones Season 12 Episode 9 on March 7, 2017.
And if you simply can't live without Booth and Brennan, you can watch Bones online here at TV Fanatic.
C. Orlando is a TV Fanatic Staff Writer. Follow her on Twitter.