Doubt Season 1 Episode 1 Review: Pilot

Stacy Glanzman at . Updated at .
Doubt can be a dangerous emotion.
It can ruin friendships, relationships, and lives when given too much power.
Doubt Season 1 Episode 1 gave us our first look at what has potential to be a very intriguing series.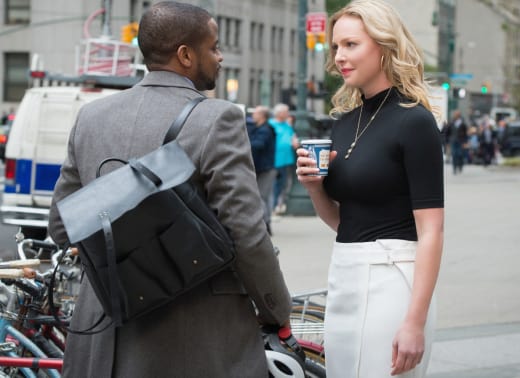 The premise, of course, is doubt.
Very few cases are clear cut. Even if someone is found not guilty, doubt still exists unless there is physical evidence.
Exonerated people often have to live the rest of their lives wondering whether their families and friends believe they are guilty.
So, while giving his blood may not have been the wisest legal move for his defense, it's hard to blame Billy for wanting to do it. Physical evidence is terribly hard to deny, and he said how important it is to him that Sadie believes he's innocent.
Personally, I'm already invested in his case and their relationship. I can't wait to find out what those test results reveal.
I believe he's innocent. His story is believable, and he seems very sincere. Plus, it's hard to believe he'd willingly submit to the blood test if he were guilty.
My biggest question is why it took 24 years to try this case. I don't think there was an explanation for that, but regardless that detail didn't feel too important. I found myself wrapped up in the particulars of the case, and as I said, I'm already invested in the outcome.
Isaiah: See if you can put together a winnable case.
Albert: And if not, you'll re-approach Brennan.
Sadie: Yes, Albert. I'll use my serious, scary voice to get him to take the plea.
Albert: Do it once right now.
Sadie: No.
Albert: Just a little?
Sadie: I'm not doing the voice!
Albert: There it is.
So far it feels like this series could be a mixture between serialized and procedural storytelling. 
Billy's case is the primary focus, and will probably be told over multiple episodes, perhaps even over the entire season.
Cameron, on the other hand, could have a new case every week, giving the series that procedural element.
I think that could work well and be a creative way to keep viewers invested over the long haul, as well as bring back those who may just check in from time to time.
Tiffany: Maybe I should just move back to Iowa. I don't know if I'm cut out for this.
Cameron: The fact that you're having these feelings means you're good at your job. The minute you stop feeling for your clients is when you should go back to the farm.
Tiffany: Not everyone from Iowa lives on a farm, okay? We're not all unsophisticated hillbillies who sit around milking cows all day.
The cast is fantastic.
They're talented, diverse, and so far mesh very well. 
I know Katherine Heigl can be...controversial, but I like her, and I think this is a great role for her. The series even has a bit of a Shonda Rhimes feel to it.
Not to mention Sadie could not have had a better introduction. Who didn't laugh at her changing from bike shorts and tennis shoes to work attire right there on the street?
If she annoys you, hopefully, you can get past it, because Laverne Cox and Dule Hill are more than enough to make watching worthwhile.
You have to give Hill credit. It's hard to make a character who left a dog tied to a meter for 10 hours likable, but somehow he did it.
It's hard to blame his fiance for leaving him. You hear stories all the time about distracted parents forgetting to drop their kid off at daycare and leaving them in a hot car for hours. If he can forget a dog, he could forget a kid.
I'm an animal lover, so he loses points in my book, but Hill makes you want to forgive him.
And, besides, it was pretty adorable when he needed to know how the preemie was doing. Yeah, Hill's my favorite so far. 
Albert: She is the worst assistant.
Sadie: She's a Make-A-Wish kid!
Albert: When she was 3. Now she's 23, she survived cancer, she got a trip to Disneyland, and now she needs to be fired.
Sadie: You're a terrible person. Leave her alone.
We've seen from Orange is the New Black that Laverne Cox can steal the show, and I have no doubt (no pun intended) she'll have plenty of opportunities here.
Isaiah is more or less the typical role that Elliott Gould tends to play. He's a little bit insane but still smart and astute enough to lead his team.
I'm intrigued by the dynamic between Isaiah, Sadie, and Sadie's mom.
Sadie's mom has been in jail since she was two, but she doesn't seem to have a lot of built up resentment towards her. She visits her, helps with her parole hearing, and tells her she needs her.
What's interesting, is Isaiah is the one too close to the case. He's the one too emotional to help. You would think Sadie being her daughter would be too close. I am looking forward to getting more insight into her case and Isaiah's feelings towards her.
I like the parallels drawn between Isaiah's experience and what Sadie is currently experiencing with Billy.
Seeing Sadie's mom in jail gives us an idea as to why she became a lawyer. It also tells us why she might be attracted to someone like Billy, who she thinks might be able to understand her family situation.
She's recused herself from Billy's case, which considering she's clearly into him, is probably a smart decision. I'm not expecting it to last very long, however. She'll be back on the case by Doubt Season 1 Episode 2.
At least, for now, she's doing the professional thing and resisting his advances, but I don't expect that to last too long, either.
So, what did you guys think? Are you invested in Doubt? What's the over/under on how many episodes it takes Sadie to give in to her attraction? Hit the comments with your thoughts!
Stacy Glanzman was a staff writer for TV Fanatic. She retired in March, 2019.