Scandal Season 6 Episode 3 Review: Fates Worse Than Death
Paul Dailly at .
Did you all enjoy the front row seat to Cyrus Beene's downfall?
On Scandal Season 6 Episode 3 we got even more confirmation that Cyrus is nothing more than a vile opportunist and it paved the way for the reveal that Tom was the one who murdered the Vargas.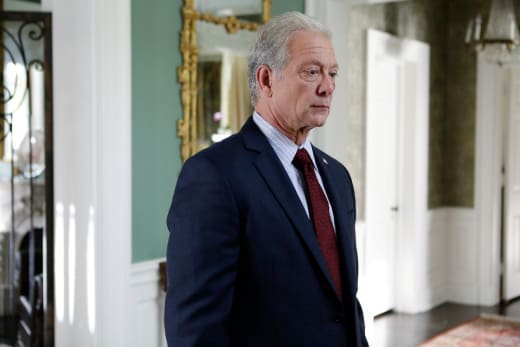 The shocking thing about all of this was that Cyrus did not want Vargas dead. Previously, it seemed completely plausible that Cyrus had him killed to get all the power he ever wanted. 
Much like Olivia, Cyrus is power hungry. Anything is possible with him. Turning to Tom to warn Jenny off was a typical Cyrus move. Continuing to cheat on Michael showed that Cyrus will never really change. 
Who would have guessed that Tom would be the one to send Cyrus down? That was a thrilling twist. Cyrus has been the one to assert his power over Tom for all of these years, so Tom being the one in control was a breath of fresh air. 
You could tell Tom was hurt because of the way Cyrus was treating him, so it was amazing to see him get some sort of revenge. Did anyone else think the show was really going to kill Cyrus off?
I mean, this is Scandal and the show does pride itself in throwing a bunch of crazy twists our way on a weekly basis. Cyrus being taken to jail was an appropriate end for him. 
Tom could have easily pulled the trigger and gave him the easy way out, but I'm glad he's heading to jail to rot. I'm not going to rule out a bit of last minute evidence that will set Cyrus free. 
The offer Fitz gave him to step down was a good one. He really should have accepted. Instead, he wanted to ensure that neither Mellie or Olivia made it into the White House. 
He would not have been able to live with himself if two of his enemies somehow came out on top. It's crazy to think that he used to be friends with those enemies. 
But it does show how far he has fallen over the years. Being a power hungry ass will always come back to bite you. Olivia should probably take note of that. 
Mellie finding out she's all but guaranteed to be President of the United States was great. She fought so hard to get to that point throughout Scandal Season 5.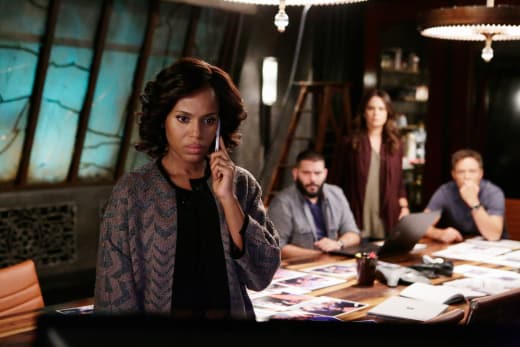 That's not to say things are going to be any easier. Drama is never far away from these characters, so it would be surprising if Mellie actually made it into the White House without someone trying to steal the power from her. 
I can't be the only one surprised Vargas was not sleeping with Jenny. There was just something about the way they acted together that made it seem like there was something more going on between them. 
The powers that be really pulled the rug from under us. That's not a bad thing. The element of surprise was gone from this show for a few years. Thankfully, we're getting back to the show I used to love. 
"Fates Worse Than Death" was a thrilling episode. There was not as much Olivia as usual, but it was intriguing to find out who the murderer was so early in the season. It was poised to be one of those storylines that was dragged to the end of the season. 
Other tidbits from the episode:
Poor Michael. He should run far away and never look back. Cyrus is always going to be a reckless man who would trade a limb for some power. 
Liz crawling through bushes to get to Cyrus was hilarious. However, you would think the security would have been much better. 
Abby making her feelings clear to Fitz was warranted. She felt like he was just taking everything more seriously because the tip came from Olivia. As someone who worked for Olivia for many years, Abby knows how her boss works. 
If Vargas had just refrained from taking Cyrus on as his Vice President, he would probably still be alive. 
The flashback with Olivia proving to Cyrus that she did not think he was worth it was crazy. Cyrus was right to call her out straight away. 
Are Quinn and Charlie the most straight up couple on all of TV?
Jenny's friend really went a little bit far the way she handled Huck.
Remember you can watch Scandal online right here on TV Fanatic. Get caught up now. 
Over to you, Scandal fanatics. Are you glad we found out who murdered Vargas? Should Cyrus continue to be featured on the show? Will Mellie really make it into the White House?
Hit the comments below!
Note: Scandal Season 6 Episode 4 airs February 16 on ABC. 
Paul Dailly is the Associate Editor for TV Fanatic. Follow him on Twitter.