If nothing else, Bones Season 12 Episode 9 reminded me of how much I will miss this show. 
I'll miss the characters.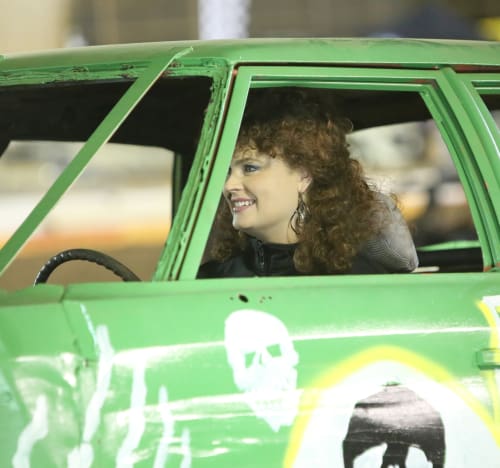 I'll miss the science. 
I'll miss the mysteries. 
However, I won't miss the gore, and I definitely won't look back fondly on the parasitic round worms coming out of dead bodies! 
Oh gosh, I feel nauseous. 
But I'll give credit where it is due... bits of a body in a hay bale is a new one, although whose twisted brain came up with it I'm not sure I'll ever want to know. 
Oddly enough, one of the most shocking things to be brought up about murder victim Dustin Doyle was that his mother's Parkinson's medication can cost anywhere from $5,000 to $10,000 a month!
I kept expecting for it to be revealed that the reason Dustin robbed banks was to pay for his mother's prescription drugs, but they never quite circled back around to that.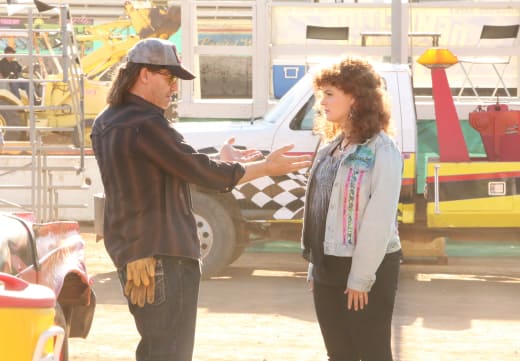 I also didn't expect to have to wait quite so long for Buck and Wanda to make an appearance.
I'd say that Buck and Wanda Moosejaw have some car shopping to do.


Brennan
I wasn't a big fan of the demolition derby. If they were going to bring Buck and Wanda back, I thought they'd have them do more than just smash up some cars. 
But perhaps that's just me. I see demolition derby as some strange sort of real life bumper cars. Of course this one came complete with Wanda's frizzy hairdo and Buck's mullet. 
Not to be outdone, Aubrey showed with with a mustache and a hideous pair of '90s acid wash, pleated front jeans. 
I wish I could unsee that, but the image is burned into my brain. 
All kidding aside, my favorite part of "The Steel in the Wheels" was Dr. Gordon Wyatt's return. 
What I have is an inchoate, nebulous, glimmering of a case which involves secret societies, cannibalistic rituals, and a brilliant, young, forensic anthropologist who was coerced into a plot he didn't fully comprehend.

Gordon
That Bones quote certainly summed it up nicely. 
Gordon fit back in seamlessly, and not only did I find that I had missed him, it made me long to see Sweets once again as well, but I suppose that's one return we're just not going to get in Bones Season 12. 
That realization makes me almost as sad and cranky as Brennan.
She just lost her father. I think her crankiness is just a symptom of her grief.

Rudolfo
I appreciated that the loss of Max hasn't been brushed aside and that Brennan's ongoing mourning continues to be addressed. 
I also felt badly for Hodgins when Brennan all but called him a liar to his face in this Bones quote…
Hodgins: Do you really think that I would falsify my work?
Brennan: For a friend, yes.
Would Hodgins do that for Zack? I suppose anything is possible, but I never believed that he did. To his credit, he doesn't seem to be holding Cam and Brennan's skepticism against them. 
It was intriguing listening to Gordon and Hodgins go back through the Gorgomon case, or perhaps it's just Gordon's accent. A British accent can make anything sound better, even cannibalistic murder. 
By the end, I wished that the entire demolition derby plot had been scrapped and the search for the apprentice had been the lead story of the hour. 
With only three episodes left, is it possible that Zack Addy will return to The Jeffersonian before it all ends?
Check back on Friday to debate this installment with our Bones round table team and check back next week for my review of Bones Season 12 Episode 10.
If you're already missing Booth and Brennan, you can watch Bones online here at TV Fanatic.
C. Orlando is a TV Fanatic Staff Writer. Follow her on Twitter.