Criminal Minds Season 12 Episode 18 Review: Hell's Kitchen
Dale McGarrigle at . Updated at .
The BAU ended up being night stalkers themselves, as they tried to track down an unsub who resembled an urban vampire.
Also prison was really started getting to Reid on Criminal Minds Season 12 Episode 18
Another unsub who was at least somewhat understandable came out tonight.
Malone had some vague, rare blood disorder, and for the past couple of years, he'd been searching for the right blood that would mitigate his symptoms.
Yeah, I'm betting his diagnosis didn't exactly come off of Web MD.
Instead, he went through an assortment of runaways, many with drug habits. Not surprisingly, their polluted blood didn't hold the cure for him.
And Katie, already stressed out by her parents' divorce, made the mistake of straying into Malone's hunting grounds on her way to visit her father. So she got to be his pincushion, getting stuck for the precious blood he thought he needed.
He'd been self-treating right along, so he must have known what he's looking for, right?
As psychos go, Malone was fairly palatable.
He helped Katie tune into the rhythms of the city which he had learned because he was forced by his condition to live in a dark setting. 
He also told her his sad life story, about his mom and dad tossing him away and his distracted uncle being the only adult that was there for him.
Then he made the ultimate act of self-sacrifice, letting her go, figuring she'd get lost and return. Bad guess there.
He also made the fatal mistake of sneaking up on an armed Walker after knocking him out previously. Was he looking for suicide by cop, or was it just another really bad decision?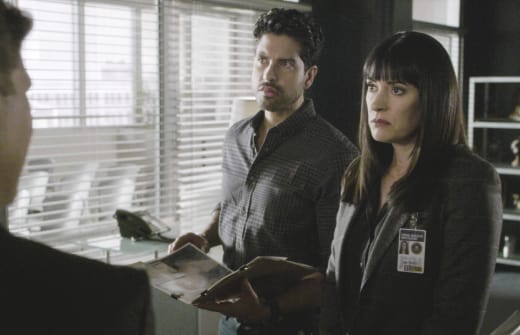 Fortunately, the team had to resort to good ol' fashioned police work, after Garcia failed to magically come up with a name for them.
Video from the area led to a suspicious van, which led to an address, where said suspicious van was parked over the entrance to Malone's underground lair (vamps gotta have a lair, right?).
Within seconds of descending the ladder, JJ was mistakenly attacked by Katie, who, despite miles and miles of tunnels, happened to be in just the right spot to be rescued. Strains credibility, doesn't it?
Malone whacking the black man with the gun, not so much. But he didn't even try to secure Walker in any way or escape. I think he was just ready for his pain to be over.
Yeah, Malone was a victim of circumstance to a degree, but I doubt those two dozen dead girls would agree.
At least he was out of his misery. That wasn't the case for Reid.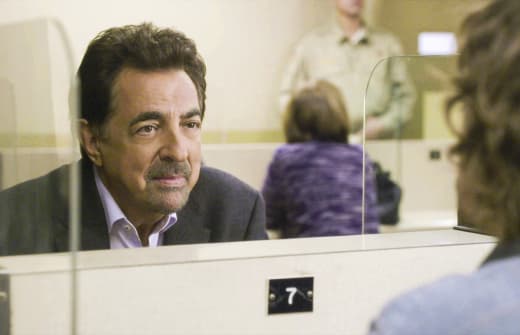 Rossi, who admitted to feeling helpless about Reid's situation, finally went to visit him, although frankly, he didn't get a chance to unfurl many pearls of wisdom before the lockdown horn sounded.
Haunted by Delgado's death, Reid couldn't sleep. And even his big brain needed to be cleansed out each night.
So he was getting paranoid, seeing enemies all around him. And he was reducing a complicated problem to a simplistic solution, kind of an inmate's "Why can't we all just get along?"
Reid made what he saw as the moral choice by tampering with the drugs in hopes of making them less desirable. It was not the best choice if he had thought it out more clearly. See what I can do about the problem with sleep deprivation? 
With all the chemicals at his disposal in the laundry, you'd think he could have come up with something a little less fatal. Now he's poisoned the only ally that he had inside, who, granted, wasn't much of an ally.
I'm hoping that he just incapacitated, but didn't kill, other inmates. That would put a damper on his defense: "Drugs are bad. That's why I made them worse."
So Reid went further down the rabbit hole while his BAU teammates shook their heads sadly in commiseration. Only Alvez, who barely knows Reid, has made any kind of aggressive action to help him out.
Lawyer Fiona's "it's out of my hands" approach isn't going to get him to safety anytime soon.
With four episodes left, I think viewers are resigned to the idea that Reid is stuck inside the prison rings of hell until Criminal Minds Season 12 Episode 22 when Morgan will come back to save the day.
Predictable. Producers, way to throw your support behind your new cast members and unit leader.
So get ready for four more episodes of Reid looking increasingly bedraggled. I'd love to be wrong, but I doubt it. This has already been dragged out beyond what makes dramatic sense.
To catch up on the BAU without Reid, watch Criminal Minds online.
Did you feel any sympathy for Malone the unsub? Did Reid make the right call? Now, what's going to happen to him? Comment below.
Dale McGarrigle is a staff writer for TV Fanatic. Follow him on Twitter.