The Flash brought a lot of light to the world with an anti-villain. Who knew they existed?
The Good Fight battled a bit of ugly language and Quantico joked around with...terrorism?
Hey, what can we say? Quotes are fun!
Scroll through our assortment for the week and find something new to watch next week.
1. The Flash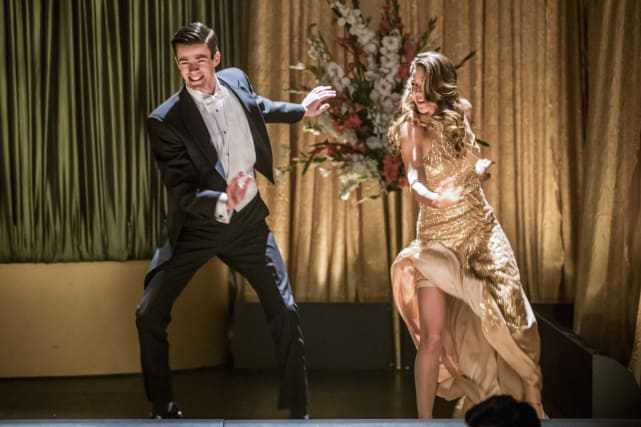 Barry [singing]: I'm your super friend. Your super friend. I'll be there in the nick of time if you're ever in a spot.
Kara [singing]: And if not there in time, you can just go back in time and give it another shot!
Barry: I'm actually not supposed to do that anymore.
2. The Good Fight
Julius: You can't ban every use of the n-word on the internet.
Diane: Yes, you can.
Adrian: Every rap lyric would go out the window. What about Huckleberry Finn?
Barbara: Yes, that would be unfortunate. All those times Huckleberry Finn is quoted in tweets.
3. Time After Time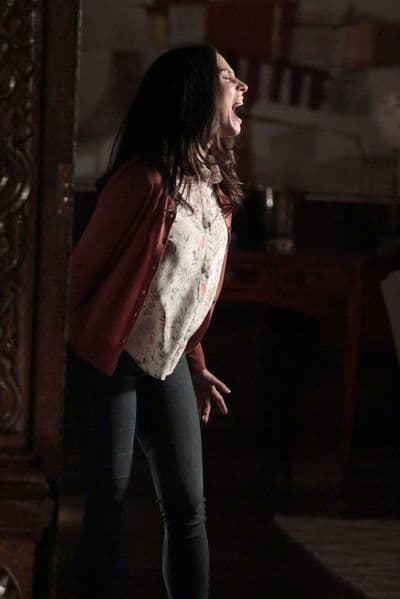 My god. Imagine the possibilities if you used your memory for something significant.

H.G. Wells
4. Homeland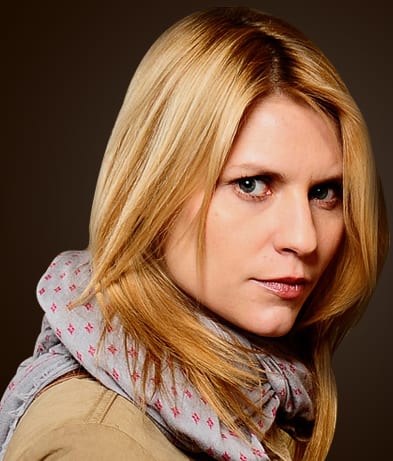 [Quinn] nearly died last year in Berlin and I managed to save him. But… [getting emotional] the way he's been acting the past few months, it's as if he wants to finish the job. So I brought him into our home because I can't go through that again. I can't lose another one.

Carrie
5. Shades of Blue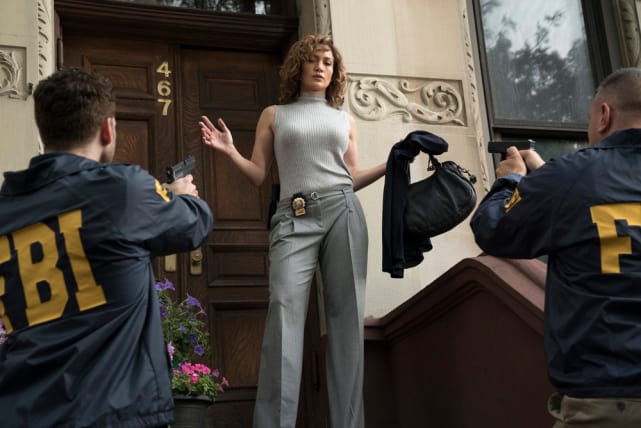 Stahl: I'm a man of my word.
Harlee: When it suits you.
6. Big Little Lies
Principal: I understand Ziggy's father is not involved in Ziggy's upbringing. Is that right?
Jane: The only thing I know about Ziggy's father is that he's keen on erotic asphyxiation and raping women.
Madeline: You did not say that.
Jane [laughs]: No, of course I didn't. But I wanted to.
7. Once Upon a Time
Careful. I don't think your sister would be too pleased if you caused the demise of a second Robin.

Robin
8. FEUD: Bette and Joan
Bette: Where's your wheelchair?
Joan: It's on the set, why?
Bette: You're going to need it after I break your goddamned legs!
9. NCIS: Los Angeles
Deeks: I can't find it.
Kensi: What?
Deeks: My tiny violin.
Kensi: You're such a jerk.

10. Chicago Justice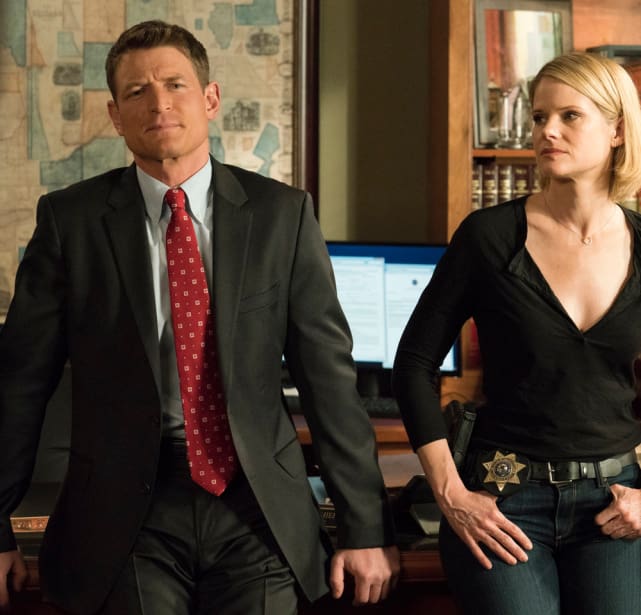 Judge: Bail is set at $1 million -
Olsen: That's an insult to these two young men who dedicated their lives to serving this country.
Judge: I wasn't finished. Now, I'd like to thank you both from the bottom of my heart for your service. Bail is still 1 million smackers.
11. Quantico
Diana: So what do you think happened? Another terrorist event?
Ryan: Well if Alex is here, there can't be one far behind.
Alex: Funny.
12. American Crime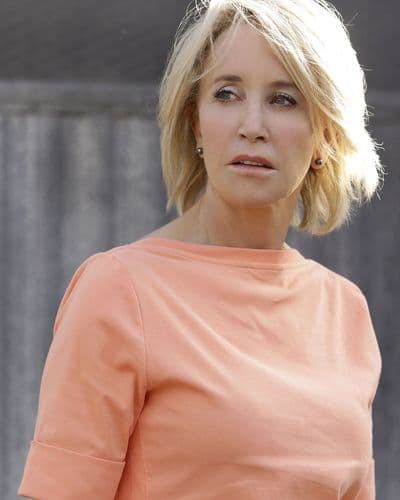 Kimara: You didn't do anything wrong. You didn't commit a crime. You're under the age of consent.
Shae: I'm free to go?
Kimara: There are other girls...
Shae: Let one of them testify. I was begging people for money long before I met Billy. Why you gonna put him in jail for something I was doing anyway?
13. The Arrangement
I haven't exactly been sold on Megan.I guess you've sensed this. She's beautiful. She's a good actress. But whatever this other thing is that you and Deann see in her, it's been lost on me. Until now. She makes you happy, and I care about you. So, I'm all in.

Terence
14. Girls
Marnie: Ray broke up with me. Can you believe it?
Hannah: Kind of, yeah. I mean, you're, like, a horrible cunt to him, so...
15. Madam Secretary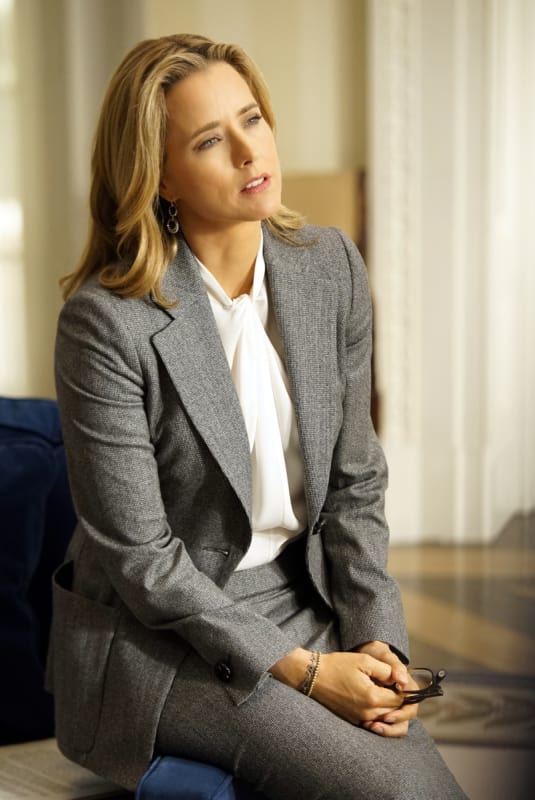 Blake [about the sand mandala]: Uh, I still don't get the point.
Elizabeth: That is the point.
Blake: No. Due respect, ma'am, not getting the point can't possibly be the point. You can say that about anything.
Elizabeth [points at Blake]: Exactly.
16. The Magicians
Quentin: I don't want to know a world without Alice.
Alice: Keep this up and you won't have to. We'll both be dead. Good plan.
17. Supergirl
Kara: What's next?
Mon-El: Oh how about one of those movies where everybody just breaks into song out of nowhere?
Kara: You mean a musical?
18. Scorpion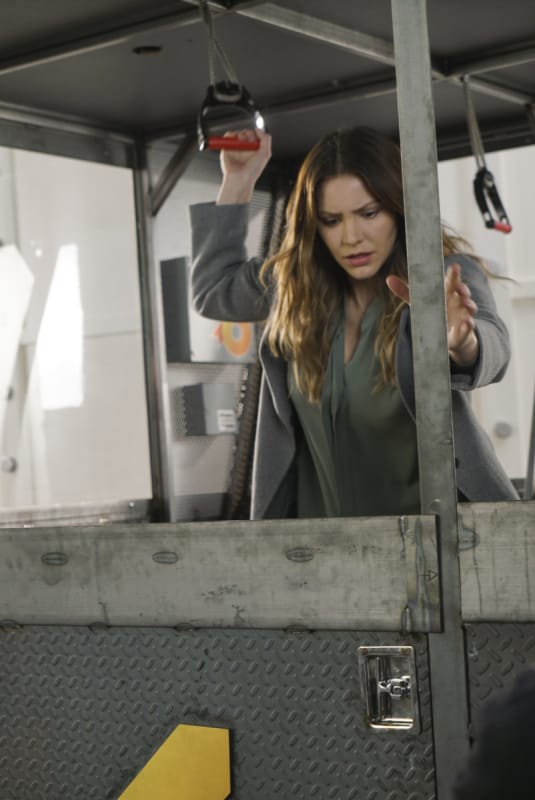 Happy: We're friends-ish.
Paige: [scoffs]
Happy: I like you just fine.
Paige: What a ringing endorsement.
19. Bates Motel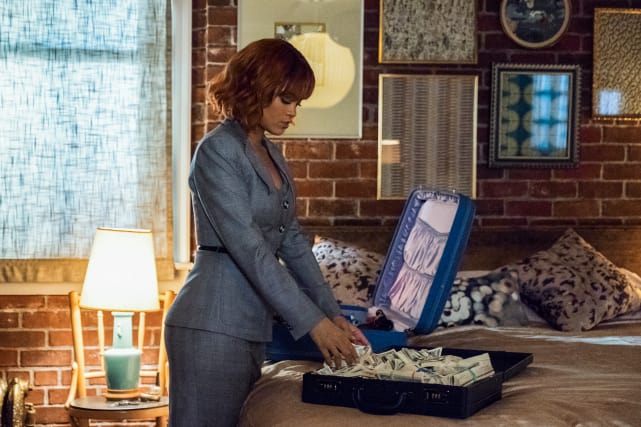 Dr. Edwards: Do you remember what I told you about her?
Norman: Sometimes I see mother when she's not there and sometimes I become her.
20. Jane the Virgin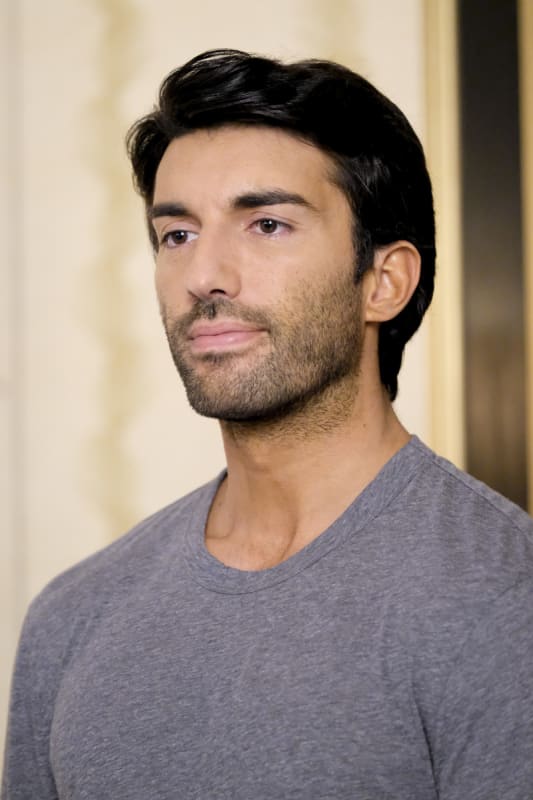 Rogelio: So are you excited about abuela's wedding?
Mateo: Will she have a bouncy house?
21. Bones
A body, covered in acid. Yeah, that should help with the nausea.

Aubrey
22. Outsiders
G'Win: I think we get one of them up here... show them the harm they've caused.
Farrell: Ain't gonna come willingly.
G'win: I know.
23. The Americans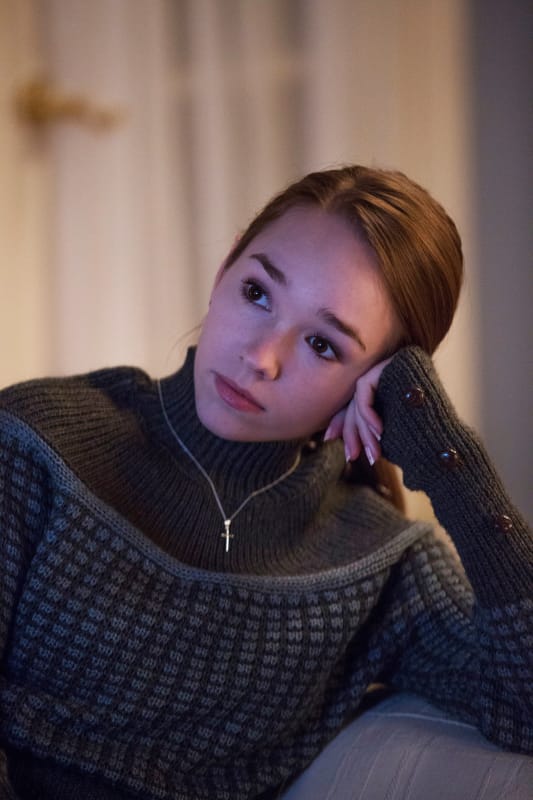 Being in a relationship is complicated. You don't share everything. You hold back what you need to. Everybody does.

Elizabeth
24. Legends of Tomorrow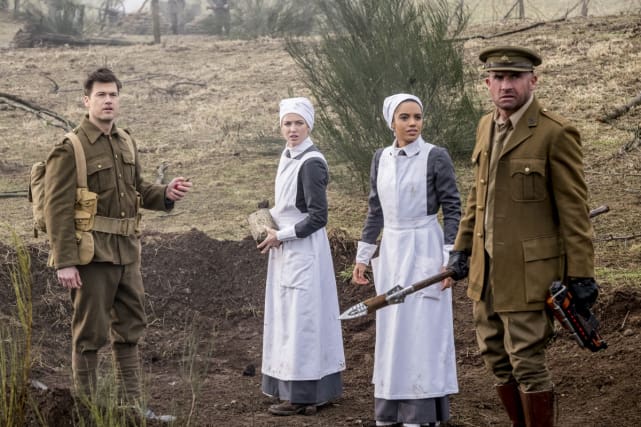 Mick: Piece a cake.
Jax: You thought that was easy?
Mick: No. I want a piece of cake. And a beer.
25. Empire
What Marley gave you in Control, and Dre gave you in Chronic, I give you in Inferno.

Lucious
26. The Fosters
Mariana: He kissed her? Oh my God, I'm going to kill him.
Callie: No, she kissed him. He didn't pull away.
27. Chicago Fire
Cruz: Wait, Walcott, wasn't there a shooting there last shift?
Otis: Mm. It's a turf war. The, uh, Western Posse's beefing with the 21 Naturals. [all turn to look at him] What? I follow the Drill Rap scene! Sue me.
28. Underground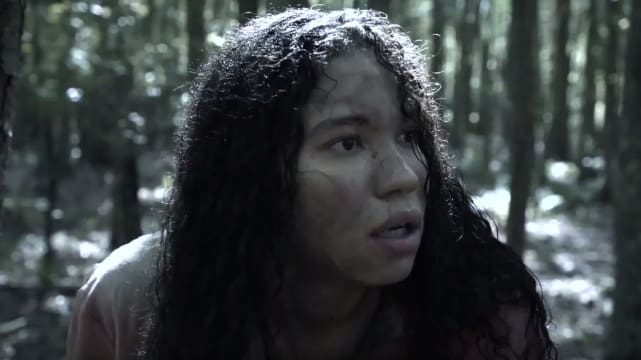 This life be hard and unfair. You gon know pain and ain't nothing I can do about that. But every once in a while, we can steal moments like this one. If you can hold onto them, it'll help through the hard times. Understand?

Ernestine
29. The Expanse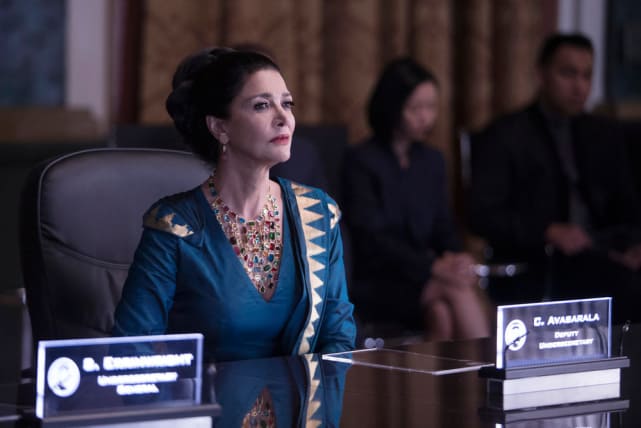 Transmission from Venus: …scans indicate the presence of biological compounds in the air above the crater. Life, in an environment that melts lead—it should be impossible.
Deputy Undersecretary Avasarala: Eros changes everything… just like a soldier on Ganymede without a suit.
30. Arrow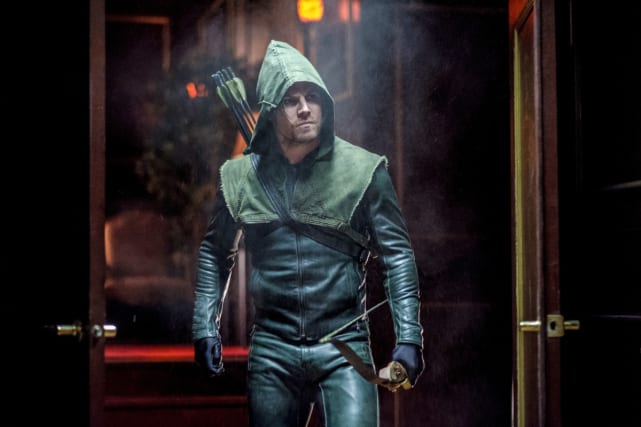 Malcolm Merlyn, CEO of Merlyn Global Group.
Anatoly. Anatoly, Gangster.

Malcolm
31. Criminal Minds
Alvez: We will keep Reid safe. We will find a way to get him through this.
Garcia: That's what I told him. But he looked at me like he didn't believe it.
32. The 100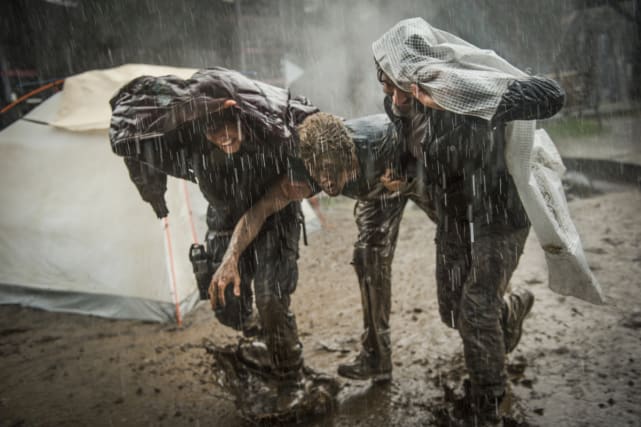 Ilian: You want to survive out here alone? Let me help you.
Octavia: You've helped enough.
33. Law & Order: SVU
Will: I don't want to betray anyone.
Sonny: You don't owe Dalton a damn thing. He is a predator. He is everything you are trying so hard to overcome. And if you protect him, he's going to rape again. And that's gonna be on you.
34. Major Crimes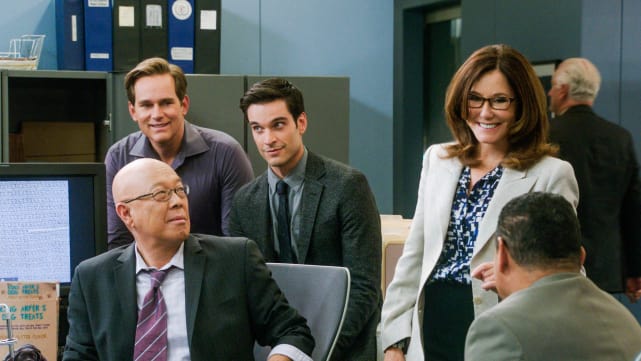 Sharon: Mary's biggest defense was that her captain didn't like a woman in the unit.
Flynn: Well, it was a bit of a boy's club back then.
Sharon: It still is. But I don't know how much of a feminist she really was. When I caught her for fraud she called me a bitch.
35. Chicago PD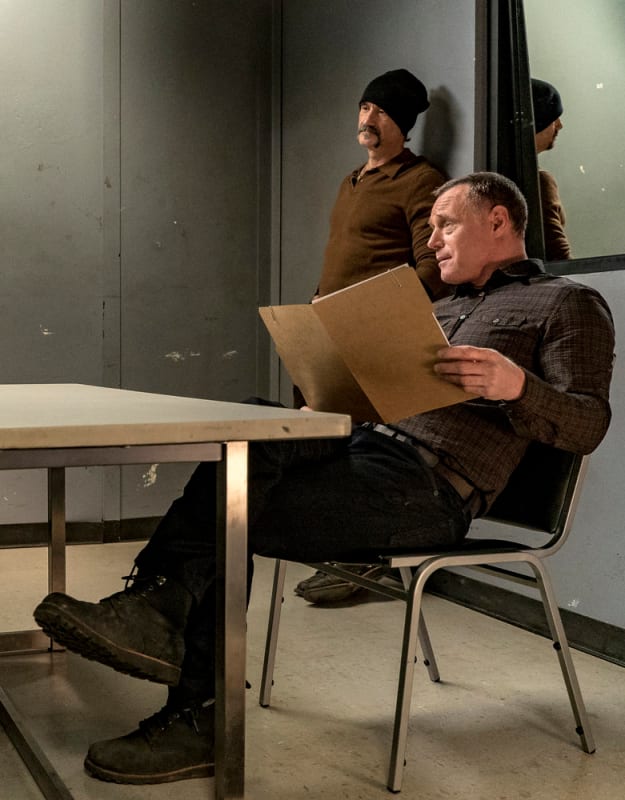 Ruzek: Well, I'm confused. Was the husband the mastermind or was it her the whole time?
Olinsky: Kid, what are you looking for? They can tell you all day long why they killed someone, you're still not going to sleep any easier.
36. Designated Survivor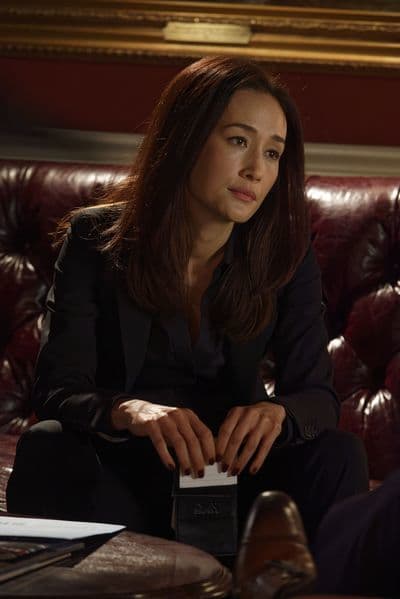 In times of crisis, we must not succumb to cynicism and mistrust. Instead, we must maintain faith while embracing reason and truth, not speculation and rumor. Again, we can only obtain this through transparency.

Kirkman
Wait! There's more Quotables for Week Ending March 24, 2017! Just click "Next" below:
Next