Scandal Season 6 Episode 5 Review: They All Bow Down
Paul Dailly at . Updated at .
What the heck is going on?
That very thought came to my mind several times as I watched the drama-filled Scandal Season 6 Episode 5. 
At first, I thought Jake had reverted to his old ways as Rowan's speed-dial murderer, but it appears that he's working for himself.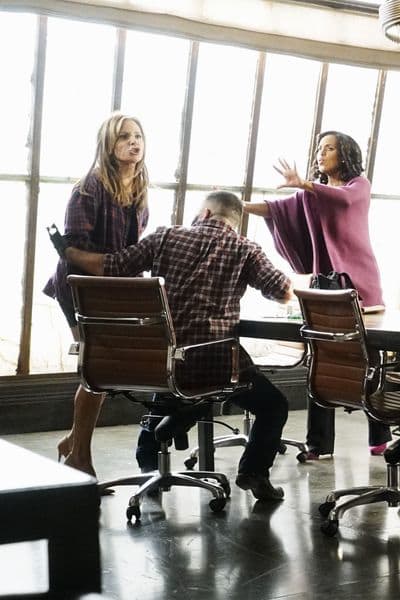 He kidnapped Olivia to tell her the truth. She was petrified, and I expected there to be some sort of scuffle. Why didn't he just put her mind at ease and let her know the good news earlier?
Did his actions prove that he gets a thrill out of seeing people fearing for their lives? It certainly seemed that way. Jake has always been an odd character on Scandal. 
He's always been tough to read, but I was so sure he was the murderer and was back in cahoots with Rowan after that flashback showed him blowing the cabin up. 
I probably speak for most viewers when I say the reveal Jenny was alive floored me. I'm unsure what the heck Jake is up to, but I'm all for twists in the tale if they make sense.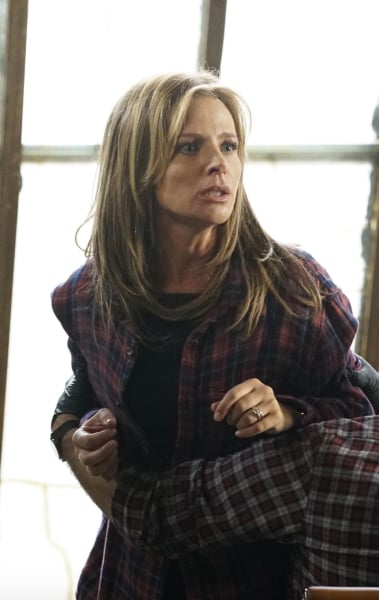 Jake's relationship with Vanessa is a sham. He doesn't give a crap about her. He almost strangled her to death when she persisted with her questioning, but she had a point. 
Being secretive with your spouse is never a good move, and that's partly why Vanessa was acting out. Her default was thinking her husband was cheating on her. 
She thought he was giving his affections to someone else, so she opted to go off on Olivia for being the designated White House mistress. There's only so much one person can take before snapping, and boy, Vanessa was lucky Huck walked in. 
Am I the only one loving Jessalyn Gilsig as the new Vanessa? It's almost like she's been on the show all along. She's a delight. 
I don't know whether Mellie's advice to Vanessa will do much good. Even if Vanessa wants to make a go of her relationship, will Jake be able to keep his murderous hands away from her neck?
Maybe Rowan will kill Vanessa thinking it will get to Jake, but we'll need to tune in to find out. 
Jake's default setting is to kill. He's a cold-blooded murderer, and he can only go so long without murdering someone. Pretending to Rowan that he's back on his side will only come back to bite him.   
Jake even went as far as admitting to Olivia that he needs to follow orders to feel something. That's not a pleasant situation to be in, but it shows just how much of an effect his past is going to have on his future. 
Olivia confronting her father was one my favorite parts of the episode. Her father is generally the one to blame when things go wrong for her. He always has a plan in play to assert his power over her. 
That's why I was not surprised about the wire transfer. It would have been a great tactic to keep Olivia in line, but I don't know how to feel about this woman in the red dress who seemingly has no qualms about taking both Rowan and Olivia out of the equation. 
It's very different to see Rowan being the one given orders. We've spent much of the show's run with him sending out death threats like they are going out of fashion. 
This twist, however, reminds me of the convoluted mess that was B6-13, and it's doubtful the show will hold my attention for long if they start adding random twists purely to shock us. 
The type of twists that throw logic aside in favor of shocking viewers don't sit well with me. I'd like to think someone would have taken note of the tepid reception to Scandal Season 4 and not make us endure that mess again. 
"They All Bow Down" was not my favorite. The shifts in time were kind of confusing, but I liked that Jake did something right for a change. 
Other tidbits from the episode:
The Olivia vs. Vanessa fight was amusing. Vanessa's comment about the miles on Olivia's nether regions made me laugh out loud. 
Was it a little too convenient that Jake managed to walk away from the explosion without being knocked over from the force? Should we put it down to him being this trained killer?
Where was Cyrus? We need to find out what happened after Tom told him the truth in prison. Being off on a break and skipping his storyline was not the best idea. 
Sally Langston was as comical as ever. I'd watch her talk show any night of the week. 
Remember you can watch Scandal online right here on TV Fanatic. Get caught up now!
Over to you, Scandal Fanatics! 
What did you think of the episode?
Note: Scandal continues March 16 on ABC!
Paul Dailly is the Associate Editor for TV Fanatic. Follow him on Twitter.