The Good Fight Season 1 Episode 4 Review: Henceforth Known As Property

Tiffany Staton at . Updated at .
Fake news is everywhere.
It blows up social media, contorts our opinions, and makes us question every media source and outlet.
On The Good Fight Season 1 Episode 4, Maia takes a stand against fake news, Mike Kresteva returns and comes after the firm, and Diane fights for the rights to an embryo.
You may be surprised that with all focus on fake news, there wasn't a single mention of Trump. Kudos to the writers for resisting. I'm sure a lot of people appreciated that.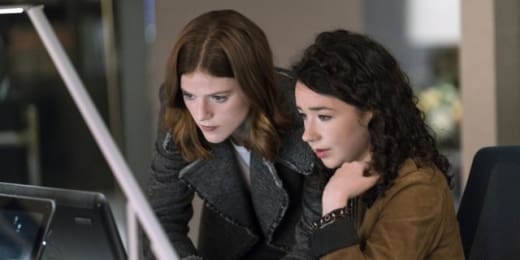 Maia was concerned when she discovered a fake Twitter profile. Lucky for her, Marisa is the best wing man EVER.
Maia: Am I being fired?
Adrian? What?
Maia: Am I being fired?
Adrian: I barely even know who you are.
Maia: So I'm not?
With her help, they track down an old boyfriend who had previously taken nude pictures of Maia.
The ex-boyfriend was annoying, but his Twitters bot stories were relatively tame.
Canning peaches. Buying jewelry. The oral sex tweet was a bit much, but still, it was nothing that would land Maia in jail.
So while Maia's choice of retaliation was appropriate and clever, I think she went a little too far. Kiddie porn is deadly serious. Mere possession of it is a crime.
Of course, as soon as I start feeling bad for the guy, he showed up at Maia's office and called her a bitch.
In my opinion, and as a fellow female, he was a little too aggressive. Luckily, Adrian was there.
At this firm, we stand up for each other.

Adrian
The more I see of Adrian, the more I like his character.
Two scenes stood out to me.  Graciously accepting Diane's warning about Kresteva even though he thought he could handle it and standing up for Maia.
A character I definitely don't like is Mike Kresteva. Sorry Chandler, but you're an ass.
I knew something was up when he was talking about his son. It seemed like he had rehearsed that speech one too many times.
His blatant lie in front of the grand jury was infuriating. You could tell Diane was doing her best to keep her cool.
Again, it's frustrating to think that these things probably happen all the time.
You want to believe our justice system, and the people that work within it, are fair and honest, but that's just not always the case.
People lie. Kresteva apparently lies a lot.
I wonder how long he'll be on the show? Hopefully, enough to get what's coming to him.
The case of the week had Diane trying to track down embryos that her client had sold eight years prior.
The contract entitled her to retrieve them if they weren't used within five years. The problem was, they had to find them.
Diane was forced to go to the fertility clinic. Her response when the director thought she was there for herself was hilarious.
Diane's laugh was perfect. Christine Baranski is just wonderful.
It was interesting to watch the judge try to discuss life within the context of contracts.
We are in some very odd areas of contract law now.

Judge
His confiscation of the smart watches was very true to life. I can't tell you how many times I've been in a courtroom where people are texting, their phone starts ringing, or shockingly, they try to take a picture.
Technology is so pervasive these days that people seem to forget there are still places where its use is limited.
A courtroom is one of those places.
While I'm not convinced the judge decided the case on legal grounds, he got the right result in the end. Justice would not have been served if the embryo was destroyed.
Plus, he's the judge, so he can pretty much do whatever he wants.
The case had Barbara and Diane thinking about the fact that they never had children.
Diane never really talked about this on The Good Wife. It was surprising to hear that she never made the choice and that she sometimes thought about what her and Kurt's son or daughter would be like.
I wanted so badly for her to call him. Kurt is so good for her when he's not being swayed by pretty young Republicans.
I love that Barbara and Diane finally bonded a little.
I know they've probably had very different challenges and life experiences because of their races, but they probably have a lot in common, too.
Diane: Britain's fertility watch dog.
Opposing counsel: And you called them?
Lucca: We did.
Opposing counsel: How?
Barbara: We dialed 44 and then the number.
They're two strong, independent, career woman. They've had to sacrifice a lot to get where they are.
For instance, having children, which for some reason is assumed to be a goal for most women.
I like that Barbara is warming up to Diane. I feel like they could be an unbeatable legal duo. I'm excited to see Barbara's character develop.
What about you guys? Do you like the new characters? Who do you want to see more of?
Footnotes:
**Lucca and Collin continued to flirt. He's cute, but his "year without sex" story had me rolling my eyes, too.
**I had serious coat envy! Lucca's pink one, then Diane's forest green one, and finally, her maroon one. Dang you, Southern California weather!
**Marisa knocking down the picture while trying to spy on Kresteva and Adrian was totally something that would happen to me.
**I loved when Diane, Lucca, and Barbara came together to make one last stand in the fertility case. Do I sense a squad forming?
**We got another Alicia mention, and we'll see Elsbeth on The Good Fight Season 1 Episode 5. I can't wait!
If you want to watch the episode again, or any of the first three, you can watch The Good Fight online via TV Fanatic.
Tiffany Staton is a staff writer for TV Fanatic. Follow her on Twitter.