Keeping Up with the Kardashians Season 13 Episode 4 Review: Kim's Last Ditch Effort

Sarah Hearon at .
The Kardashians have babies on the brain.
On Keeping Up with the Kardashians Season 13 Episode 4, Rob is mentally preparing for fatherhood, Kim has surgery to try and prepare her uterus to carry another child and Khloe gives birth to a different kind of baby... her new denim line.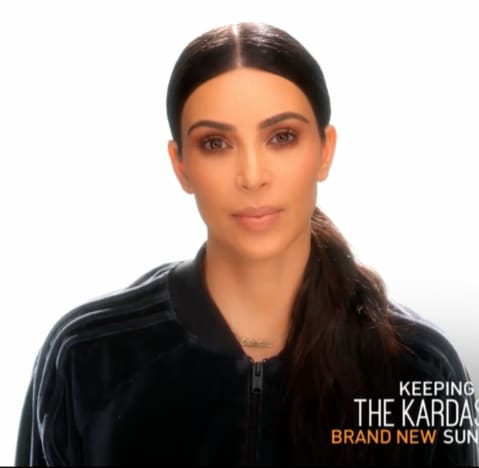 Khloe is asking Rob about his hospital plans because Chyna is about to give birth. It's weird because their baby special aired back in December a few months after Chyna gave birth, so none of this seems relevant anymore.
Between her ass, her belly and your belly... I can't handle it.

Khloe
With all of the drama, I'm surprised they didn't cut Chyna and all things related to her out of the show. After a whole season of Rob and Chyna and endless tabloid headlines, I didn't think they would want to give her anymore exposure or attention.
Khloe is learning Spanish in all of her free time, and I think she needs a new tutor.
El limón es verde. How is a lemon green? In Spanish it's a different color?

Khloe
She is also doing a photoshoot for her new denim line, Good American, and Kylie's friend Jordyn is one of the models. Anyone who follows Kylie on snapchat, knows Jordyn.
Meanwhile, Kim is still lying low after her Paris attack.
It's kind of refreshing to see Kim bond with North on the show a lot this season. In the beginning, Kanye wouldn't let North be on the show at all, and it was hard to relate to Kim as a mother.
Plus, who doesn't want to see as much North as possible? She's adorable. 
I'm sure Kim and Kanye have plenty of nannies helping them out, but Kim and North seem super close and comfortable together.
North seems so normal and well-adjusted too. All she wants is to cuddle with her mom and read a book about about Anna and Elsa from Frozen. (I can totally relate).
I'm dying to see North, Penelope, Mason and all of the Kardashian kids (future spin-off in the making) as teenagers and young adults.
It's time for another family dinner, and the topics of conversation are Khloe's uneven lip liner and Kim's future third baby.
If Kim was able to get pregnant again, it would be a high risk pregnancy and require a surgery to repair her uterus.
I want my kids to have siblings, and I want to know that I did everything that I could to make this happen.
Rob, who is trying to get back to his Armenian roots before his daughter is born, has dinner with Kris, Kim and Khloe. 
It didn't take long for the conversation to shift to Rob's weight and how he needs to get healthy ASAP.
I think he should go on Khloe's show Revenge Body.
His mother and sisters are questioning whether or not he is finally serious about his health, and he insists that he is. But personally, I think it said it all that Rob is asking Kris to book sessions with the trainer for him instead of doing it himself. 
Meanwhile, Kourtney and Khloe can't stop working out (and snapchatting about it). I've always wondered if they hired someone specifically to film their workouts for snapchat, and if the trainer thinks it's annoying.
Back in Good American world, it's finally time for the jeans to launch, which means press, press and more press.
Khloe's business partner finds out that they have to sell 150,000 units of jeans to be successful, and that makes Khloe nervous. 
You're going to make denim history.

Kourtney
Khloe compares her launch to Kylie's cosmetic line, and worries about failing in comparison.
I'm always been known as the fat sister, and now that I'm over that, I don't want to be the failing sister.

Khloe
She even goes to Kylie for tips and explains how important the success of her jean line is for her. 
Kylie doesn't have much to say, which isn't shocking. She's a girl of few words and many, many lipkits. 
Kim goes ahead and has the surgery on her uterus to get ready to potentially carry another baby. Kris is by her side (of course) and is low key trying to talk her out of having another baby.
Remember that girl Pink she wanted to adopt for like five minutes on the family vacation to Thailand. 
Maybe she should just go back and adopt her or one of her friends.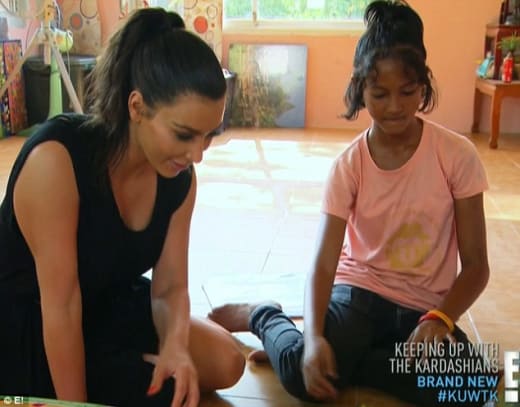 There's complications with Kim's surgery that is affecting her bladder. Khloe comes to visit her, and her face when the doctor is checking on her is priceless.
This is the best birth control.

Khloe
Only Kim K would get to be in a hotel room instead of a hospital bed recovering from her surgery that had complications. 
In the end, Kim finds out that she is not going to be able to carry another baby. I feel bad for her, but if she really wants another baby, using a surrogate is always an option.
And if she wants another 10 seasons of KUWTK, she will have Kourtney or Khloe carry the baby for her and the drama will create itself.
I'll also never forget Giuliana and Bill Rancic's reality show and their surrogate, Delphine. Maybe she's available and they can keep it in the E! family.
Kim looks like she is in a lot of pain, but is eventually able to get her catheter removed and pee on her own again. 
I honestly never thought I would be so grateful just to pee by myself.
She didn't even have to listen to Kendall and Kylie's song about being comfortable peeing in public "It's Ok To Go, Go, Go" they recorded for Kris a few seasons back.
Kim also casually mentions to Jonathan that North accidentally opened her bag and pee spilled all over the carpet when she had the catheter.
Even celebrity toddlers make mistakes.
In other news, Chyna doesn't know where Armenia is, or how to pronounce it.
In case you haven't heard, Rob and Chyna have rekindled their relationship (on snapchat), but I'm sure it won't last long. Chyna also got denied (again) for the rights to trademark the name Angela Kardashian. 
Don't mess with Kim, Khloe and Kourtney when it comes to the Kardashian branding, girl.
Speaking of Kardashian business ventures, Good American is officially in stores and (shocker!) the launch goes well.
The idea of a denim line that doesn't single out the plus-size sizes is smart, especially with Khloe's fitness journey getting a lot of attention right now.
Don't forget you can watch Keeping Up with the Kardashians online via TV Fanatic.
Sarah Hearon is a staff writer for TV Fanatic. Follow her on Twitter.