The Magicians Season 2 Episode 11 Review: The Rattening

Mandy Treccia at .
People turned into rats, Quentin and Julia made a deal with a dragon, and Senator Gaines felt guilty for using his god-powers.
And those insane moments barely scratched the surface of the events unfolding on The Magicians Season 2 Episode 11 "The Rattening."
Each storyline and twist ramped up the sense of urgency in the characters. We're on a rollercoaster speeding toward the end of the season.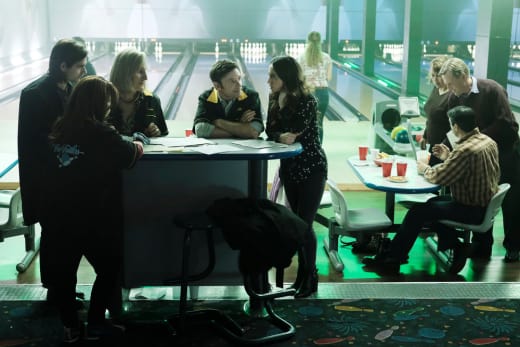 While a case could be made for each and every lady earning the MVP award, Julia's actions took her to the head of the line.
Despite being separated from her shade, the former Hedge Witch is thinking with a clear head. Kady locking her up on The Magicians Season 2 Episode 9 turned out to be the best thing for her.
The rules of how lack of shade affects people continue to be sketchy. But maybe that's okay. Maybe Julia finding the strength to overcome her demons without her shade is the more powerful story.
Shade-free Julia is the one who tried to stop Quentin from trading his Fillory button. She's also the one who made the call to bring Alice's shade back rather than her own.
[Julia appears with Alice's shade.]
Quentin: Jules, what the hell?
Julia: This isn't up for debate.
Quentin: We came here so that you could--
Julia: Yeah. So? Things change.
Quentin: If you do this...
Julia: I know. This is my one shot. And this is what I want to do with it.
At one time, I may have assumed Julia had ulterior motives. But it doesn't look like that's the case. Even without her shade letting her feel guilt, Julia wants to make up for her past actions.
She knows she played a role in Alice's death. She knows how much it hurt Quentin to lose her. She's trying to remedy both of those things by returning Alice's missing piece.
Of course there's still a risk Julia could go off the rails again. I'm hoping that won't happen. She's stronger than ever. And a big reason for that is her willingness to think of others.
Julia's suffered so much in this particular timeline. I hope making this choice leads to the universe balancing things out in her favor.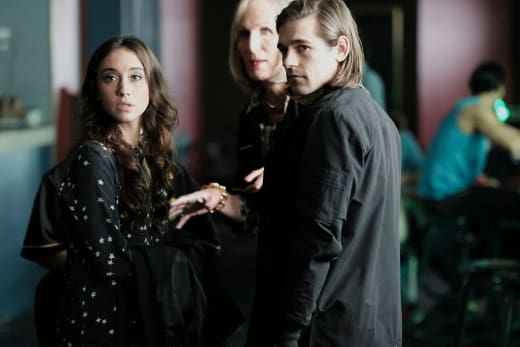 Being in the Underworld also led Julia to learn the goddess she once prayed to does exist. But she's been missing for ages.
It's an interesting twist. Mainly because it's all the more likely she'll pop up to help when the time comes. After all, she does have a past with Reynard.
Speaking of the trickster, he doesn't have as much control over his son as he would like. Unless Senator Gaines going to Kady for help was only a ploy. I think we've learned by now we can't be certain of anyone's true motives.
But Penny did say the senator believed everything he preached. So maybe he is a good guy trying to right the wrongs of his father. If that's the case, he'll need to play a role in stopping him.
Senator Gaines: So they're taking your orders now?
Reynard: Have been for a while. I controlled their minds. Just like you have many, many times.
Senator Gaines: I don't know what you're talking about.
Reynard: You know you have that power. You've been using it your whole life.
Senator Gaines: I always thought I had some kind of god-level good luck.
Penny once again struck out in his attempts at accessing the Poison Room. The Librarian wasn't interested in his charms, and told Penny as much in a rather blunt rejection.
She's not wrong about Penny being emotionally insecure. That's a common trait all the friends share. But he didn't have time to dwell on the critique with Sylvia entering the picture.
Like Senator Gaines, I don't think we should fully trust the mobster's daughter. She has her own agenda. Maybe she can be useful to Penny's quest, but how did she get into his head so easily?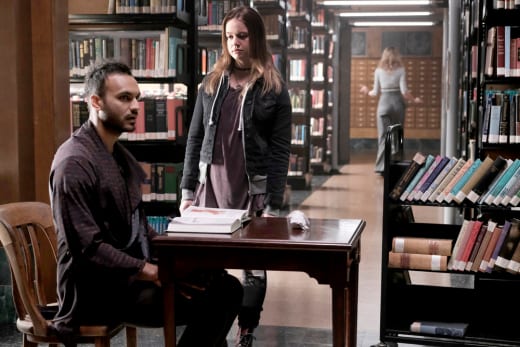 Being royals continues to suck for Margo and Eliot.
First, Eliot's shady future husband showed up. But before he and Eliot could get too close, he was turned into a rat. My first thought was they pushed the no sex thing too far. Then, it turned out "The Rattening" spread across Fillory.
I thought Margo would confess, but she planned to keep her mouth shut. Except Eliot made the decision for her when he slipped truth serum into everyone's wine.
I did not see that coming, but I'm proud of Eliot. He assumed the traitor was among them so he took action.
Margo: You truthied me. I can't lie. Eliot, I did this for you. There was no other way.
Eliot: Don't. You started this when you declared war. Now my wife and child are gone. I need to deal with the rats. I can't risk having to clean up your next mess. Guards!
Margo: No! Eliot! What are you doing?
Eliot: I don't know what else to do. Take her to the dungeons.
Margo: No! [guards grab her] Eliot, I'll fix this!
Eliot: Make sure she gets the best room. And see that she gets her coconut oil. Goodbye, Margo.
Did he suspect Margo? He must have or he would have told her about the drugged wine. Although, I'm guessing he was hoping for peace of mind rather than treachery.
I've been dreading this moment since the groundwork was laid on The Magicians Season 2 Episode 9. Margo loves and protects Eliot above all others. But I knew he wouldn't see it that way.
Especially if she wasn't the one to tell him.
But even though he's rightfully mad at her, he tried to make her stay in the dungeons as comfortable as possible. Which means there's hope for them yet.
Eliot getting tossed out of Fillory for wanting to bring democracy was a bit of a shock.
First, what happened to the rule of the king never being able to leave? Second, who had the kind of power to do that? Ember is the only one who comes to mind. The god of Fillory could be manipulating them for his amusement.
And if that's the case, Margo may need to make another deal in the fairy realm. Hopefully one that doesn't center on an unborn baby.
Tell us what you thought of "The Rattening."
Were you surprised by Julia's choice? Is Senator Gaines on the level? What about Sylvia? Who threw Eliot out of Fillory? Share your theories below!
Remember, you can watch The Magicians online anytime!
Mandy Treccia was a staff writer for TV Fanatic. She retired in September 2017. Follow her on Twitter.