Scandal Round Table: Why Is Mama Pope Back?
Paul Dailly at .
Mama Pope is back, but what does she want?
That's the main question on our minds after Scandal Season 6 Episode 14.
Below, TV Fanatics Christine Hinton, Jasmine Blu and Jim Garner discuss Quinn's new job, Mellie wanting Marcus and Mama Pope's return.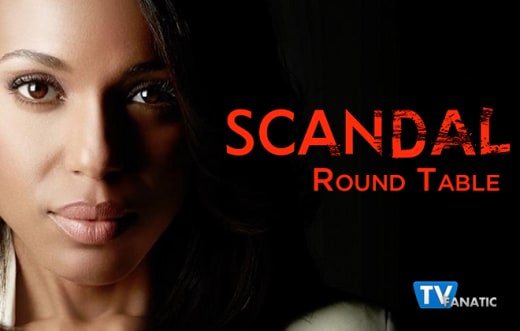 What did you think of Olivia handing over the reigns to Quinn?
Christine: I loved it! Quinn deserves it, and she was right about Olivia. Olivia has moved on. She has different priorities which now lean more towards that White House than the white hats.
If OPA is to continue on its mission for justice, it needs someone else leading the charge, and that person is Quinn. 
Jasmine: Same, Christine. If this was done a season or more ago, I would have rolled my eyes and been pissed. I love it though! Somehow Quinn has become one of my favorites, and she's been keeping OPA together for the longest.
She deserved this. Not only will Quinn actually keep OPA alive in a way that it hasn't been for years, but she'll have Huck and Charlie to help. I could watch an entire spin-off of those three. 
Jim: I agree with Christine and Jasmine both. Quinn has really stepped up, and the fact she has helped rehab Charlie to be a good guy and Huck is more stable with her around just tells you how good she is at this. I agree with Jasmine; I could watch a spin-off with the three of them.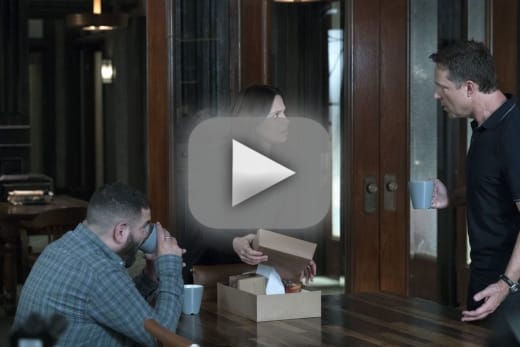 Discuss your thoughts on Mellie wanting Marcus on her team. 
Christine: She loves him. She respects him. She believes he'd be a wonderful Communication Director, but she also wants to keep him close so that she feels they might have a chance for a future.
I hope she and Marcus do have a future, but he's got to be able to follow his own path. We'll have to wait and see if he chooses to move on or changes his mind. 
Jasmine: Yes. Mellie loves him. She also trusts him, and she probably just wants to finally have it all. She has always had to sacrifice one thing that makes her happy for something else, and she probably thought this would finally be her chance to have everything she wants and needs. Maybe they'll be able to reconnect again. 
Jim: Again, Christine and Jasmine hit the nail on the head. There isn't too much I can add to what they said, other than to say that I'm kind of surprised Marcus hadn't told anyone about Fitz's offer so they could have warned Mellie.  
Mama Pope is the true villain. React!
Christine: I've never been a fan, but I am glad we don't have to deal with some other random villain. Perhaps this will bring us some closure on Liv's crazy, terrorist mom. 
Jasmine: The moment that file came out I suspected it was her based on the reactions. I like this. It's someone we already know, and someone who needs to be taken down but hasn't been yet.
I think, at this point, that connection to Liv is the only thing that would force Olivia to stay on the case. 
Jim: *YAWN* is it season 7 yet? I'm soo tired of Pope family as the source of drama.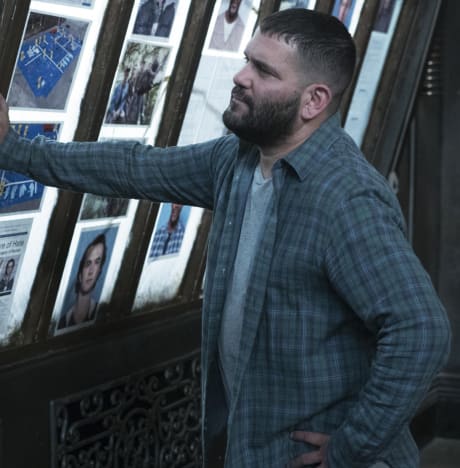 Are you digging David and Abby as a thing?
Christine: I've always been a fan of David and Abby. I thought they made a great couple the first time around, and have been rooting for them to be reunited. Now that they've both been through hell separately, I think they are even cuter together. 
Jasmine: I am. I much preferred them as a couple rather than Abby and Leo and David and Liz. I always felt like they should have gotten back together. There is nothing like bonding over a head in a box. 
Jim: Lol Jasmine! Seriously only these two would figure out how to bond over a head in a box. Speaking of, did anyone notice Abby calling her "ponytail" and that the head still had the hair in a ponytail actually made me giggle a little morbidly.  
Will everyone make it out of the season finale alive?
Christine: Probably not. This is Scandal for goodness sake, but I have no idea who will end up on a slab next.
Jasmine: I actually think they might. At least everyone we care about. I think if there is going to be a death, it'll be someone minor. I think they squeezed all of the death angst out of us with that Huck scare and Liz being bludgeoned. 
Jim: I hope so, between Liz, Frankie, the Huck scare we've been through the ringer this season...  
Remember you can watch Scandal online right here via TV Fanatic. Get caught up now!
Over to you, Scandal Fanatics. What did you think of the twists? 
Note: Scandal Season 6 concludes on May 18. 
Paul Dailly is the Associate Editor for TV Fanatic. Follow him on X.