Scandal Season 6 Episode 13 Review: The Box
Paul Dailly at . Updated at .
Is Scandal going to stop for air?
The twists and turns in the tale were elevated to crazy heights on Scandal Season 6 Episode 13, and it helped the series continue on the hot streak it's been on for the past few weeks. 
I was so sure Rowan was getting himself to safety before Olivia. Turning the gun on the agent made me gasp, but it was an exhilarating chain of events. 
I kept thinking that Rowan was in a better position with Mystery Woman/Samantha/Grace locked up in the bunker, so I was trying to fathom what the heck he was up to when he went against Olivia. 
Considering the timing of his escape and meeting Peus, it seemed like Rowan was going to be the latest casualty of the villains. They're cutthroat, so I did not think for one minute Peus would agree to the deal. 
One down, Miss Pope. Eight to go. I look forward to hearing from you.

Peus
Especially when Rowan's daughter was the one giving sass on the phone him. Olivia was hilarious when she tried to imply that she would win. 
Peus needed to show her that he was not scared to take a risk, and that's probably why he detonated the first bomb at that moment. You could tell Olivia was shell shocked, but her options were limited. Did she give in to these terrorists?
Not a chance in hell. 
Olivia and her team will likely be breathing a sigh of relief now that the villains are gone, but there's clearly going to be a reveal that Peus was following the command of someone higher up. 
We have three episodes left, so it's doubtful a whole new villain will be brought in to torment the characters. This new person is going to have ties to Peus and Mystery Woman. 
Did anyone else laugh out loud at Mystery Woman's one-liners? She was on fire. I did not buy that her name was Grace. 
I think if David got close enough to her, she was going to take a stab at him with the pen. David would have been wise to stay out of the situation entirely. 
I can get on board with him wanting revenge because of how much she manipulated him over the course of their relationship, but he almost ruined the whole thing. 
Damn you, David Rosen and your twitch! The dude must have felt betrayed because of how close he was getting to her, but he kind of deserved it. 
Remember Susan? She would probably laugh in his face if she ever heard about it. David treated her horribly and could not keep it in his pants.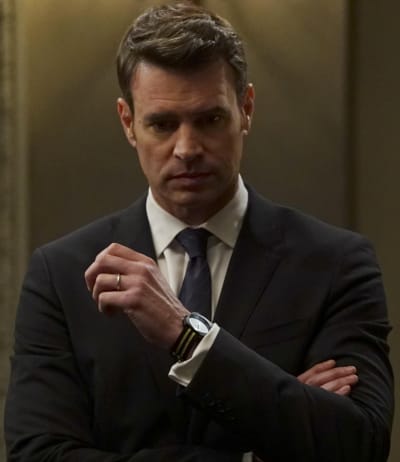 What's fascinating for me is that the Olivia and Fitz relationship is not taking over the show again. I see the love triangle flaring up shortly, but I hope Olivia finds a way to get Jake to back the eff off. 
The Olivia/Fitz relationship will likely flourish when Fitz hands over his reign as POTUS to his ex-wife, Mellie. What a complicated web, right?
I felt sorry for Abby. Like, she screwed up by getting involved with Peus, but Abby did become sort of an advocate to get Cyrus out of jail. Had she not turned on them, he would probably still be behind bars. 
Did you need something Cyrus, or did you come here to annoy me?

Abby
Abby is becoming a pariah. Nobody wants to be near her, and it's pretty sad. Maybe David will take pity on her because she was planning on opening up to him about being in too deep with the villains a few weeks back. 
It's just a shame that everyone is so against her. I hope she finds a way to earn respect back from those closest to her. 
"The Box" was outstanding. It continued to have all of the characters together to neutralize the threat. Having everyone together helps the show creatively. 
There's a lot up in the air as we head into the final episodes of Scandal Season 6, and I cannot wait to see how it all plays out. 
Remember you can watch Scandal online right here on TV Fanatic. Get caught up now!
Over to you, Scandal Fanatics! What did you think of the episode? 
Hit the comments. 
Note: Scandal Season 6 Episode 14 airs May 11 on ABC. 
Paul Dailly is the Associate Editor for TV Fanatic. Follow him on Twitter.