Power Season 4 Episode 1 Review: When I Get Out

Whitney Evans at .
It has been a LONG time since Ghost, Tommy, Angela, and Tasha have graced our screens. And it's nice to see they came back like they never left. 
Literally Power Season 4 Episode 1 picks up exactly where the finale ended. This is a good play by the Power Gods, as I personally needed the refresher on everything that happened because frankly, I forgot.
I was an unapologetic critic of Power Season 3, and even though I was disappointed at times last summer, I have high hopes for where this season can go.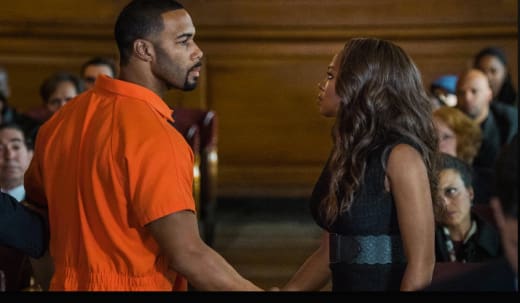 We've seen Ghost cheat, steal, lie and kill, so when he was finally arrested (albeit for a crime he didn't commit), a large part of me felt indifferent because it was never a matter of if Ghost would ever get caught, but when. The more surprising part was Angela being the one to bring him down. 
Seeing as how no time has passed, Angela is still convinced Ghost killed Knox. Or is she? While confident and steadfast in her accusations when pressed from others, she's devastated and dare I say, conflicted when left alone.
The Ghost/Angela love story has always been the main focal point of the series in many ways, and I don't expect that to change, but it will be interesting to see how that evolves this season.
Many will probably see this as something they can't recover from, but I'm not so sure. I'm not ready to kill off 'Jamela' just yet. 
Listen to me very carefully, your husband has just been through the most humiliating process a man ever faces. All because of his girlfriend.

Proctor [to Tasha]
With Ghost behind bars, everything is now put on Tasha. Tasha has to find Tariq. Tasha has to get the bail money. Tasha has to tell her kids their father is going to be front page news for the foreseeable future.
Tasha gets sidelined in favor of the Jamela angst and Tommy drama, but I have a good feeling that this will be her season to shine. If you think about it, she's essentially the only true ally Ghost has at this point. And he should know she's the only person he can trust.
Learning that the St. Patrick's own basically nothing and have no clean money to speak of was an interesting piece of news, wasn't it. It was shocking for Tasha as she struggled to come up with the money to get Ghost out. Of course, it ended up not mattering when Proctor was unable to get Ghost out on bail.
It's the performance of your life. Don't fuck it up.

Proctor [to Ghost]
It's always been a testament to Omari Hardwick and his incredible acting that I've been able to distinctly see the three personas he is tasked with playing. There are distinct differences between Ghost/James/Jamie, and now it looks as if Ghost is going to be dead and buried for awhile. 
The man behind bars is James St. Patrick, and Ghost has always played that man very well, but Proctor is right. If Ghost stands a chance in hell, he will need to be on his game. 
Will Ghost be able to get himself out of this situation? I can't imagine this show exists with Ghost permanently behind bars, but even knowing that it will still be exciting to see how everything plays out. 
I don't think I have ever gotten through a review and saved Tommy until the end, but his storyline is a bit unremarkable at the moment.
Tommy is the new connection, and I imagine that will bring lots of drama, hard decisions and violence down the line, but right now Ghost's incarceration is the main storyline in which all others revolve around. 
Although I must say, the inevitable Tommy versus Dre showdown may be a highlight of the series for me when it finally takes place. Like so many other characters on this show, Dre is getting dumber and dumber. When his duplicity blows up his face, I will totally be here for it. 
Everything Else You Need To Know
Keisha is alive! I was hoping they would address this and they did right away by showing us she's been hiding thanks to Tommy. I like Keisha, and I'm okay with her being a more active character this season. 
Speaking of more active characters, we were introduced to Proctor's family, so I expect that to come into play at some point. I like Proctor as a periphery person, but I'm not sure I need his family drama this season. 
Ugh, Kanan is still a thing on this show, and he's still plotting his revenge on Ghost, even knowing that Ghost is locked up. I guess he won't rest until he has completely broken Ghost in every possible way. If Tariq weren't the second worst person on this show (Dre is number 1), I'd have more of a reaction to this storyline. 
Speaking of Kanan, Tommy is going to figure out he's alive soon, right?
The new prosecutor seems like a smarmy, sarcastic jerk and I'm totally okay with that. 
The episode ends with Ghost being beaten by other cops for being a 'cop killer.' I imagine this will be a theme that follows Ghost while he's locked up. 
Welcome to another summer of Power folks! We are off to a solid start, and I really want to know what your expectations are for the season. How does Ghost get out of this mess? Is there any hope for Ghost and Angela? 
Make sure you drop a line in the comments with all your reactions and predictions for the season! And always remember you can watch Power online via TVFanatic anytime. 
Whitney Evans is a staff writer for TV Fanatic. Follow her on Twitter.