The Bachelorette Season 13 Episode 3 Review: Mean Guys

Sarah Hearon at . Updated at .
DeMario's back and he's gonna be in trouble... Hey, la-di-la, DeMario's back!
The Bachelorette Season 13 Episode 3 picked up right where we left off on The Bachelorette Season 13 Episode 2: DeMario returned to the mansion to beg for forgiveness from Rachel after his girlfriend showed up and claimed he didn't break up with her before going on the show.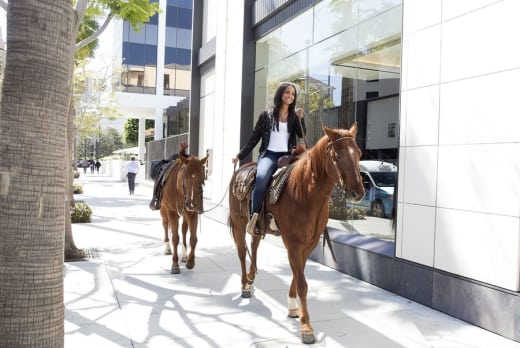 DeMario tries to win Rachel over with a variety of inspirational quotes that would have sounded better in a Hallmark card, but it doesn't work. She's quick to send him packing (again).
On my Uber right up here, I explained to my driver that I was going for the "woman of my dreams." And he said don't take no for an answer.

DeMario
There are two main takeaways from the DeMario situation aka #DeMarioGate:
1) Don't mess with Rachel (or her journey to find love).
2) The Bachelorette producers make contestants Uber after they are eliminated. 
The other men are happy with how Rachel handled #DeMarioGate, and quickly go back to trying to impress her. For some that means showing up with giant hands (who else but the Tickle Monster?) and for others, it means showing her pictures from the Daddy-Daughter dance (Kenny). 
And for Lucas, it means telling Rachel a story about Blake seductively eating a banana over his bed in the middle of the night. (Yes, you read that right).
I don't know if he has a crush on me. The other night he was over my bed, peeling a banana and licking the banana.

Lucas
Blake denies the accusation (he doesn't eat carbs!) and it's clear Rachel has no interest in either of them. 
Is this what Mean Girls would have been like if it was about dudes? Lucas would have been better off giving Blake kalteen bars and Blake should have started a Whaboom Burn Book with the other guys. 
At the rose ceremony, she sends both of them home (you go, Glenn Coco!).
They take it super well (jokes!) and get into a fight in the driveway.
It basically turns into a case of "I know you are, but what I am?" and showed us that men turn into middle schoolers when they drink too much.
I'm not a failed comedian, I'm a personal trainer!

Blake
Sidenote: there has been a lot of scenes outside the Bachelor mansion this episode. I can only imagine how many times the interns had to hose down the driveway! 
Rachel might have sent other men besides Lucas and Blake home during the rose ceremony, but I was too busy losing brain cells to notice. 
The first date of the week (30 MINUTES INTO THE EPISODE BY THE WAY) is a group date at The Ellen DeGeneres Show.
Ellen asks Rachel all about her journey so far, and she reveals that she's kissed someone. 
Bryan: She's a great kisser.
Peter: I second that.
Bryan: He got my sloppy seconds.
Ellen: So we know that he kisses and tells.
Jonathan (the tickle monster) is jealous and wants to know when his turn to kiss Rachel will be, but after seeing him (try to) dance on The Ellen Show, it's clear his turn will never come. Somehow the tickling wasn't a big enough sign.
In addition to making the men dance shirtless in the audience, Ellen also makes them play "Never Have I Ever." We learn Alex peed in the pool at the mansion and Fred hooked up with a 40-year-old when he was 21. 
I think Jimmy Kimmel is out as the resident talk show host of The Bachelor, and Ellen is in.
Meanwhile, Fred cannot stop talking about how he's been in love with Rachel for the past 20 years. It's borderline creepy and giving me Lifetime movie vibes.
He asks her if it's OK to kiss her, and you can tell Rachel wishes he didn't ask (and didn't kiss her). If only she could still send him into a timeout like she could when she was his camp counselor. 
It was like a little boy was kissing me.

Rachel
Rachel sends Fred home, but I have an unsettling feeling she'll see him again. (I'm guessing a camp reunion or a straight up stalker situation).  
The group date rose goes to Alex, which makes sense if we were judging this date by the dancing. (Not that I'm expecting Channing Tatum to cast any of these guys in the next Magic Mike film). 
Anthony gets the one-on-one date, and I can honestly say I've never seen him before, so I included a photo for reference.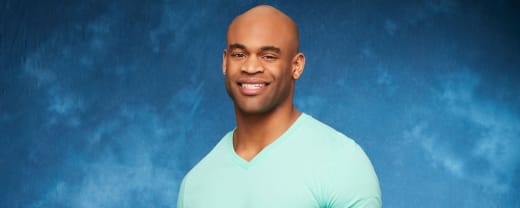 They go on a casual horseback ride and shopping spree down Rodeo Drive. It was sort of like Pretty Woman except they used Chris Harrison's credit cards and there was a lot more horse poop. 
On another note, I'm disappointed they didn't go to Kyle By Alene Too. We know how much Kyle's daughter Portia loves horses!
At dinner, Anthony tells Rachel about how he is an "old soul." I won't believe it until he turns down a FitTea or protein shake deal on Instagram. Regardless, he gets the rose.
Back at the mansion, Eric starts to have a meltdown about not having any time with Rachel. He's on the second group date, which usually only makes these meltdowns worse because he sees all of the other men get attention. Can't wait!
Corinne, Raven, Jasmine and Alexis joined Rachel for the second group date. She introduces them to the men, but you know they already slided into their DMs know who they are.
It's awkward because there's a 50/50 chance they will make out with these guys in Mexico on Bachelor In Paradise, but I guess that's just a part of being in the Bachelor family! 
The date is a mud wrestling contest, and somehow Bryce beat Kenny (the PROFESSIONAL wrestler) in the tournament.
There was also no reason for the past Bachelor contestants to join Rachel other than to "warn her" about Eric. I think it's safe to say none of these women have a career as an actress ahead of them, but they can certainly follow instructions by a producer. 
Rachel straight up tells Eric that Bryce and Lee told Raven he was "there for the wrong reasons." 
Eric and Lee fight about what was said, and I can't take either of them seriously because they're both wearing ugly scarves. 
In the end, Eric gets the last laugh because he got the group date rose and Lee has super racist tweets that are all over the Internet.
However, at the cocktail party, Iggy (I thought he got sent home on night one, but clearly not) also tries to throw Eric under the bus. He tells Rachel that Eric was questioning how real she was.
This is the shit talking night. This is fun.

Lee
Lee also chimes in and takes Iggy's side, which prompts Rachel to confront Eric. 
I can't decide if Eric is a good guy or not, but I can confidentially say this is the most dramatic group of dudes ever. Tina Fey should seriously consider writing "Mean Guys" and take inspiration from this episode.
What did you think of tonight's episode of The Bachelorette? Were you surprised by any of the men she sent home? Is this the cattiest group of men ever? And more importantly, did you miss Rachel's dog Copper as much as I did?
Let me know in the comments, and don't forget you can watch The Bachelorette online via TV Fanatic. 
Sarah Hearon is a staff writer for TV Fanatic. Follow her on Twitter.