Wynonna Earp Season 2 Episode 4 Review: She Ain't Right

Lisa Babick at .
All that drama just for a plate?
There were some good moments on Wynonna Earp Season 2 Episode 4, but it was mostly a goofy hour until the shocking end.
Okay, so we got Dolls back and that's a great thing, but what was the point of the rest of the hour?
Waverly went undercover and could barely handle herself.
At the first sign of trouble, she called for backup, but Lucado wasn't really providing a lot of support which doesn't even make any sense since it was her case to begin with.
Wynonna showed up and did what she does best and saved the day, but she found herself in the same precarious position as Waverly when Briefcase Man and Cujo caught them in the hallway.
I would have liked to have seen Waverly hold her own. We know she isn't the ass kicker in the family, but couldn't Waverly step out of herself for once and do some ass kicking of her own?
She can still be cute and sexy while kicking ass. 
It's not that I want her to take over Wynonna's role, but when the demon is bored with Waverly's ... nothingness, that suggests Waverly needs a little bit of a makeover.
Nicole would have a problem with a more aggressive Waverly. Nobody would.
But now Waverly is at the hands of her evil sister.
So, does this mean the demon's transfer to Wynonna makes it a more powerful demon? What do we call Wynonna now? Goononna? 
Dolls is going to have his hands full, but Doc and Rosita better hurry up and get that formula right. Dolls is going to need every ounce of normalcy if he's going to be able to save Wynonna.
And you know he's going to be the hero.
Wynonna isn't the only problem in Purgatory. There's something happening at the Tucker residence, too. 
The ghosts have taken over Mercedes' and Beth's bodies and want Tucker's help.
Tucker wasn't too shocked to see his real sisters all skinned and gross, and its not surprising. Tucker is a real douchebag.
His new sisters are going to give Tucker anything he wants as long as he cooperates. Who wants to bet they are going to use him to go after Wynonna.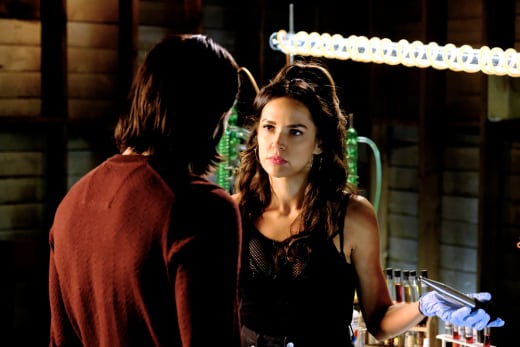 The ghosts have no idea that Wynonna is possessed. Tucker had an idea about Waverly, but he would never have guessed it was a demon.
Or maybe he would. His family has been in Purgatory a long time so he knows what's going on.
Will he warn his ghost sisters that something isn't quite right with the Earps?
It's not going to take long for someone to figure out Wynonna isn't right. At least I hope it won't take long.
Depending on what Wynonna does to Waverly, Doc will probably notice something right away.
Or maybe he won't. He's getting a little close to Rosita and that may cloud his judgment. Dolls will know though, right? If he can stay normal, he'll figure it out.
I just hope Wynonna doesn't start taking shiny things because I still don't understand the whole point of why Waverly did that.
Maybe we'll see more demon development now that it's in Wynonna.
But I'm still disappointed about Waverly. 
What did you think of "She Ain't Right?" Are you surprised at the demon jump? What do you think the Tucker's ghost sisters are up to? Is Dolls ready to get back into action? 
Hit the comments and share your thoughts!
If you need to catch up, you can watch Wynonna Earp online right here via TV Fanatic.