The Bold Type Season 1 Episode 8 Review: The End of the Beginning

Yana Grebenyuk at . Updated at .
On The Bold Type Season 1 Episode 8, there was some successful suspense with lay offs making their way through Scarlet, and no one was really working through the news very well. 
Jane and Sutton try to figure out if they have a future with Scarlet or if they should listen to Alex and start to look elsewhere. Meanwhile, Kat is safe, but that doesn't stop her from worrying about both her friends' and her future.
There is no real moment where we know the girls are safe until the very end, which definitely set up a heart-stopping episode when anything could happen. In fact, for a second, I actually thought Kat would leave Scarlet when either Jane or Sutton was told they would be laid off.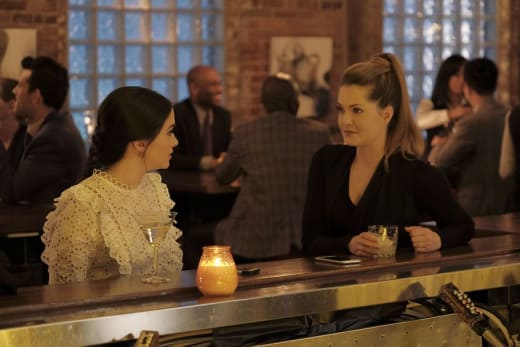 Sutton continues to kick ass at her new job, going above and beyond what is expected from an assistant. She styled a shoot, helping before and during when her coworker spiraled, and she changed the designs right there and then. 
I like that Sutton has to deal with obstacles along the way, but it is never brought into question whether she is a good fit for the fashion world. 
Sutton has the creativity and the knowledge that should be included; it is only a matter of time before she rises to the top, and watching the journey is the best part.
It was also the first real conversation that we saw between Jacqueline and Sutton; it was inspiring but quite short too.
At first, I didn't know what to think, except happiness in finally seeing those two interact on some level.
But then I went back to my first thoughts on it, and where I was more excited to see Sutton was on her own with Oliver as her mentor. 
Jacqueline has a connection with Kat and Jane that she just doesn't seem to have with Sutton. And that is okay, much like the position that Kat was put into this time around. 
Some women on the show are in different places, and they don't always relate enough to share scenes or understand every decision the other makes.
Sutton is in a different department that handles things outside of writing, which is where she and Oliver understand each other more. Now, all we need is for him to come back and reference Sutton's success before moving on to the next task as if nothing happened.
And as for Sutton and Richard, I still have hope.
I really respect that Sutton mentioned the break up to Alex, yet it didn't turn into him pursuing her right away or her looking to see how things would work with him instead.
There is a genuine understanding that Sutton needs time, but she also needs to be interested in Alex. I'm not sure that was ever explored, especially when she is still thinking about Richard.
Why can't those two just put me out of my misery and make all of this work?
You need to start speaking up for yourself.

Jacqueline
Jane got a butt facial and lived to tell the tale.
Now, who knew there were things such as butt facials? I definitely didn't. 
Again, I wish Jane would keep an open mind about fashion writing when that was the angle that helped her stand out in the vertical political world.
She is more interested in politics and the audience she can gain there; I get it. But there is nothing wrong with leaning into the fashion aspect of things once in a while, maybe relating it back to politics so she can bank off of all the readers that tune into it.
Instead, she seems kind of turned off by it, in this episode specifically, when she is writing for Scarlet.
I can't imagine her considering another job, but maybe having her own platform will tempt Jane for a minute?
I'm rooting for her to stay at Scarlet. Who knows though if this is something she would consider? 
Adena: But what if I was? What if I were to book a ticket back to New York?
Kat: Yeah you should do that. You should be brave.
Kat had a lot on her plate, but Adena is coming back, so everything is finally okay again.
Listen, I am all here for this slow burn that is turning into more because the two of them are in constant contact.
Who doesn't love this close friendship that is forming into so much more?
It is lovely to see Adena and Kat not only prosper as a romantic relationship but also growing closer when they aren't together like that. That only made their bond stronger so when they were truly ready for each other, it just felt effortless.
They are so close to being in the same place that I'm going to be breathless until they actually come together again, pun not intended yet appreciated.
As for Kat's job at Scarlet, I didn't even see her hesitation coming, yet now I'm reconsidering all the moments we saw of her at work.
It leaves a big opening for Kat to be the one who could leave Scarlet because she has nothing really holding her there now if she isn't as passionate or excited about the work compared to Sutton or Jane.
But I can't imagine Kat without Scarlet; she is Scarlet for me.
Yes, I'm very interested in a butt facial.

Jane
The Bold Type is gearing up for its first conclusion, and things can only get more intense from here.
Sutton is adjusting well to her new job, even getting positive attention for her work. It is her personal life that has taken a hit, especially since Richard isn't that far off. Looking at pictures of Sutton at work? Not a smart move dude.
Jane is starting to feel unsure at work, looking outside of Scarlet and getting some positive feelers. Between that and her confusion about her love life, Jane has some choices to make and turns to take.
Kat is doing great when it comes to the status of her relationship with Adena, but it is at Scarlet where she feels a bit cornered. There is only one way to figure it out, but I refuse to acknowledge that.
As for Jacqueline, she is trying her best to keep everyone and have everything succeed at Scarlet, and we only love her even more for it.
There is more than enough time for everything to take a turn, which is leaving me curious and very anxious about what might be heading our way.
I'm fighting to keep everyone, but it will be a fight.

Jacqueline
Where will things go from here for Adena and Kat? Is there still a chance for Sutton and Richard or are they both going to be riding it solo? Which of the guys from the triple date caught your eye the most? Do you think Jane will take the job?   
And will Alex be mad when he finds out that Jane didn't tell him she was gunning for the same job as him? 
Let us know your thoughts below!
And don't forget that you can watch The Bold Type online right here on TV Fanatic if you love this show as much as I am right now.
Yana Grebenyuk is a staff writer for TV Fanatic. Follow her on Twitter.