Blue Bloods Season 8 Episode 1 Review: Cutting Losses

Christine Orlando at . Updated at .
There are certain things you expect from a Reagan family dinner.
The saying of grace, intelligent conversation, a bit of family squabbling, and Linda Reagan holding the family together.
Now that's changed, and nothing will ever be the same. 
When Danny first hinted of retiring at the beginning of Blue Bloods Season 8 Episode 1, I wondered if he and Linda were having marital problems and that was his way of trying to fix it. 
This was so much worse.
Yes, Blue Bloods Season 1 began not long after Joe Reagan was killed, and Frank's wife, Mary passed away from illness several years before that, but this was the first original cast member to be killed off, and it hurts. 
Linda grounded everyone. She wasn't only her boys' mother; it felt as though she mothered the entire family, both with comfort and with tough love. 
Remember when she and Danny were planning to rent a house at the beach for vacation, and she told the rest of the Reagan family that the house next door was open, and they were welcomed to rent it and join them and make it a vacation for the entire family? 
Even Frank was in awe of his daughter-in-law at that moment. 
Linda Reagan's loss was completely unexpected. When the family made it out of the burning house on Blue Bloods Season 7 Episode 22, we thought everyone was safe.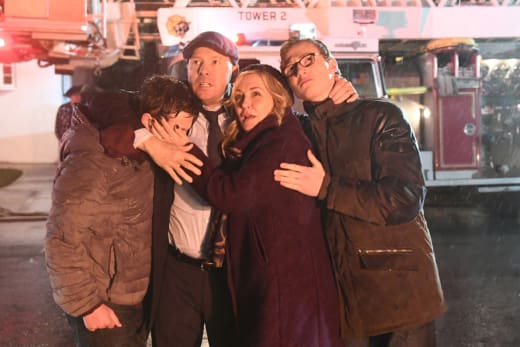 But no one ever truly is, and Linda's absence will leave a gaping hole in the family, and Danny will never be the same. 
Danny and Linda were one of the more realistic married couples on TV. They fought over their jobs and the kids, but there was never any question that they loved one another. There was never any doubt that they'd put in the work to make their marriage and family successful.
Kudos to actress Amy Carlson. Years back she played Alex on the show Third Watch and her character's on-screen death brought me to tears. On Blue Bloods, Linda's off-screen demise had the tears welling up just as much, and that says a lot about how much the character was loved and will be missed. 
Danny's reaction to the loss was heartbreakingly realistic. Months later, he was struggling to find his footing and his family was concerned…
Frank: Of all my kids, I think he's the most like me.
Henry: When we lost Mary you checked out completely.
Frank: I was stuck in quick sand.
Henry: I remember.
Frank: You know what got me out?
Henry: Work? Purpose?
Frank: My kids became my purpose.
Danny was stuck, but his family helped him move forward by helping him find a new home for him and his boys while still honoring Linda's loss. 
As much as the reveal of Linda's death was at the heart of this hour, it certainly wasn't the only storyline; however, it did eclipse everything else. 
Perhaps that's why Jack's attack felt as though it was wrapped up a little too quickly. 
I never really felt the suspense of searching for the man with a violent grudge against both Jack and Erin. Just as I was worried that Dr. Webber's next move might be to track down Nicky, she magically appeared at the hospital at her father's bedside. 
And the moment Danny and Baez found the trap door; I knew the girlfriend's body was about to be discovered. 
Jamie and Eddie's story was the most short-changed. Six dead teenagers deserved more drama, and an undercover operation should have lasted more than one brief scene. 
Then there was the new acting mayor acting rashly. 
Abigail, I'm tired. The kind of tired you can't sleep off.

Frank
I felt just as tired as Frank when she stormed the podium and took the mic to jump to conclusions and order a "common sense investigation." Wouldn't an investigation be part of the very protocols of which Frank was just discussing when she rudely interrupted?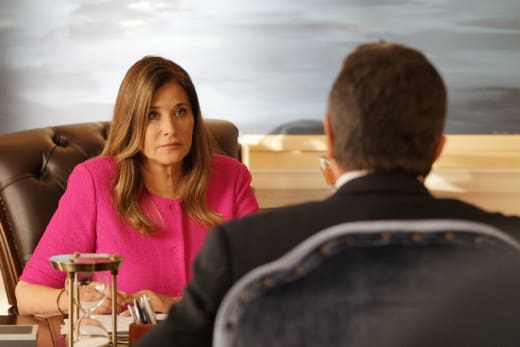 Having to watch Frank do battle with yet another mayor who is more interested in polling numbers than in the truth or actual public safety could be exhausting. I'm not sure I feel up for going down this road yet again. 
Oddly enough, the moment that bothered me the most was Abigail calling the new mayor a "broad." I've always hated that term for a woman. It's irked me since I was a kid and bothered me even more that Abigail used it here. 
My favorite Blue Bloods quote was Frank explaining the burden the police take on for us all…
There's something you should know about police officers… They know what people are capable of in ways that most thankfully do not. They have seen first hand the cigarette burns on an infant's back or the black eyes and the sideways jaw on an 80 year old rape victim, and they assume the worst. And they take that on so that good people can go on about their lives and think generously about their fellow man. They provide that luxury.

Frank
No one gives an impassioned speech like Frank Reagan. 
So, you tell me TV Fanatics. Were you shocked by Linda's death? Are you up for Frank vs. the Mayor part 3? And am I the only one who is bugged when a woman is called a "broad"?
Don't forget to check back next week for my review of Blue Bloods Season 8 Episode 2. 
And if you need more of the Reagan family, you can watch Blue Bloods online here at TV Fanatic.
C. Orlando is a TV Fanatic Staff Writer. Follow her on Twitter.