Madam Secretary presented viewers with quite the shocker on Sunday night: Sec. McCord's Chief of Staff Nadine Tolliver quit her job at the State Department and moved to live closer to her family. 
A big focus of Madam Secretary Season 4 Episode 3 was Nadine learning that she was going to be a grandmother, and by the end of the hour, she had decided it was time to move away.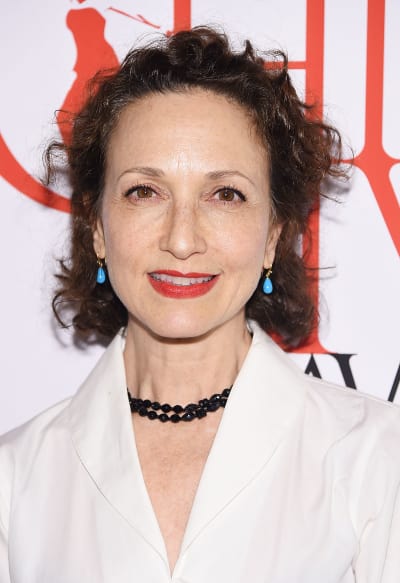 The decision to exit came after her son asked her to help his partner with a travel problem brought on by a governmental shutdown. It made Nadine realize she wanted to be close to her family. 
All it took was her son making a comment about her living nearer to the family, and it made her think about things. 
"I know this is not the best time, but I really need to ask you something," Nadine told Elizabeth after the shutdown.
"Something tells me you're not coming back from that leave," said Elizabeth after giving Nadine the green light to take some time off to spend time with her family. 
"You're right. I won't be coming back from that leave. I love public service, but it's gotten so vicious," Nadine said with a somber look on her face.
"Somehow, we've become our own worst enemy. And I don't want to spend the rest of my career fighting."
Naturally, fans questioned whether this was the end of the line for Nadine, and it turns out, they were right. Bebe Neuwirth took to Twitter shortly after the episode aired to confirm her exit. 
Have a look at her tweets below: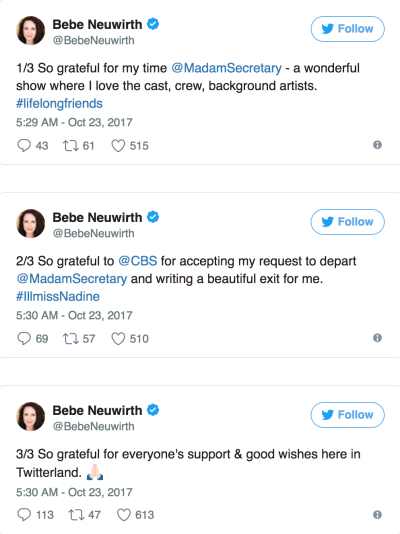 The main takeaway is that Bebe was the one who asked to leave, so it's not like she was let go from the series.
Considering the character was given a happy ending, there's a chance she could pop back up in the future. 
What do you think of Bebe's exit?
Hit the comments below!
Remember you can watch Madam Secretary online right here via TV Fanatic. Get caught up now!
Madam Secretary airs Sundays on CBS. 
Paul Dailly is a staff writer for TV Fanatic. Follow him on Twitter.