NCIS: New Orleans Season 4 Episode 5 Review: Viral
Dale McGarrigle at . Updated at .
Sebastian now has even more doubts with which to deal.
The fledgling field agent has to cope with every cop's worst nightmare, killing an innocent man, on NCIS: New Orleans Season 4 Episode 5.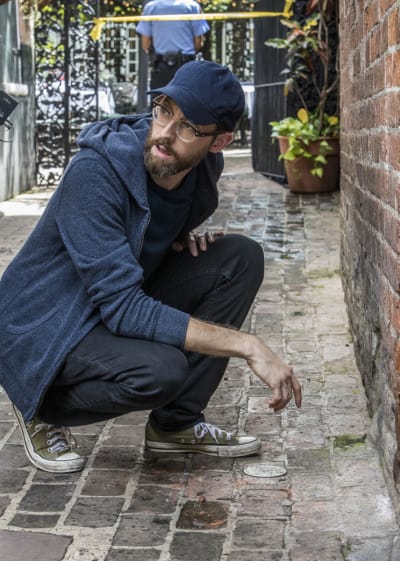 Of course, he got cleared in the end, after spending the episode as today's poster child for police brutality.
And frankly, there was quite the trail of breadcrumbs for any semi-observant viewer to pick up.
Loretta found a plasticky substance on the hands of both Dawsons, but she couldn't identify quickly because her star lab tech was suspended.
I was thinking plastic gun, but an air gun with glass bullets works just as well. Either way, it's a weapon that will get by the airport scanners to allow Mattis to kill his target.
At least in theory.
It all fit nicely together. Sebastian saw a tourist from out of town, a machinist, with a gun. It disappears because the man's widow still planned to deliver it to the buyer, Mattis. You saw how well that idea worked out for her.
So, to clear Sebastian's name, which they're not supposed to be doing, all Pride's team had to do was capture an assassin that nobody else has been able to and take his gun as evidence. Easy peasy.
To muddle matters, Isler is back in New Orleans. But he's now Special Agent Isler. He's been busted down after helping out Pride on NCIS: New Orleans Season 4 Episode 3.
But after learning how to solve cases New Orleans-style, Isler was awfully by the book. I figured that was because he'd gotten burned after Pride had talked him into some of his trademark improvisation.
But that wasn't it, entirely. FInally, he told Pride that someone in D.C. had it out for Pride, and Isler was trying to protect Pride from himself by isolating him from the investigation of Sebastian's shooting.
Isler didn't know who was after Pride, but my money is on the officious NCIS assistant director that Pride ignored when he went rogue during NCIS: New Orleans Season 3. It can't be Director Vance, because he seems to have no problems with cowboys, even going into the field himself when the spirit moves him.
Then again, it could be someone out of the blue. The way he operates, Pride surely has pissed off more than one administrator during his long career.
At least, Isler has been developed into a more three-dimensional character, not just the uptight bureaucrat that he had been previously. I suspect we've seen the end of him for this season, but you never know.
Sebastian handled his whole ordeal better than I would have expected. This season, he's been less of a punchline, or a probie, in NCIS parlance. (Gibbs doesn't have that trademarked, does he?)
He was just starting to gain a little confidence in the field, and then this happens.
He did get to retreat to what he knew best: collecting and analyzing evidence. It was him who found the evidence that eluded the NOPD and FBI's best evidence technicians.
It was clear from the final scene that it's going take sensitive soul Sebastian quite a while to process this, that he won't be his carefree, factoid-spouting self again anytime soon.
Hey, is there anyone else here amazed at how quickly the four agents located this elusive assassin in such a big, tourist-packed city? That's some good intel.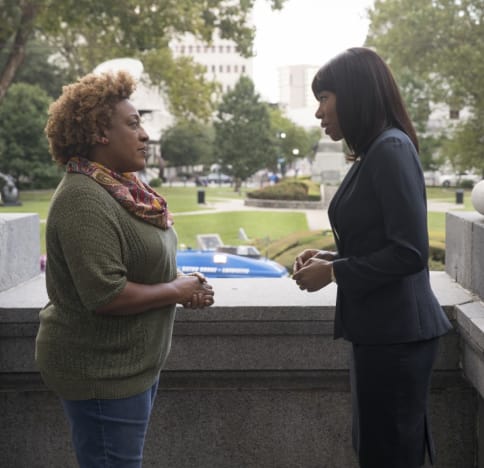 It also appears that Loretta is going to be getting out of the morgue more often, as new Mayor Taylor has recruited her to join her campaign. It certainly won't hurt to have an in with the new administration, as relations were so bad with corrupt Mayor Hamilton.
I like this new mayor. She seems very sincere about wanting to help the citizens of New Orleans, not at all like the smarmy, self-serving former mayor. Granted, Hamilton was more the stereotypical Louisiana politician, but Taylor is a breath of fresh air. I'm interested in watching her dynamic with Loretta develop.
SPOILER ALERT: It's looking like a rough week for LaSalle on NCIS: New Orleans Season 4 Episode 6. Not only does undercover LaSalle become a target for a knockout assassin, but his father is coming to town to discuss the family business. It's always fun when we get to meet the parents.
To catch up on the new season, watch NCIS: New Orleans online.
How long will it take Sebastian to shake this off? Are you glad to see Loretta branching out? Who is after Pride? Comment below.
Dale McGarrigle is a staff writer for TV Fanatic. Follow him on Twitter.