Counterpart Season 1 Episode 2 Review: Birds of a Feather
Carissa Pavlica at .
Other Emily is in the family business.
On Counterpart Season 1 Episode 2 she was willing to take orders to pull him in, and I have to wonder why she didn't question them.
She doesn't have the clearance of her husband, and it's hard not wonder why she wouldn't why a lower level ex-wife would be given the rendition. It was telling of their relationship, though. If she's willing to carry out a rendition order on her husband, things are not well between them.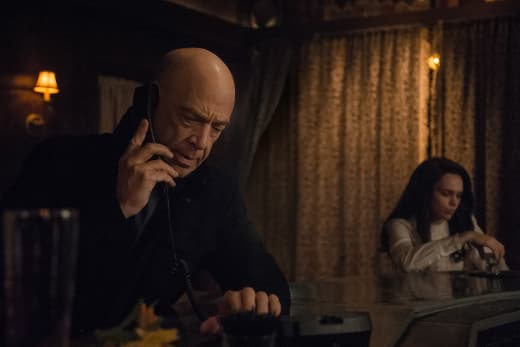 Seeing how handily an unarmed Other Howard destroyed the two men Emily asked him to take in OHoward, his skills are no longer in doubt.
Just how bad things are between Emily and OHoward is up for debate when it's revealed the rendition call Emily received was a false one. Olivia Williams is playing Emily with just enough doubt in herself we can't be sure what she's thinking, either.
If whoever wants OHoward dead is using his wife to kill him, does that mean he's very highly regarded by everyone else, to the point only his possibly angry ex would be the person angry enough to kill him?
I'm not feeling groovy about Stephen Rea's character Alexander Pope. There's something off about him. Who is he that they have to meet him in an old church? It's like he's a friend of both Emily and OHoward, but not together because they're apart. Highly suspicious.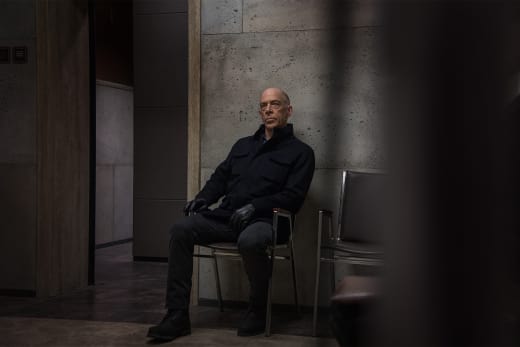 I had to laugh when the guy I call Other Howard demanded the guy he calls Other Howard be with his team on this side. How friggin' confusing will things get as this goes on? Hopefully, we can keep it all in line. 
I still imagine as the two men spend more time together, they'll find more of themselves in the other, the man they were when they were first split, even possibly deviating back to that man. It could make for one helluva duo.
OHoward: A few days ago you were nothing, a flatliner. Look at you now.
Howard: Do me a favor. Quit trying to make me into your image.
Howard wants to remain as much himself as he can, but as he watches all of the things OHoward can accomplish, surely he'll want to have at least some of those skills. How could you not want to be so in control and such a great protector?
The main information revealed through "Birds of a Feather," of course, was learning about Nadia Fierro here and there.
The similarities between the women scared even Baldwin, who thought she was as hardened as she could be.
Their affinity for bare feet and how they've both carried into adulthood the annoying tap from their grandfather who was trying to be a metronome for her violin playing only made it harder to know what Baldwin was going to do.
But how in the hell could you look into your own eyes and kill yourself? It would be like committing suicide.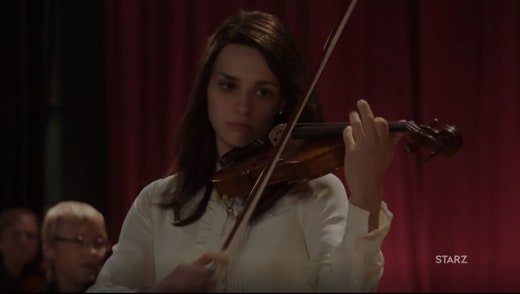 In the case of Baldwin, getting the opportunity to work out how in the hell she traveled down the path to an assassin when her other continued with the violin might be something worth discovering, even if the holy forces of whoever she works with would be on her ass in a heartbeat.
Nadia: I have lost my mind.
Baldwin: Do you know who I am?
Nadia: You are my true face.
Then again, Nadia said it when she told Other Howard, "You cannot escape who you are." Nadia had two paths, one as a talented violinist and the other as a killer. Each Nadia chose the one that their split world made the easiest for them, I suppose.
My heart broke when the two young women connected and Baldwin realized she might not be able to do what she came to do, but she was without a choice in the matter, after all.
Seeing herself in the same position as her father once was, she chose to save herself, for however long she had. When Baldwin saw what happened, she gave up, tears in her eyes.
I can't imagine she's going to be able to let go of seeing how her life could have been as easy as she thought. They grew up abused and the broken girls were broken women, even though they were both incredible successes in their fields.
While I enjoy the show, there is something about Baldwin's story that has captured my attention. Whether it's the incredible portrayal by Sara Serraiocco or the significant shift in the way their adulthood unfolded, I'm rooting for her to win.
I don't know who Clare is, but she feels more like a handler than someone who cares for Baldwin. Maybe Baldwin giving up will change her path again and take her closer to a new destiny.
Working with OHoward and for the side of good, if that's indeed what he does. I guess more needs to be established before I start giving up characters to sides!
Let me know what you thought of this installment and watch Counterpart online if you missed the premiere. 
Any show with twice as much J.K. Simmons is good by us!
Carissa Pavlica is the managing editor and a staff writer for TV Fanatic. She's a member of the Critic's Choice Association, enjoys mentoring writers, cats, and passionately discussing the nuances of television and film. Follow her on Twitter and email her here at TV Fanatic.