Vikings Season 5 Episode 7 Review: Full Moon

Stacy Glanzman at . Updated at .
We continue to inch closer and closer to civil war. 
The full moon arrived, which means Ivar and Harald's attack is imminent. 
Luckily for Lagertha, Bjorn returned on Vikings Season 5 Episode 7 just in time to help stave off the attack and defend his mother's throne.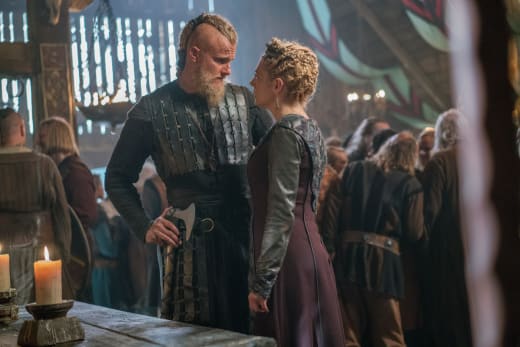 It's hard to tell if Bjorn's head is in the game though, which could pose a problem. 
He announced that he no longer loves his wife, something Torvi figured out all on her own thanks to the fact that he hasn't returned home in awhile, but they barely finished having the breakup talk before he sets his sights on the next girl. 
And he may have his hands full (or tied) with this one. 
He announced he wanted to marry her without knowing her at all, which I understand is not uncommon, but I don't think he had any idea what he was getting himself into with the king's daughter. 
It's hard to imagine too many guys would still be in the mood after listening to the girl they're about to sleep with talking about castration, especially considering the method she was planning to use. 
The good news for Bjorn is she decided not to bite his balls off. Something tells me he would not have been battle ready after something like that.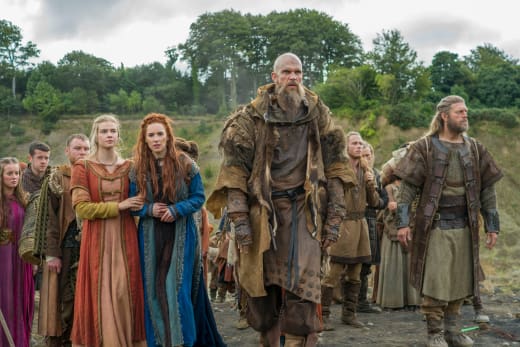 It was pretty intense watching Lagertha, Bjorn, and the others debate what Ivar's strategy will be. Bjorn and Ubbe know him well and therefore believe they have a good idea of how he thinks. But, Ivar knows this, and being the genius that he is, has asked Bishop Heahmund to help him devise a strategy.
Instead of going with his instincts, he'll most likely go with Heahmund's, and that makes them unpredictable. These two were fascinating as enemies, but they're downright lethal as partners. 
Heahmund: The Virgin Mary, mother of our God, Jesus Christ.
Ivar: If she was a virgin, how could she be a mother?
Heahmund: It was a miracle.
Ivar: I would say so.
If we could just get a look inside their heads, who knows what we would find. 
They're both cunning, fierce warriors, and so far it feels like they're trying to out-manipulate each other. Even just watching them play a simple game of chess, you know their minds are moving a mile a minute looking for any weakness that can be exploited. 
The scenes these two share have been some of the best of the season so far. 
Ivar says that of his brothers, Bjorn is the only one that concerns him at all. That makes sense as he's the best warrior of the bunch, but we also know he's firmly on Lagertha's side. At least for us at home, he's the most predictable. 
Hvitserk appears on the verge of switching sides, and Ubbe's wife is using her power of persuasion to do the same. 
Margrethe wants to be queen, and for that to happen, she needs Ubbe just to go ahead and let Ivar and Harald win. Everybody wants a piece of the power, and there is only so much to go around. If Ubbe steps aside and allows Lagertha and Bjorn to be killed, he would then find himself in a battle for the throne with Ivar and Harald. 
Ubbe just doesn't come off as ruthless enough to kill his brothers, and that's most likely what would have to happen. There's no way Ivar is going to let anyone else get in his way if his side wins the war. 
Ubbe can't just step aside and let the pieces fall into place. If he wants to be king (and honestly, I don't think he's all that enthusiastic about it), he's going to have to work for it. 
Margrethe has already made her way through two Lothbrok brothers, who knows, maybe she'll try to marry Ivar if he wins the throne. 
Hvitserk: Then you believe like us, that you are fated, huh?
Heahmund: No, I still believe that I have free will. I choose to fight for you.
Ivar: If you are fated, it doesn't matter if you choose or not. You simply have the illusion of being free to choose.
Hvitserk: I don't know.
Ivar: Excuse me?
Hvitserk: I just don't know if when I joined your side whether it was fate or free will.
Ivar: What does it matter?
Then there's Hvitserk, who's more of a follower than a leader, but that doesn't mean he isn't capable of being dangerous. It was his idea to join Ivar (whether it was fated or not), and his idea to make Ivar king, but now he's obviously having second thoughts about the whole thing.
If he switches sides, he could be a wealth of information to Lagertha, Bjorn, and Ubbe. 
And let's not forget the Lothbroks aren't the only brothers fighting on opposite sides. Should we trust Halfdan when he says his loyalty lies with Bjorn and not his brother? 
So Astrid is pregnant, and there's no telling who the father is, but Harald is ecstatic about it. Will he eventually find out that it may not be his? 
Astrid is keeping it a secret right now, but will she tell him the truth? If Harald finds out she was gang raped by a group of his people, well, we'll just see how he reacts. If it comes down to a he said/she said between Astrid and the fisherman regarding who betrayed him, my money is on Harald believing Astrid.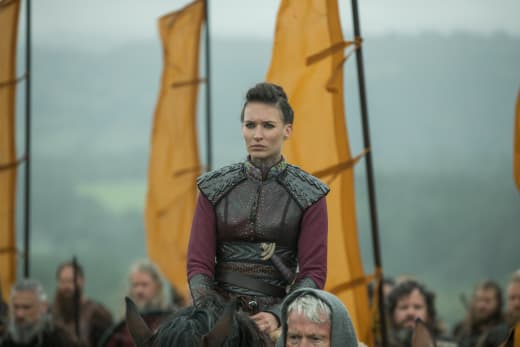 Floki's people are enjoying the wonders of the hot springs in Iceland, but that contentment might be short-lived. 
There's already dispute on whether or not there will be a king to rule them, and chances are the conflict will only rise from there. It may not be the paradise he envisioned when he brought everyone there. Maybe he should have been a little more selective. 
The civil war is upon us. Which side are you on? Will all the main characters make it out alive, and if not, who's your guess to bite the bullet? 
Side note, that was a great throwback to Athelstan. He'll always be missed. 
Don't forget, you can watch Vikings online if you need to catch up!
Stacy Glanzman was a staff writer for TV Fanatic. She retired in March, 2019.