NCIS: New Orleans Season 4 Episode 21 Review: Mind Games
Dale McGarrigle at . Updated at .
Well, that was apropos.
It was profiler versus profiler on NCIS: New Orleans Season 4 Episode 21.
And that left the other three agents back at headquarters trying to make sense of it all, not a good look.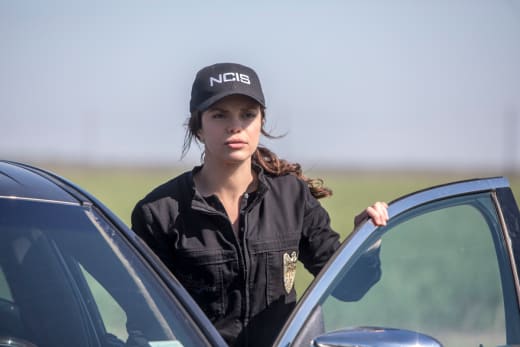 After spending a good part of the season mostly in the background, Gregorio was put back in the spotlight.
Both Sebastian and Pride agreed that Gregorio hadn't been herself lately.
Since her BFF and roommate Percy left on NCIS: New Orleans Season 4 Episode 19, Gregorio has let things slip a bit, at least in her personal life.
Her apartment was trashed, which was out of character, since, as OCD Sebastian pointed out, she's usually more of a neatnik than he is. She also didn't bother to lock her door.
Gregorio's partaking of New Orleans' club life, although, based on Brooklyn, it's hard to fault her taste in pickups. She gave a real "guy" reaction when Brooklyn invited her out for that evening.
Related: NCIS: New Orleans Season 4 Episode 20 Review: Powder Keg
Suffice it to say she's at loose ends again, much as she was when she first came back to New Orleans. Peppy Percy kept her ground, but now Gregorio is adrift, not sure what she needs.
This episode gave her just what she needed: A psycho killer to profile, 
Too bad the murderer was Clair McDermott, the woman who taught profiling to Gregorio and a bunch more FBI newbies. Because this certainly wasn't a case of those who can't do, teach.
It was an inspired casting choice. I'm sure quite a few viewers remember Deirdre Lovejoy as "The Gravedigger" over three seasons on Bones. She was back in full psycho glory in this episode.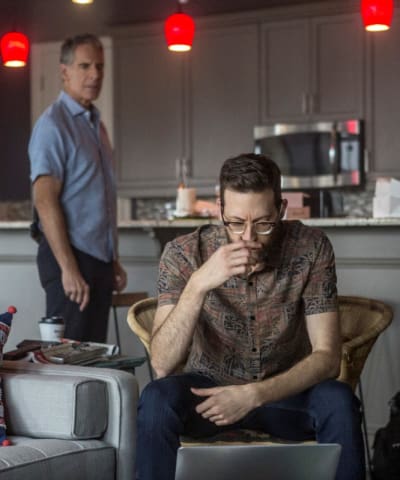 McDermott's shtick was to drug and abduct successful women and relieve them of their darkest guilty secret by torturing them until they admitted what they'd done. 
Then, once they were "free," she would relieve them of their dreary existence on this mortal coil with a plastic bag over their head.
Gregorio would have been spared all the aggravation if only she hadn't had such a good memory. At the scene of Commander Kendrick's murder, she remembered a similar case that McDermott had taught about at Quantico (not a plug for the ABC series).
Related: Watch NCIS: New Orleans Online: Season 4 Episode 20
Unfortunately, Gregorio did the logical thing and called McDermott for more information about the initial case, not realizing that her former professor was the serial killer. Oops.
Gregorio must have impressed McDermott a decade earlier because she ran out of her office and flew to New Orleans to stalk Gregorio. It was a good thing that NOPD car drove by with its siren blaring when it did to tip off Gregorio that McDermott was in her apartment, gathering intel.
Gregorio gave McDermott lots of material to work with, psychologically speaking. An abusive father, which led to marrying too young to a con man, to joining the FBI out of guilt after that.
But none of those were the biggies. Apparently, 12-year-old Gregorio didn't tell Andrea's parents that Andrea was sneaking out, and Andrea got murdered. Yeah, I could see how that would weigh heavy on a person's mind.
It seemed Gregorio was safe if you can consider Sebastian protection. Maybe you would if he was your partner in Call of Duty, otherwise, I'm not so sure.
Related: Get CBS All Access via Amazon Channels for Hit Shows, Exclusive Originals & Live TV!
Unfortunately, Gregorio did have a soft spot for Brooklyn, even if she couldn't remember her name earlier. So McDermott had the bait with which to lure Gregorio.
Technology proved to be Gregorio's friend as the stoplight camera photo she created gave Patton a clue to her location for the others to follow.
Still, it's a good thing that Gregorio was able to slip a bloody hand out of her restraint to free herself. Then she could do what she does best: kick ass.
If she depended on the other three to assemble the clues to figure out where she was, Gregorio would be dead. On the other hand, if they hadn't shown up, then McDermott would be dead, and Gregorio would be looking at some kind of inquiry.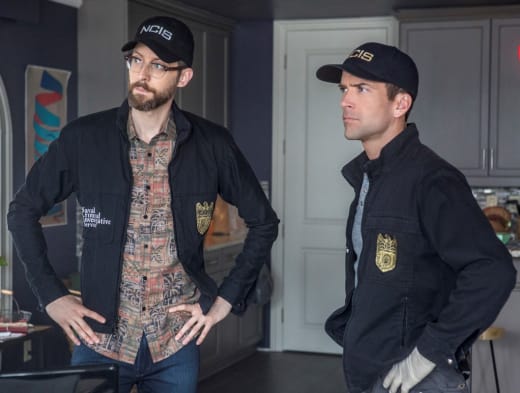 This episode also continued the development of the bizarre friendship between Gregorio and Sebastian. At first, it was her just taking pity on the struggling other "probie," to steal a term from the Mothership.
That term isn't entirely accurate, as Gregorio is more of a lateral transfer, while Sebastian truly is a rookie.
Related: CBS Renewals: What Big Show is Missing?
Be that as it may, she treats him like a daydreaming little brother while he seems to view her as a tightly wound older sister.
It was sweet to watch him take care of her at the end of the episode. Maybe Gregorio does have a work friend, after all.
To follow their blossoming relationship, watch NCIS: New Orleans online.
How well did Gregorio handle herself? Is she over the hump now? What do you think of the Gregorio-Sebastian relationship? Comment below.
Dale McGarrigle is a staff writer for TV Fanatic. Follow him on Twitter.