AMC Pulls Chris Hardwick Talk Show Following Sexual Assault Allegations
Paul Dailly at . Comments
Earlier this week, Chris Hardwick was accused of sexual assault by his ex-girlfriend, Chloe Dykstra, and now, AMC is taking action. 
The network confirmed on Saturday that the highly anticipated second season of Talking With Chris Hardwick would not be aired on the network. 
The new episodes were set to debut Sunday at 11/10c, and Donald Glover was set to guest on the premiere. 
In addition, he will no longer moderate the AMC and BBC America panels at San Diego Comic-Con. 
You can read AMC's full statement below.
We have had a positive working relationship with Chris Hardwick for many years. We take the troubling allegations that surfaced yesterday very seriously.
While we assess the situation, Talking With Chris Hardwick will not air on AMC, and Chris has decided to step aside from moderating planned AMC and BBC America panels at Comic-Con International in San Diego next month.
Dykstra went public just three days ago about a relationship she had with a man who was almost 20 years older than her. 
"I was expected to be [sexually] ready for him when he came home from work. Every night, I laid there for him, occasionally in tears," she said in a Medium article.
Related: The Walking Dead Shocker: Andrew Lincoln Departing!
"He thought the whole idea was funny. To be fair, I did go along with it out of fear of losing him."
Dykstra's article goes on to state that the abuse began mere weeks into the relationship and that she is still recovering from it.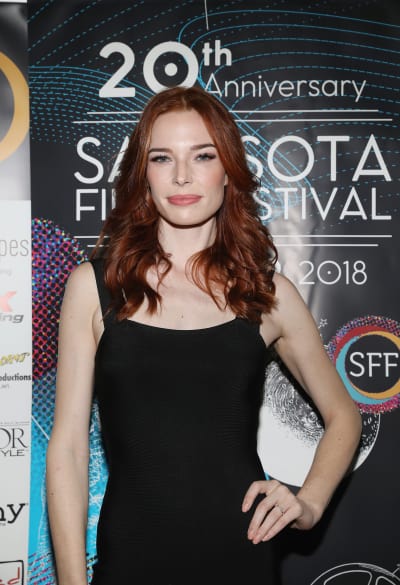 "I'm still recovering from being sexually used (not in a super fun way) for three years," the actress continues.
"'I just want to remind you, the reason my last relationship didn't work out was because of the lack of sex,'" she says in the article, referring to the manipulation Chris lobbied her way. 
Related: Cable Ratings: Fear the Walking Dead Tops Westworld
Dykstra closed off her statement by saying that going public with the what happened will probably affect her. 
"It will probably hurt me now too, despite the #MeToo movement. We've come a long way, but we still have a ways to go," Dykstra writes.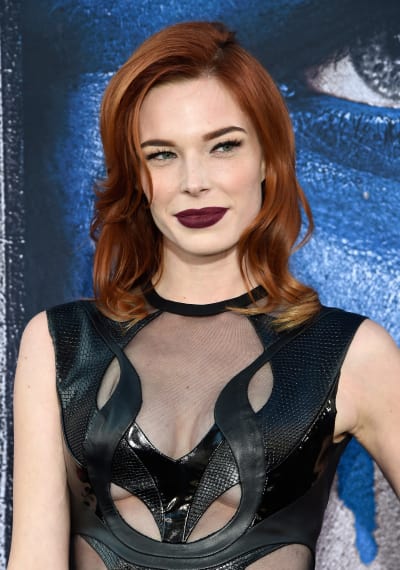 After she received support across social media for her words, she tweeted the following:
"I quietly posted an article today, unlisted on Medium. It clearly made the rounds. I'm overwhelmed and I want to thank all of you for your support and kind words- they mean so much to me."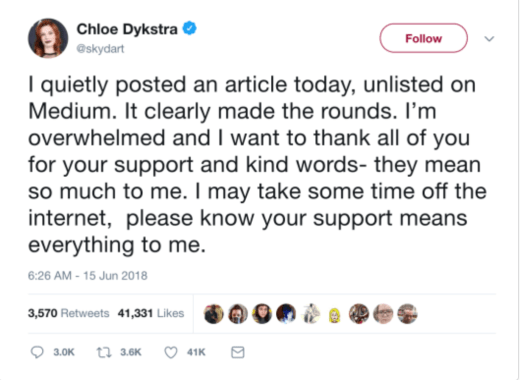 Hardwick was subsequently ousted from Nerdist Industries when the news broke, with the company claiming he had no "involvement with Nerdist for the two years preceding the expiration of his contract in December 2017."
Hardwick followed up Dykstra's article with some words of his own, and he vehemently denied the claims.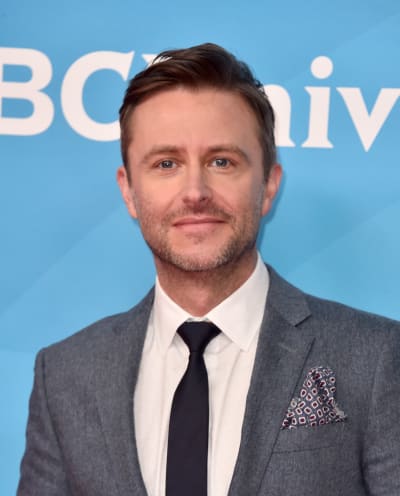 "I was heartbroken to read Chloe's post," he said to open a statement to Deadline, adding:
"Our three year relationship was not perfect - we were ultimately not a good match and argues - even shouted at each other - but I loved her and did my best to uplift and support her as a partner and companion in any way and at no time did I sexually assault her."
Related: The Walking Dead: Lauren Cohan Returning!
Meanwhile, NBC has confirmed it will assess Chris Hardwick's future as host of The Wall in due course. 
You can read the Peacock network's statement below:
These allegations about Chris Hardwick took us by surprise as we have had a positive working relationship with him. However, we take allegations of misconduct very seriously. 
Production on The Wall does not begin until September, and in the meantime we are continuing to assess the situation and will take appropriate action based on the outcome.
Okay, TV Fanatics!
What are your thoughts on all of this?
Hit the comments below!
Paul Dailly is the Associate Editor for TV Fanatic. Follow him on Twitter.