The Last Ship's Bridget Regan Q & A: The Final Season, Her Kick-ass Character & More
Dale McGarrigle at . Updated at .
The Nathan James is heading into port.
The fifth and final season of The Last Ship premieres Sunday night.
And it's a safe bet the action-packed TNT war drama will go out with a bang.
To get a top-secret briefing on the Nathan James' final mission, TV Fanatic talked with Bridget Regan, who plays kick-ass female lead Sasha Cooper, a former Naval Intelligence officer.
Before playing the heroic Sasha, Regan first made her mark by playing a pair of TV villains: Rose/Sin Rostro on Jane the Virgin and Dottie Underwood on Agent Carter.
Regan spoke not only about the upcoming season but also about her complicated character and what has kept The Last Ship popular through its run.
Sasha became the new female lead on The Last Ship Season 3 after Dr. Scott was killed off at the end of The Last Ship Season 2. How was that transition for you?
What was really cool was that the writers gave me and Eric this great storyline that they had this history together. So it was really rich and fun to play.
Related: The Last Ship Review: The Battle to Save Humanity
These characters hadn't seen each other in years; then our paths crossed again. They both had been through a ton, everyone had, what with the Red Flu and the loss of so many people. We had both lost our spouses and were reunited.
Whether you believe in fate or it was meant to be, or it was just a coincidence, these two people were brought back into each other's lives. That was definitely cool to play.
It definitely felt like I was jumping aboard a moving train. All these actors had so much training and working with the Navy and real Seals. I had a lot of quick catching up to do to get up to speed, in terms of my tactical work. I was learning seven languages because Sasha is fluent in everything. I had a lot of homework ahead of me.
But that being said, it was so much fun. It was such a new world for me to be exploring and learning about. Sasha is such a fearless and bad-ass character that it's been a joy to play.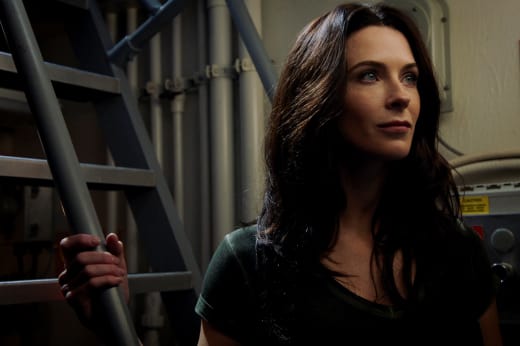 How would you describe Sasha in depth?
Well, when we first see her, Tom Chandler says she's the most stubborn sailor you'll ever meet. She's not perfect. She's made mistakes. But she's a total ass-kicker, she's a bad-ass, and she proves that straight away.
I think the real Sasha is a woman who's more comfortable working at the task at hand, being fed by the adrenaline of the fight, instead of one who's happy to stop and think and talk about her feelings and emotions and all that. I think she's a real tough cookie.
That being said, whatever it means to her, she still enjoys her femininity. She's a woman living in a man's world, so to speak. It's at this time that we see that a woman can do anything a man can.
And I love that she's a character that epitomizes the honor, courage, and commitment that all these people have and the sacrifices that she makes. She doesn't do everything by the book, but she gets the job done.
When Season 5 begins, Sasha is part of Vulture Team in Panama on a mission that goes horribly wrong. Give us an overview of Season 5.
We've skipped forward three years during the hiatus. We start off Season 5 with the members of Vulture Team trying to infiltrate this event for the president of Panama. It's a black-tie event, so we get to see Sasha step out of her typical tactical gear and into a black-tie gown and turn some heads and distract, and that was fun to do, for sure.
Related: Watch The Last Ship Online: Season 4 Episode 9 and 10
Throughout the episode, we see the team gets framed. We also see that the new enemy that we're facing is spreading some vicious lies, not only about us but also about America.
Should viewers read anything political into this season, with Latin America rising up against the U.S.?
I wouldn't think so. I think the show is making kind of a circle. In the first season, they were dealing with this virus, the Red Flu, that was wiping out nearly the entire population. Now things have come full circle, as we're actually dealing with a computer virus or cyber attack. So the writers have created this nice parallel.
I think that's the most poignant thing in terms of conversations that are going on politically and in our world. How safe are we? How safe are our computers?
The characters on the Nathan James, because of this cyber attack, are forced to go back to the warfare of World War II, using paper maps and little push pins to mark where we're at. We don't have any of the high-tech gear or access to communications or the computers that allow us to do what we have done.
We really see what these characters are made of without all the bells and whistles.
Sasha and Tom have a history, and both are now unattached again. They start Season 5 in different regions of the world. Will they ever get back together romantically?
At the end of Season 4, we saw them talk about a fresh start. We see where their relationship is at when we start Season 5. A lot of time has passed, and we see how they've progressed, and how these two people that in a lot of ways are made for each other are working out their relationship.
All that being said, these aren't characters that put themselves first. In that way, our show does mirror real servicemen and servicewomen, who leave their families behind and go toward the danger and run into battle.
Related: 19 Actors Known for More Than One Role
With Sasha and Chandler, we see how their relationship can progress while they're still focusing on and working toward good for mankind.
Will the crew of the Nathan James all reunite or will they remain scattered throughout the season?
In the first episode, there's a really beautiful reunion on board the Nathan James.
One of my favorite things is seeing all of the promotions. Tom is now teaching as an admiral; My personal favorite is seeing who is now the captain of the Nathan James, which people will enjoy seeing.
Throughout the season, there are a lot of attempts for us to get back together with everyone. That's a big arc of the season: reuniting and getting all of our forces together.
The Last Ship is an action-packed show. How have you enjoyed that aspect of it?
It's insane. And, of course, this is our last season, so we had to pull out all the stops.
We've actually teamed up with the Marines this season, so it's not just the Navy but the Marines behind us. We've got real-deal guys. There's a lot of military shows out there right now, and I'm proud to be a part of one of them that has so many of the real-deal people on set with us each day.
When they call cut, I don't turn to look at the director; I turn to look at the real Seals and ask, "How did we do? Was that right? What can I do better?" Because we want to get it right. Everybody on the show cares so much about getting it right, down to the nitty-gritty details.
That's one of my favorite things about it. The fact that any serviceman or woman would come up to me and say, "I love your show," that's my favorite compliment that we could ever get.
How has The Last Ship stayed relevant through its run?
I think what's relevant about it is that nowadays it feels like there is so much injustice in the world, it can feel really overwhelming.
These characters are not supermen and superwomen. They're ordinary males and females that are making huge sacrifices, and I find that really inspiring. They're stepping up to the plate and doing what they feel is right, and I find that really relevant.
How did you like your experience on The Last Ship?
When I started, I had a lot of catching up to do. And, at the time, I was doing double duty on Agent Carter and sometimes triple duty on Jane the Virgin. I felt really scattered, just trying to do the best I could when I was there.
Related: Enjoy unlimited access to thousands of movies and TV shows with Amazon Prime Video. Watch anywhere. Cancel anytime! 
As the show progressed and I felt more and more confident in this world, feeling like a real member of the team, I loved it.
Especially this final season, when I had a lot of very special days, with Vulture Team in particular, with Travis, Bren, and Jodie, when we really got to go there in terms of our acting.
I feel like we were a real family there,.It's the kind of family where you lay down in traffic for the other person, where you throw your body in front of them in the heat of battle. It's really high stakes, and we're not playing around here.
I particularly love how the show portrays women, all the female characters on the show. I hope that's really inspiring for the servicewomen that watch it.
What projects do you have in the works?
I'm working on Jane the Virgin Season 5. This is the beginning of the last season. I play Rose/Sin Rostro. I'm always up to no good on that show, which is fun to do as well.
The Last Ship Season 5 premieres at 9/8c Sunday, Sept. 9, on TNT.
Dale McGarrigle is a staff writer for TV Fanatic. Follow him on Twitter.