Chilling Adventures of Sabrina Review: The Relevant, Spirited Witch the World Needs

Carissa Pavlica at .
October is a very good month for Netflix when it comes to the reimagining of previous works.
The Haunting of Hill House from Mike Flanagan is a successful reincarnation of not only the ghostly work from novelist Shirley Jackson but the film adaptations that followed.
After watching the complete first season of Chilling Adventures of Sabrina from Roberto Aguirre-Sacasa, based on the recent comic book series of the same name, I can assure you it will not be confused with Sabrina, The Teenage Witch that came before it.
With confidence and panache, Aguirre-Sacasa has created a compelling, bewitching coming of age tale around familiar characters.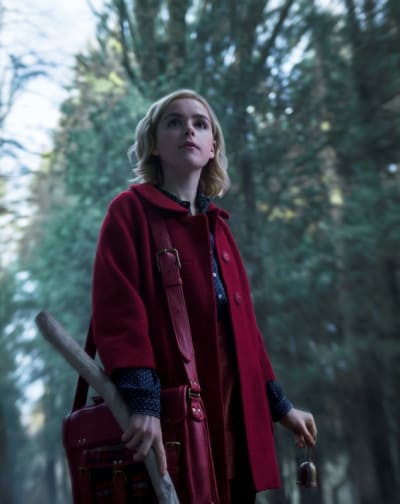 Sabrina, a half-human/half-witch hybrid, might be a 15-year-old girl when the premiere begins, and she might eventually go to a school to hone her magical abilities, but Chilling Adventures they are; this is no Harry Potter.
Sabrina and friends live in a dark and frightening world where magic is as real as the presence of Satan himself, the very Dark Lord to whom Sabrina must decide if she's willing to pledge herself for all of eternity. Witchcraft may come with the excitement of potions and spells, but a lot more.
Related: The Haunting of Hill House Review: Terrifying Tale of Love and Loss
While Sabrina has peers at Baxter High on the human side who love and cherish her, she also has magical peers unknown to her friends who would as soon stab 'Brina in the back than have her infiltrating their world. Her father was a very powerful man, and jealousy isn't pretty with powers.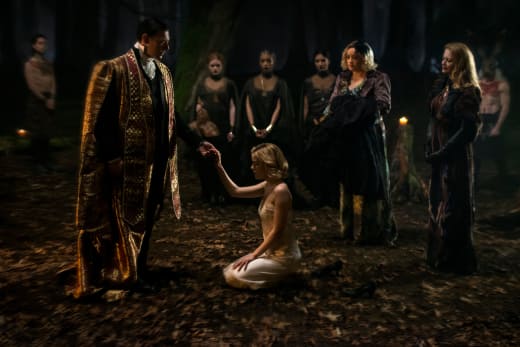 Toss in the dark stylings of demonic presences, cannibalistic rituals, and the oft-said "Hail Satan," among other terrifying events, and it becomes obvious Sabrina and friends live in a world with consequences and learning to navigate the rough waters is going to take a while.
Sabrina has a soul-altering decision to make as her 16th birthday approaches -- she's of the age when witches sign their souls over to the Dark Lord.
Related: Orange Is The New Black Canceled After Seven Seasons at Netflix!
A Dark Baptism would change everything for Sabrina Spellman, but Kiernan Shipka has experience playing a character going through tumultuous changes.
As Sally Draper on Mad Men, the divorce of her parents probably felt as harrowing of a split in her world as Sabrina deciding between her mortal and supernatural sides.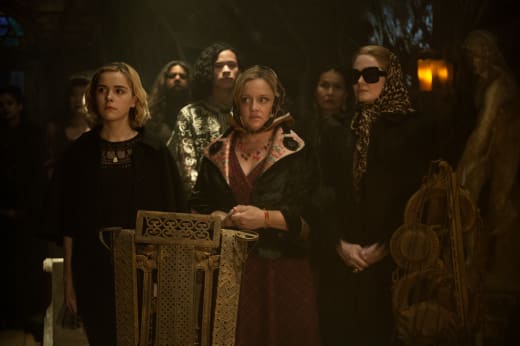 Even after losing her parents at a young age, Sabrina's life was as normal as possible. Her aunties, Hilda and Zelda, raised her as her parents would have wished even if the aunties were as embroiled in the coven as two witches could be. 
Lucy Davis and Miranda Otto play aunties Hilda and "Z" respectively, and both actresses dump generous servings of talent into the Chilling cauldron. 
Related: Spinning Out Starring Emma Roberts Ordered at Netflix
Davis' Hilda sparkles with zany humor and kindness acting as the more naive of the two sisters while Otto's Z brims with steely determination, a bold sense of humor, and a robust pride in her family and lineage.
Although they're far from perfect, the aunties' love and protection of their niece is not to be underestimated. As Sabrina struggles to be the heroine in her own story, choosing a path unlike that which had been carefully planned for her, the aunties need to conjure on all of their love to get them through it.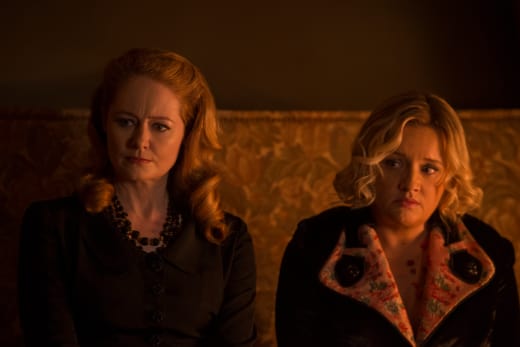 Sabrina gets from her aunties some of their best and worst qualities. She is woman and witch, torn between two worlds, both of which she wants to protect for those she loves.
Like all teenagers, she thinks she knows a lot more than she has had time on earth to understand, so her meddling often has undesired results.
Related: Chronicles of Narnia TV Series and Movies in the Works at Netflix
Sabrina uses her magic to cure a human problem and her humanity to conquer a magical problem, and it provides the series with episodic plots that go to great lengths to better introduce Greendale, flesh out the cast of characters, and offer myriad opportunities for tricks and treats of all kinds.
Never at issue is the kindness of Sabrina's heart. Whether she ultimately decides to pledge her life to the Dark Lord or not, she will do it out of the goodness of her heart because she desperately wants to do the right thing at all times.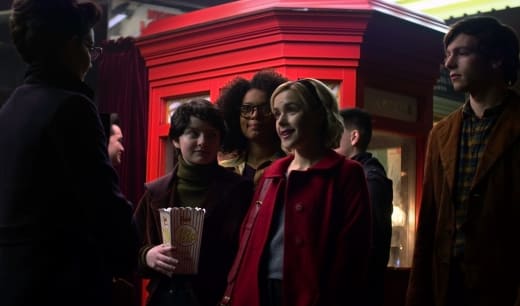 Rounding out Sabrina's world is a menagerie of characters as beautifully layered as Sabrina and the aunties.
Her boyfriend, Harvey Kinkle, and closest friends, Rosalind and Susie, not only support Sabrina but get meaty storylines of that should benefit the storytelling of upcoming seasons.
Related: Iron Fist Canceled After Two Seasons at Netflix!
There are also The Weird Sisters, from the Coven and the School for Unseen Arts and the Coven Warlock himself, Father Blackwood.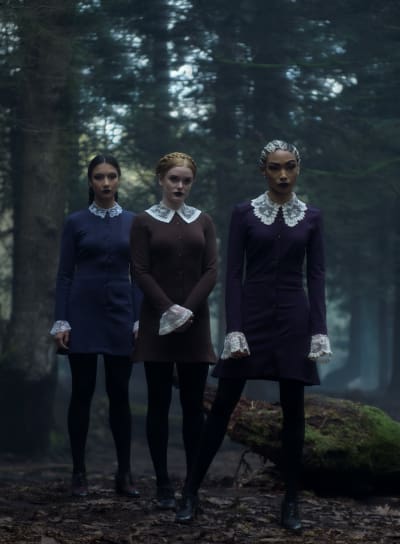 Hot off her role as Missy from Doctor Who, Michelle Gomez tackles Mary Wardell, a teacher at Baxter High who undergoes a change and inserts herself into Sabrina's life.
Like Missy, Mary Wardell keeps viewers on their toes, and Gomez reaches up and grabs scenes right out from under others around her.
Related: Narcos Mexico Trailer: Witness the Rise of the Mexican Drug War
This witchy story does contain witches and warlocks, and much like the world we're living in without all of the supernatural mojo, the witches might be powerful, but they aren't ruling class.
It's unclear precisely what it is about Sabrina, but she seems set to make changes even her powerful aunties haven't been fearless enough to undertake. The coven, the Dark Lord, they have been waiting for Sabrina. 
If there's a Times Up movement for witches, Sabrina has the backing to spearhead it, and even if she might not be fully aware of it yet, those who have been awaiting her coming of age seem to know what's lurking underneath girl-next-door exterior.
It's almost hard to imagine after watching that it was once considered for The CW. In its current adaptation, it wouldn't have worked on the network. 
Related: No Good Nick Starring Melissa Joan Hart and Sean Astin Ordered at Netflix
Whether the format will allow for crossovers is even questionable, even if there was at least one mention of neighboring town Riverdale during the run. It could happen, and given Riverdale Season 3 is going darker, I wouldn't rule it out.
Chilling Adventures of Sabrina is a lot of fun and highly emotional. It's enchanting and relevant. It's fantastical and addresses real-world issues. It's everything you've come to expect from Aguirre-Sacasa.
In addition to Shipka, Otto, Davis, and Gomez, Chilling Adventures of Sabrina stars Richard Coyle, Tati Gabrielle, Ross Lynch, Chance Perdomo, Bronson Pinchot, Jazz Sinclair, and Lachlan Watson.
Chilling Adventures of Sabrina hits Netflix Friday, October 26 just in time for Halloween binge watching. 
Carissa Pavlica is the managing editor and a staff writer and critic for TV Fanatic. She's a member of the Critic's Choice Association, enjoys mentoring writers, conversing with cats, and passionately discussing the nuances of television and film with anyone who will listen. Follow her on Twitter and email her here at TV Fanatic.