Madam Secretary Season 5 Episode 1 Review: E Pluribus Unum

Elizabeth Harlow at .
What a way to kick things off. 
As if having not one, not two, but three former Secretaries of State on Madam Secretary Season 5 Episode 1 wasn't enough, the cast and writers delivered a hell of a story.
The part about pulling off nuclear disarmament on the Indian subcontinent was impressive, and Timeless alum Sakina Jeffrey shone, but that's not what I'm talking about here. 
The crisis du jour was the least interesting and least important part of "E Pluribus Unum." What resonated was the argument against nationalism, the argument for unity. 
Watching Elizabeth's closing speech was damn near like watching Martin Sheen deliver a monologue on The West Wing during the Sorkin years. It almost made you wonder if he'd been hired as a ghostwriter. 
Related: Enjoy UNLIMITED access to thousands of Movies & TV Shows with Amazon Prime Video!
He hadn't of course. As wonderful as Sorkin is at soaring monologues, he never would have come up with the wonderfully awkward scene between Stevie and June exposing the generation gaps in feminism.
Credit most definitely goes to Barbara Hall and David Grae. 
It was obvious early on that June was not going to survive the Oval Office attack, but that doesn't make it less disappointing. Nothing against Sandra Daley, but the character of June did more in one episode than Adele has done ... ever. 
Stevie needs somebody in her life to talk straight to her the way June did. For all her alleged intelligence, she's incredibly naive about the way the world she's chosen to pursue a career in works. 
Having an older woman, especially one like June who makes DC run, be there to guide Stevie would have been a gift to the character and the audience, certainly a woman who did so in June's no-nonsense manner. 
Stevie: What do you think?
June: Well, of course she offered you the job. You're a hot ticket. You have an inside track to the White House not to mention a direct line to your mother. This town will take connections over anything else.
Let's just pray that somebody, anybody knocks her out of the most useless White House internship ever. It's time for Stevie to operate in her own orbit, be that a job on the hill or heading to Cambridge for law school.
Related: Get CBS All Access via Amazon Prime Video for Hit Shows, Exclusive Originals, & Live TV! 
Not all the McCord's are floundering. Henry's no longer playing spies, but he's not moping around the basement any longer either. 
It's unclear why he wasn't allowed just to be the nerdy professor that his heart demands, but it's a relief to see him accept his path in life. 
And he's still relevant to the story! But we're not forced to waste precious airtime on his misadventures around the world! It's a win-win. 
I acknowledge, the United States is far from perfect. But one lesson India can take from America, despite our shortcomings, is that we have only approached our democratic ideals when we've striven to include *all* voices.

Henry
Madam Secretary is about Elizabeth McCord. All of Henry's time spent at DIA and CIA and all the rest of the alphabet soup agencies was ridiculous. It's not that both members in a couple can't have fulfilling and interesting careers, it's just ... did anyone care?
Professor Henry isn't dumber than Spy Henry, and he's still able to disrupt global politics, but he's actually, physically around, and able to give Bess the wisdom of St. Augustine and other religious philosophers when she faces ethical quandaries.
Is it so much to ask that the husband be the one to play supportive spouse, to keep the home fires burning, to provide unintentional inspiration? It's not, in life or on TV.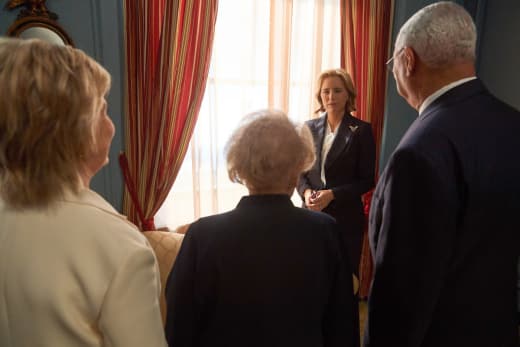 The highlight of "E Pluribus Unum" was its three very special guest stars. They may not be the best actors, but Colin Powell, Madeleine Albright, and Hillary Clinton all give really good advice. 
The question I'm dying to have answered is how much of that scene was scripted? Obviously, Hillary was directed to work in the phrase E Pluribus Unum, and certain phrases were canned, but the rest? The parts about how nationalism is a scourge?
As mentioned, none of them are that good of actors. 
Hillary Clinton: Talk about what unites us. Even at this moment of peril, remind Americans of our nation's original motto, something that I think about a lot and seems more important today than ever. E Pluribus Unum. Out of many, one.
Madeleine Albright: Hillary, you're so right, because we all, unified, depend on each other.
Colin Powell: America. Americans.
Hillary: All Americans.
Madeleine: All Americans.
Elizabeth: All of us.
It looks like Elizabeth may be taking on more domestic issues this season, which makes sense if she wants to be President. Don't expect it all at once, of course. 
But the meetings with Russell should continue as should Elizabeth's (and the show runner's) commitment to taking more definitive stands on issues. 
We'll be moving past "America good, terrorists bad" territory. It may seem a little scary at first, but big risks reap big rewards. 
Look where isolationism has gotten us in the past. Two world wars. Seventy million dead. Never again can we go back to those dark times when fear and hatred, like a contagion, infected the world.

Elizabeth
If you were wondering why white nationalists were so concerned about a peace deal between two nations on another continent, don't worry. Madam Secretary Season 5 Episode 2 will provide some answers on that front.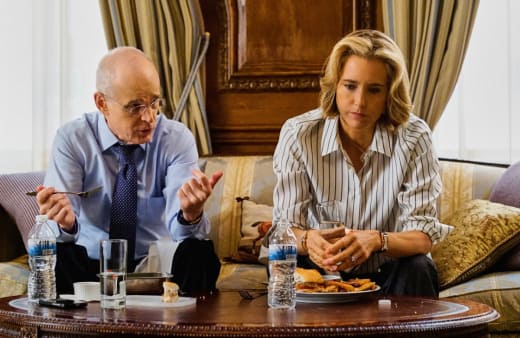 Apparently, nationalism doesn't preclude taking money from foreign interests. This, at least, gives Elizabeth a more legitimate reason to be involved in the investigation of the Arayan White Pride group. 
Even though Henry's happy leading the ethics department at the war college, he'll get involved in the investigation too. Fingers crossed that it doesn't link back to his experience with that cult group again. 
Related: Best Bets on Broadcast: Fall 2018 Weeknight Breakdown
So what were your thoughts on "E Pluribus Unum?" Did you love the visit from the Secretaries or was it a waste of time? Should Stevie leave Russell's office? Will Henry and Elizabeth be able to make her presidential run work? 
We want to hear your insights! Sound off in the comments section below and let us know what you loved and what you hated and where you think things are headed!
You can watch Madam Secretary online anywhere, any time via TV Fanatic. 
Elizabeth Harlow was a staff writer for TV Fanatic. She left the organization in October 2018.