Euphoria Review: HBO's Answer to 13 Reasons Why is a Resounding Success
Paul Dailly at . Updated at .
Early episodes of new shows are generally good for judging of whether the show has the legs to convincingly keep viewers interested for the entire season and beyond. 
If we go by that logic, then Euphoria is a success -- a big controversial success. 
Taking risks usually reaps rewards, and there's no getting away from the fact that Euphoria is probably one of the riskiest shows HBO has ever produced. 
On a network that has shown its fair share of nudity over the years, Euphoria probably shows more nudity during its series premiere than the network has aired over the last decade. 
The aim of the game for Euphoria is to dissect teen adolescence and what it means in today's society.
Related: Get HBO via Prime Video Channels for Addictive Dramas, Hilarious Comedies & Hit Movies!
That's a worrying thought, but thanks to the rise of social media, the world has evolved to the point that many adults watching the show will struggle to connect with the storylines on Euphoria.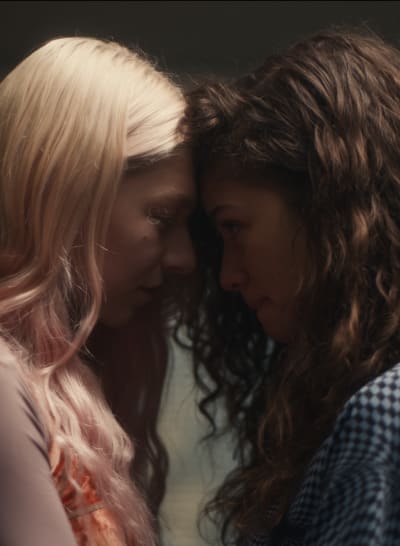 In many ways, the series feels like HBO's way of saying, "Take this, 13 Reasons Why."
The premium cabler clearly wants to lure in the Netflix crowd, but they're taking it farther with tactics that are typically left out of similar Netflix dramas. Euphoria will probably be dubbed a success by HBO execs if it trends on social media. 
However, the series is not your typical teen drama. By that I mean that nobody under the age of 18 should be watching it. 
There, I said it. 
Related: Euphoria: HBO Picks Up Zendaya Fronted Drama
If 13 Reasons Why was described as graphic and damaging by some, then I shudder to think what will be said in connection to Euphoria.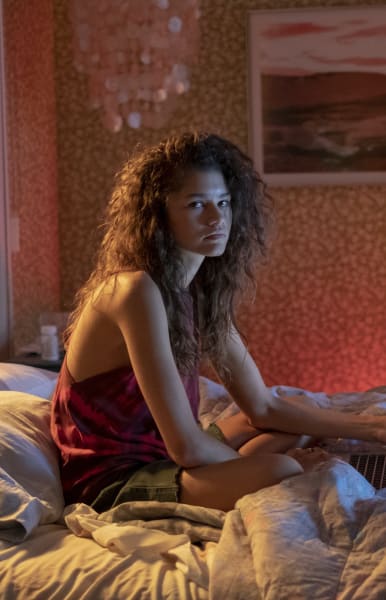 The show tackles issues such as body-shaming, underage child pornography, statutory rape, and drug overdoses all as related to children, and that's just in the first two episodes. 
I'm barely scratching the surface here. There's so much more. 
Sheesh, right?
With Rue, Zendaya Coleman turns in her best performance to date. The actress has found the right vehicle to distance herself from her Disney Channel past.
It's not quite Miley Cyrus levels of sticking up the middle finger to her past, but this role is very much out there.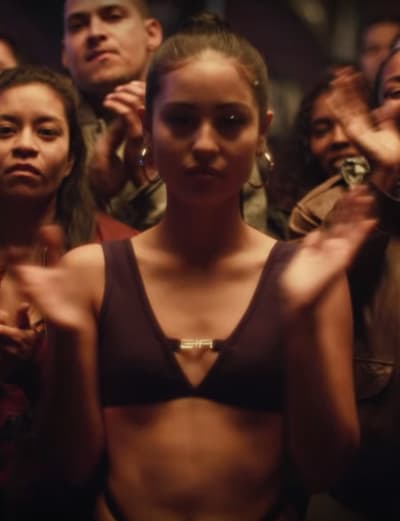 Rue is battling an addiction to drugs. At 17, she has no desire to lead a clean life, even if that means she's earmarked for death.
The teens on Euphoria are not into drugs for the shits and giggles. 
Many teen dramas have implied that teenagers are taking drugs and getting drunk to have a good time (I'm looking at you, Riverdale!), but that is not the case with Euphoria.
Rue is not that type of teenager. Her addiction stems from being unable to come to terms with her very existence. 
Related: Chambers Review: An Inspired Thriller That Goes off the Rails
The press of late has mostly focused on the nudity and other outlandish things the characters do, but Sam Levinson, who penned all eight episodes of Euphoria Season 1, has been open about wanting to capture the pitfalls of being part of today's younger generation.
The writing is solid. It's worth watching Euphoria for the one-liners alone. The colorful characters are also a strong point.
There's so much going on that it feels like the creative forces want to make sure that everything they want to say is featured in the finished product.
It helps elevate the series above some other shows on the air this summer. 
Some of what occurs may feel like it's done only for shock value, but if everyone is talking about the show on Monday morning, it will raise awareness of the important topics and hopefully lure in other viewers to watch, as well. 
One of the minor niggles I have with Euphoria is the number of characters on the show. With eight episodes, it will probably be difficult to serve all of them.
Related: 13 Reasons Why Renewed for Season 3
But that's not to say any of the characters are taking up some much-needed real estate on the screen. The show flawlessly moves between the characters, with Rue giving us the low-down thanks to the power of the narration. 
After watching four episodes provided for critics, Euphoria managed the breadth of characters just enough to keep them all interesting.
The cast also includes the likes of Hunter Schafer, Jacob Elordi, and even Eric Dane of The Last Ship. A small little PSA: This role is a complete departure for Dane. His character is hiding more secrets from his family than you will believe. 
At the risk of giving away too much that I sincerely hope you choose to experience for yourself, I'll stop here.
Will you be watching Euphoria?
Share your thoughts below.
Euphoria premieres Sunday at 10/9c. 
Paul Dailly is the Associate Editor for TV Fanatic. Follow him on Twitter.