Big Brother: Julie Chen Grills Jack Matthews Over Racist Comments
Paul Dailly at . Updated at .
If you've been keeping up to speed with Big Brother 21, then you know that one of the season's most controversial houseguests is Jack Matthews. 
Viewers have been up in arms about the way racist comments made inside the house have been handled by producers, and Thursday's episode found Jack in the hot seat. 
Jack was evicted by a vote of 6-2, becoming the first member of the jury house. But Julie wanted answers the moment Jack exited the house.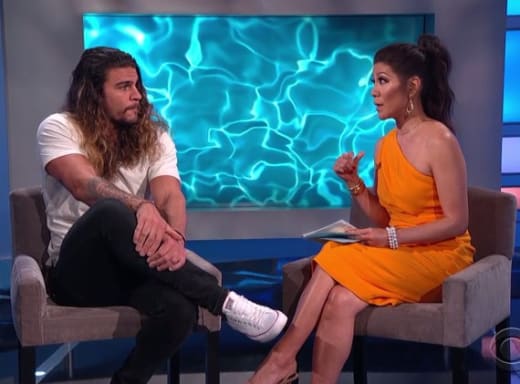 Chen played clips of Jack making heinous and derogatory comments about Kemi Fakunle, a houseguest Jack to an immediate dislike to at the beginning of the game. 
Julie spoke first after the clip was played.
Related: Big Brother Spoilers: Who's Going Home Tonight?
"In recap, you called her bitch, you called her dog poop — you didn't use the word poop — and we just heard you say you wanted to stomp a mudhole through her chest. Watching that now, what are your thoughts?" the host said. 
"Okay, well, I will say that the stomp the mudhole comment was based on something that Sam said last season when she was frustrated, and I don't think there was any personal vendetta behind saying that," a stunned Jack said. 
"I think my statements were playful in a group of people. I do apologize for what I said, and that's very sincere. I think Kemi was, and is, a great person."
"I think this game and being in 24-hour view of people and you say things and… um, I wouldn't say I fully support the things that I said and the way that I said them."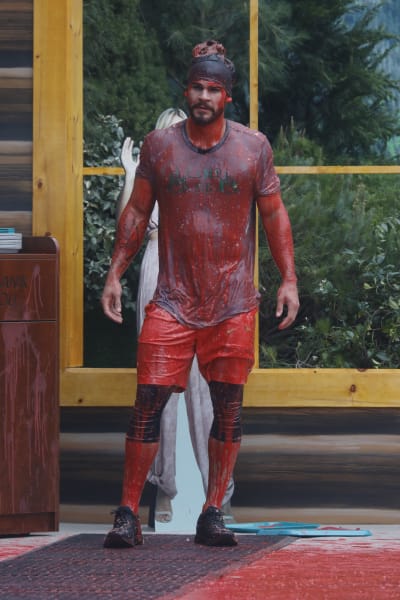 "If I could take them back, I would, and I wish I could have articulated them in some other way possible."
"But it doesn't take away the fact that I don't think that Kemi is a wonderful person inside and outside of his house absolutely."
Related: Love Island Renewed for Season 2
But Julie didn't let Jack off the hook easily, and went on to show another clip in which he said that the "proof is in the rice pudding." He was referring to Isabella Wang, who is Asian American. 
"Because Bella is Asian-American," Julie said to him, "and you made the pudding comment — rice pudding — some people thought that was a derogatory statement about her ethnicity. What is your response to that?"
"I appreciate you letting me be able to voice my opinion about that," Jack responded to the question.
Related: Big Brother Round Table: Are the Jacks Ruining the Game?
"We spoke earlier in the evening. There was the slop thing going on, and people were making different recipes earlier in that evening, mainly Tommy and Christy," he continued.
"And rice pudding was spoken about in slop pudding. And so earlier in that evening, rice and slop pudding were going around so Tommy bringing it up in that situation made me say it there."
"It had nothing — absolutely nothing — to do with her ethnicity whatsoever. I appreciate that I get to voice me saying that."
Jack had many arguments with Kemi throughout his time in the house, but if you keep up to speed with the live feeds, you will be well aware that Jack started them. 
Moments after Jack's eviction was made official by Julie, Kemi took to twitter with the following: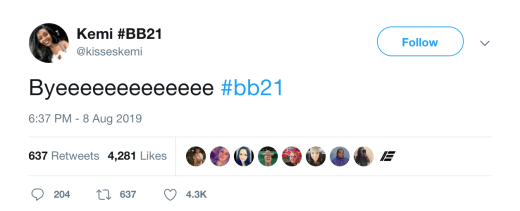 Fakunle previously took to Twitter to air her thoughts on Jack's behavior following her eviction. 
"I am extremely disappointed and disgusted by the behavior I am being made aware of that occurred thus far in the Big Brother house," she wrote.
"The degrading and threatening comments made by some houseguests and laughed at by others are outrageous and hard to see. I am saddened to be associated with such a negative display of human character and am horrified that this is now a part of my life story."
CBS also recently responded in a statement to People about the comments.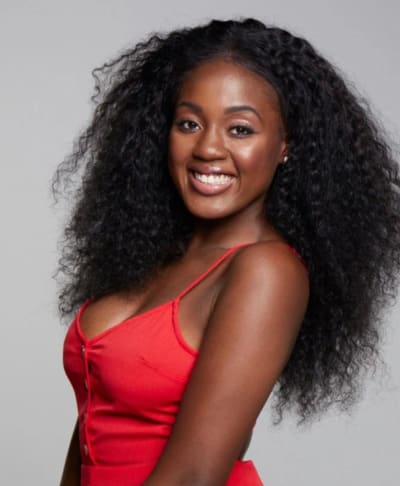 "We share some of the viewers' concerns about inappropriate behavior and offensive comments, and producers have addressed specific incidents with the Houseguests involved," the statement read.
"However, there is absolutely no truth that the casting of the show is racially motivated, that the Houseguests' behavior is predetermined or that the outcome is controlled in any way."
Big Brother continues Sunday at 8/7c on CBS. 
Paul Dailly is the Associate Editor for TV Fanatic. Follow him on Twitter.