Days of Our Lives Spoilers Week of 9-23-19: Jack Remembers!

Jack Ori at .
It's the week Jack and Jennifer fans have been waiting for!
Days of Our Lives has teased fans with the possibility of Jack getting his memory back over and over, only for someone to interfere.
But according to the spoiler video, Jack FINALLY is going to get his memory back on Days of Our Lives during the week of 9-23-19!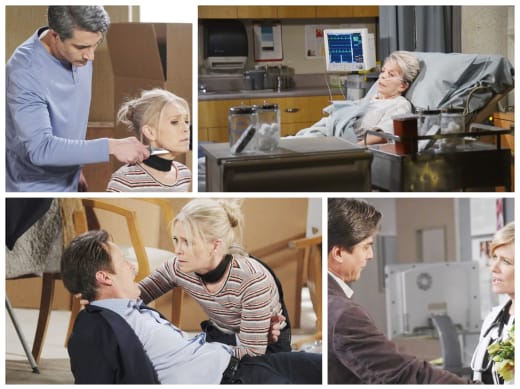 Jack and Jennifer -- and their fans -- have already been through a lot in their quest to get Jack his memories back.
Jack finally gave up Eve and stopped pushing Jennifer away, only for their last dangerous mission to result in Dr. Shah smashing the memory serum again and kidnapping Jennifer to make sure she didn't reunite with Jack.
Related: Days of Our Lives Classic Couple Spotlight: Jack and Jennifer
However, the spoiler video shows Jennifer having lots of flashbacks of Jack and lamenting that she wished he could remember their life together.
After a dizzying array of flashback clips, Jack opens his eyes to find Jennifer kneeling over him and states the words fans have been waiting for: I REMEMBER YOU.
There's also plenty of emotion ahead for everyone else in Salem! Check out our full list of Days of Our Lives spoilers for the week of 9-23-19 and then vote for your favorite in our poll.
Kristen demands Xander help her.
Now that Kristen knows that Sarah is pregnant, her latest crazy scheme to get Brady involves stealing Sarah's embryo and passing it off as her own.
Kristen did this once before, and when Brady and Theresa found out it made Brady hate Kristen even worse. So this plan isn't likely to work.
But before it can even get off the ground, Kristen will need Xander's cooperation.
Related: Days of Our Lives Round Table: Who Should Live? Julie or Kate?
Xander claims that Sarah's turned him into a changed man, and he could already be in hot water if she ever learns about what he almost did to Ben. Will he go along with Kristen's plan now or is he going to double-cross her?
Gabi is torn when Will asks about Kate's attack.
Will's been suspicious of Vivian ever since his grandma Kate was shot.
Now that's he's overheard Vivian and Stefan arguing, he's even more convinced that Vivian shot Kate -- and Gabi knows the truth!
Will Gabi come clean with the father of her baby? Or will she continue to go along with Stefan's wish that she protect his mother?
Gabi regularly toes the line between being redeemable and not. Telling WIll the truth would be a step in the right direction.
But it would also be too easy and Days of Our Lives likes to drag things out when someone has a secret to tell, so Gabi will likely cover for Stefan. The only question is whether Will will buy it (and hopefully the answer is a loud, resounding NO.)

Related: Get True Crime Files by ID via Prime Video Channels for Over 1,000 Real-life Mystery & Suspense Shows!
Lucas considers giving Kate's heart to Julie.
Kate's condition continues to worsen and since there appears to be no hope for her, Lucas asks Kayla to check whether her heart might be a match for Julie.
This is sure to be a tearjerker of a storyline, but why is Lucas making this decision on his own? Where are the rest of Kate's children?
Days of Our Lives' budget cuts may make it difficult for actors to make one-day returns, but in this case, it's entirely ridiculous for the rest of Kate's children not to visit their dying mother.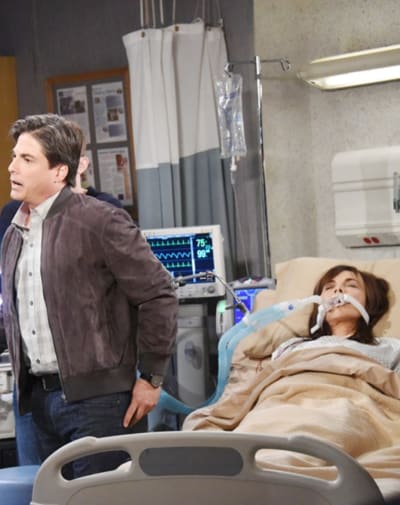 Of course, Kate is likely going to pull through at the last minute, so this will be a moot point. If Kate is a match for Julie, what is going to save her?
Ben Talks to Marlena About Jordan
Yay! Marlena is back behind the psychiatrist's desk. Deidre Hall always shines in these scenes, and Ben and Marlena have a great working relationship.
Double yay -- Ben is doing the intelligent thing instead of trying to handle Jordan on his own.
Jordan is already showing signs that she's not at all finished being violent towards anyone who loves her brother, but Ben is probably conflicted about believing that since so many people doubted his own recovery.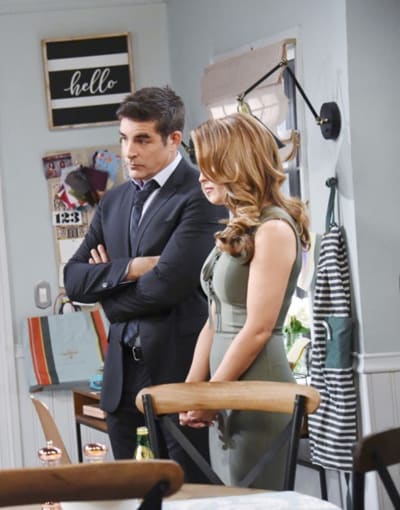 Marlena has a soft spot for Ben and is related to Ciara through Belle's marriage to Shawn.
Will she be able to stay objective when Ben turns to her for help?
Sarah plans to terminate her pregnancy.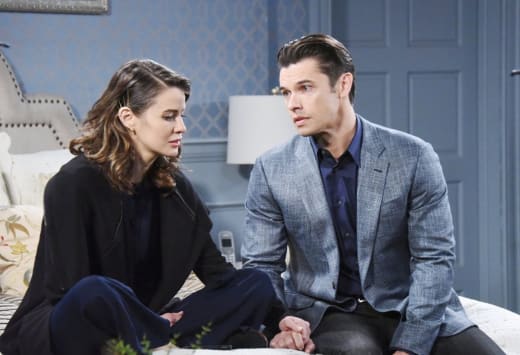 Xander supports Sarah as she heads to the clinic to have an abortion.
Spoilers say that Kristen wants him to preserve the fetus so that Rolf can implant it in her instead.
How he could get his hands on it, never mind keep it viable until it can be put inside Kristen, is an open question. But nothing about this is realistic.
Besides, Sarah will probably change her mind about having an abortion just like the rest of the women in Salem who have dealt with an unplanned pregnancy. 
Julie makes a dying request.
Julie knows that without a heart transplant she isn't going to live much longer. She appears to be settling into her knowledge that her days are numbered and makes a request of Maggie.
Before her heart attack, Julie was looking forward to hosting an engagement party for Lani and Eli. Could her request involve asking Maggie to do it instead?
Or will Julie ask Maggie to look after the rest of her family for her, essentially giving her permission to step into the Alice Horton role once Julie is gone?
Related: Days of Our Lives: Who Should Follow In Alice's Footsteps?
Either way, fans should have their tissues ready. This promises to be a tearjerker of a storyline.
Jack rescues Jennifer!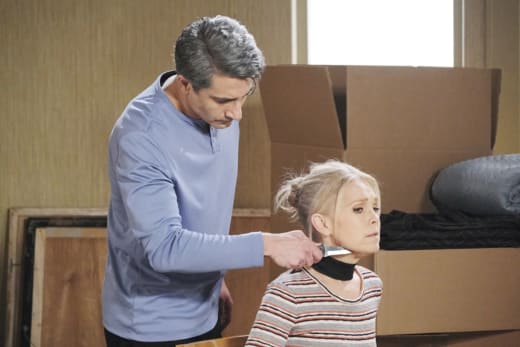 Jennifer has been holding her own with Dr. Shah throughout her kidnapping. But spoilers say that her unhinged former date will get desperate when he realizes she will never be into him.
Dr. Shah will hold Jennifer at knifepoint and force Jack to confront him.
Obviously, Jack will win that confrontation.
However, knowing his tendency to feel guilty and not good enough for Jennifer, will he blame himself if he seriously hurts and kills Shah and run away from her again?
Eli and Lani learn that Lucas wants to give Kate's heart to Julie.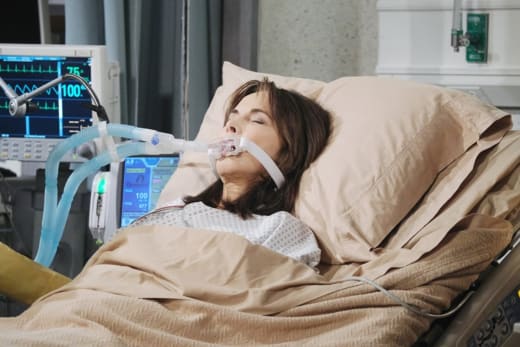 Both Kate and Julie are in critical condition, and Eli and Lani have been praying for a miracle.
How will they react to the sacrifice Lucas is prepared to make, though? Will they think it's too soon for Lucas to give up hope on Kate?
And how will this whole scenario affect them on the job, where the two are investigating Kate's shooting and trying to tie it to Vivian and Stefan?
Kristen gets some good news.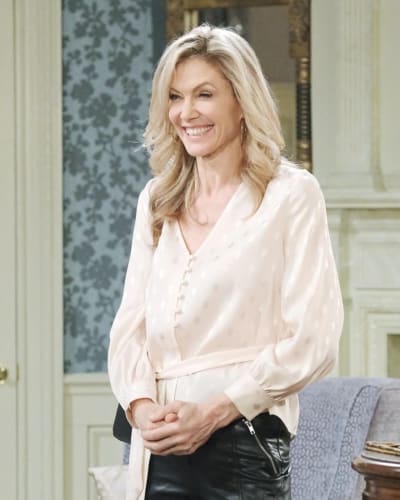 Kristen's plan to get Brady back gets a boost when she gets some good news from Dr. Rolf: she doesn't need Sarah's embryo because she's already pregnant!
WHAT???
Kristen is supposedly barren (and most likely past childbearing age). How did she get pregnant, and is the baby Brady's?
Rolf's explanation is sure to be interesting, but the more important question is whether Kristen's plan will work on an already-tempted Brady.
Jack and Jennifer have an emotional reunion!
Dr. Rolf is still working on the memory serum, but Jack may not need it!
After getting knocked out during his scuffle with Shah, Jack awakens to tell Jennifer that he remembers her.
But have his memories fully returned or will he still need a serum boost to finish the job?
And what will this mean for Jack and Jennifer going forward? Will they finally reconcile and become the super couple they once were?
Your turn, Days of Our Lives fanatics!
Vote in our poll below for your favorite Days of Our Lives spoiler for the week of 9-23-19, then go to the comments to let us know what you're looking forward to and why.
Want to discuss already-aired episodes? Check out our Days of Our Lives reviews and Days of our Lives Round Tables here on TV Fanatic!
Days of Our Lives airs on NBC on weekday afternoons. Check your local listings for airtimes.
Which spoiler are you most looking forward to for the week of 9-23-19?
Jack Ori is a senior staff writer for TV Fanatic. His debut young adult novel, Reinventing Hannah, is available on Amazon. Follow him on Twitter.