Wendie Malick on Darrow Mysteries, Strong Female Roles, and Her Love of Her Craft

Carissa Pavlica at . Updated at .
Wendie Malick is television royalty. Her most significant roles were as Judith Tupper in HBO's Dream On, as Nina Van Horn on Just Shoot Me!, and as Victoria Chase on Hot In Cleveland.
She has an acerbic wit that never gets lost, even when she's embodying a character with a lot of heart, such as Joanna Darrow on Hallmark Mysteries & Movies Darrow mysteries in which she stars opposite Kimberly Williams-Paisley as her daughter, Claire Darrow.
We had the opportunity to chat with Wendie about Witness to Murder: A Darrow Mystery, airing Sunday, September 8 on HMM. Please enjoy excerpts of our interview below.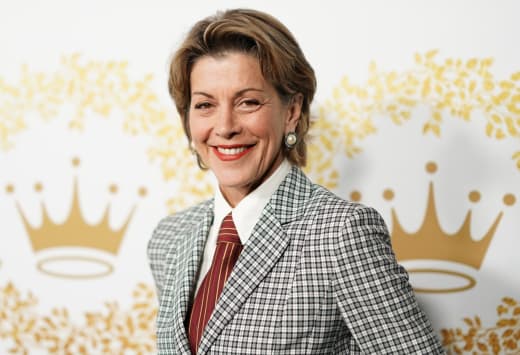 I'm so excited to talk to you. I've been a fan since you were Judith Tupper on Dream On.
Oh my God, you do go back.
Yeah. That set my expectation for everything you've done since, and you have never let me down.
Well, I appreciate that so much. Thank you.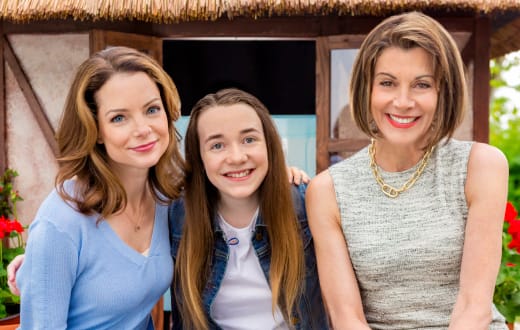 You know the television industry has changed a lot in the last 40 years, and there are more opportunities than ever. What is it that drew you to the Darrow and Darrow movies?
It was the script, which I just think is such a smart; Phoef Sutton is such a good writer. And there was something about the dialogue that was crisp and sassy, and it just was elevated from a lot of the things that I'd read. It would've held up on any network to me.
Kimberly Williams-Paisley on Darrow Mysteries, Family, and Charity
And I'm always looking for good relationships among women, and I love the idea there were three generations of Darrow. There was a chance to act with the grandchild and the daughter and to work through some of the friction that we all experience in our families.
This upcoming episode is Joanna's most significant story to date. What can you tease about that?
I was wrongly accused of insider trading, which is what brought me back to my daughter, in a place of great need where I kind of didn't have anybody and had nowhere to go.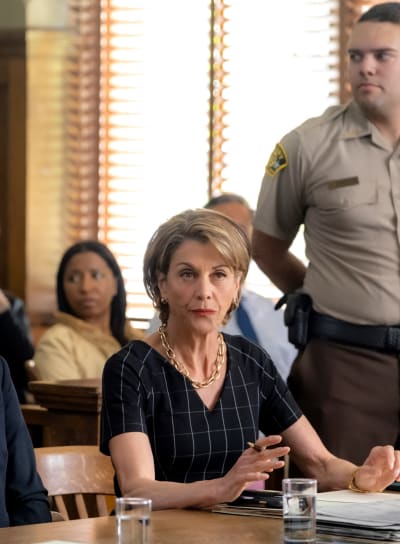 But I had been framed, and it turned out that I blamed one of my dear friends who I had mentored at that firm, and it turns out she's also being framed at this point. And so we decide to take her on even though she was the one who had sort of thrown me out and sold me down the river.
So in this one, my daughter's very sensitive to the fact that the woman had screwed me over, but ultimately we decide she deserves a chance to get cleared, and we realize the bad guy is my former boss. But it gets very complicated after that. It's a great episode though; I had a blast doing it.
And When Calls the Heart and Riverdale's Martin Cummins guest stars as your former boss. What was it like working with him?
[laughs] He was a good dick.
He does do that very well, doesn't he?
Yeah, he was creepy. Very creepy. I was just talking with somebody. I'm in Memphis right now shooting a show called Bluff City Law.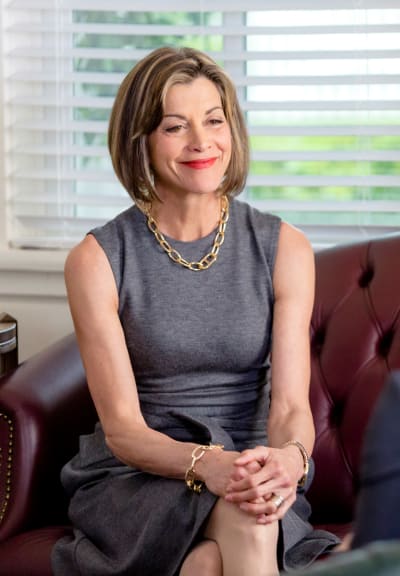 Oh, you're on that? That's great.
Yeah, I love this cast. But I just had a manicure, a mani-pedi, and a woman said, "You know, you always played those really mean characters. You're always one of those kind of outrageous characters."
She said, "And you're so nice in real life." Martin is probably very nice in real life too." [laughs] But, yeah, he does play a villain quite distinctly.
Enjoy UNLIMITED access to thousands of Movies and TV shows with Amazon Prime Video
[laughing] Well, now that, you know, somebody's told you that you're mean on TV, what parts of Joanna do most identify with?
Her sense of humor, and her self-deprecation. That seems to come out in a lot of my characters. I think it's my essence, and it's a way to deflect trauma, and challenges, and pain.
I think humor in my upbringing was the thing that saved you. And I came from a family that used humor to get through everything.
I did too. Wasn't it wonderful, though?
Yeah, I'm so grateful for that gift. It just helps you not to take things so seriously. And try to spread a little light wherever you go and help people sort of decompress. Because everybody's a little too wired these days, I think.
Oh yes, I think that's an understatement.
[laughing] They're wired a little too tight for their own good.
They're wired too tight, and literally wired.
Yeah.
You know, it's that connection to every single person, that you can share every reaction at every moment, that's just driving people insane.
Yeah, it's too much, and it's not healthy for us; we can't continue like this. Everybody needs to calm down, go outside, and smell the roses. Preferably, have animals.
Oh, absolutely. What do you have?
We have four horses, a miniature donkey, and now one dog. We just lost one of our beloveds a couple months ago.
Oh, I'm sorry.
Yeah. But we still have quite a menagerie.
et Hallmark Movies Now via Prime Video Channels for Stories with Heart, Captivating Movies & More
So you do a lot of horseback riding and fun stuff like that?
Yep, and I hike every morning with my dog before I take off and go down the mountain. Yeah, it's a great antidote to what I do. I love going back to -- we have a ranch, and it's sort of like in a place of nature and animals. And then I get to glam up and do that other stuff that I do, which I love too.
You're living the best of both worlds.
It works for me. It makes me a little schizophrenic, but it also saves my sanity.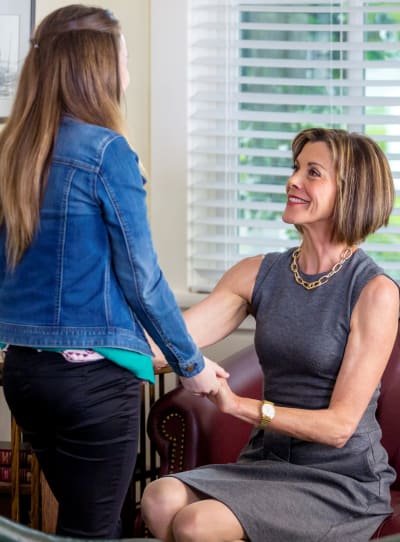 Similarly, your character on Darrow and Darrow is kind of decompressing a little bit and almost leaning into homemaking. Do you think there's going to come a time where she fully leans in to being a mother and grandmother?
No. But I think she's going to make a good stab at it.
I think she's probably a little too selfish to totally give herself over to being a great mother or grandmother, but she's giving it her best shot, and I think all of these experiences are tempering her and making her warmer, and kinder, and more generous; but she is bit of a narcissist.
It's very cute because on the upcoming movie, she's reaching to the internet to expand her horizons. Did you have any input into what she picks?
No, but it did make me... Actually, I did, I think I gave them one of the of lines of what I was going to be doing next. It's so ridiculous. I don't know what she...
I can't remember what it was, like crocheting something for somebody, but the idea that she was making pancakes, and she doesn't even eat pancakes. But she's just trying to sort of figure out, "What makes a mother?" Because she's never had that natural instinct.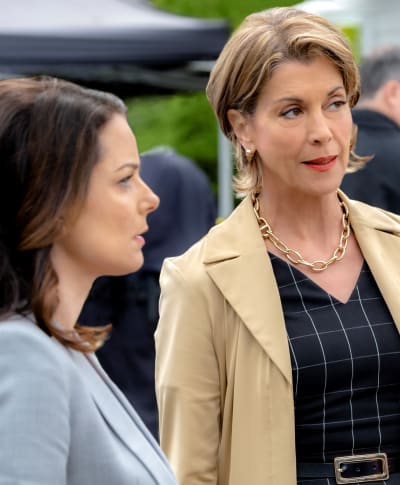 What scenario would you personally love to explore within that franchise?
Well, I loved that storyline with the coach when she starts dating. He was so much fun to work with. He's hilarious. Paul McGillion. He was terrific and just also had a very dry sense of humor, and I love playing with guys like that.
So I think that was a great place for her to go because he didn't take any guff from her, and that's such a healthy relationship.
Chesapeake Shores Review: The End Is Where We Begin
Do you think they'll revisit that?
I do.
Good.
I think so, yeah.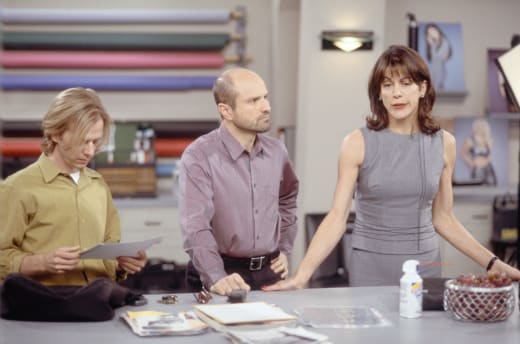 And in a franchise like this, there's always an opportunity for another exciting guest spot. Who would you love to have make an appearance on the show?
Oh, pretty much everybody I've ever worked with. I'd love to have Enrico Colantoni. And he's Canadian, so it makes it seem like it would be easier to get him in a Vancouver show. That would be so great, I think he'd be so much fun to work with.
But I'd love to get Laura San Giacomo, who was also on Just Shoot Me!. Yeah, it'd be really fun. All the people that I've ever done shows with, we all have remained friends. It's lovely when you get to bring your pals up.
And when you have that kind of an experience with someone, it's hard to just forget about them when you walk away from the job.
You know, you hear so often, and you always say, "We'll stay in touch," but that doesn't always happen. However, it did, particularly with my cast from Just Shoot Me!, we still have dinners.
Like four times a year, we'll all get together with our significant others and have dinner, and in between, we'll sometimes have lunch when somebody's in town. And I did the same thing with Jane and Valerie from Hot in Cleveland. It's like really you become a family when you're on a series that long.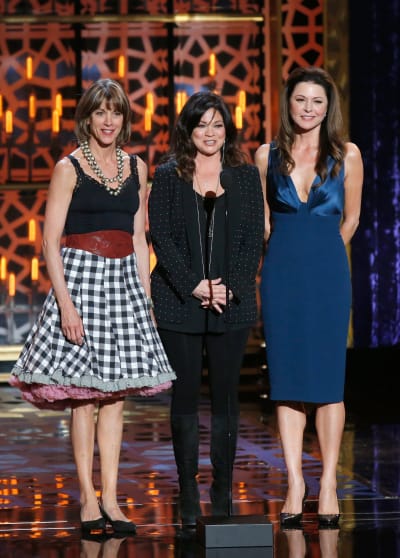 Right, and just like any family, it doesn't mean you spend every moment together, but when there's an opportunity it's easy to jump back in and revisit.
Yeah, and I'm in Memphis, and if I had more time I'd go to Nashville and visit Kim.
Chesapeake Shores Review: Leap of Faith
What is the role that you're doing on Bluff City Law?
I'm a guest star, yeah. It's a really yummy part. Very juicy. I defend a white supremacist.
Oh.
And I'm defending him because of freedom of speech, and Jimmy is defending, is actually on the other side, and going after this guy for tweeting during a political protest when a woman is shot during that protest. A black woman. And it's a really timely, really interesting, conundrum to deal with.
Freedom of speech, like how much, when does freedom of speech go too far, where's the line, and all of that. I always love it when people want me to come and do something that has a little more gravitas. It's an interesting thing. And she still has a lot of feist in her, though, the character I'm playing.
Oh, and I don't think you could do a role without feist. Do you know what episode that will be?
I think it's the fifth one.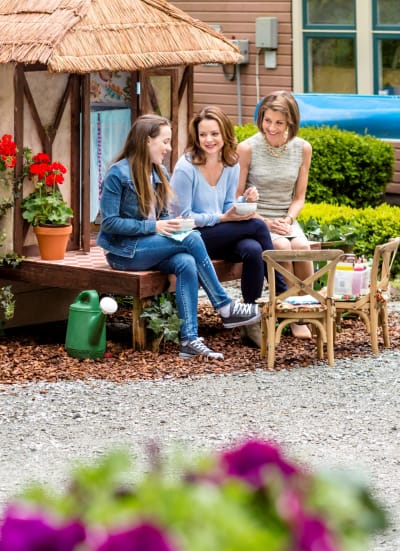 OK, great. And as the Darrow & Darrow franchise continues, what are your hopes for Joanna and Claire and Lou?
I think that the good thing about all of them is they all bring something different to the dance, and that's the best sort of tension and compatibility, and I like that they all can learn from each other.
And that's what women do for each other, of all ages. So no matter how old you are or how young, you have something to bring to the table and something to learn.
Good Witch Review: The Graduation
And with your breadth of experience, what kind of entertainment do you seek out professionally? I mean, obviously I know what you're doing now, and what do you personally consume?
Wow, consume. Well, I love to work, so I pretty much go with whatever is the most interesting thing at the moment. And in terms of what I consume, my favorite show of the last season was Fleabag.
Which I understand is not coming back, and it broke my heart. I loved it. And Veep, all along, I have friends who are on that show and it's just delightful. I shall miss that one for sure.
You could have fit in on that, you know?
Oh yeah, I would have loved it. And they were so good together. All of them. And I don't actually get to watch much television because I'm usually doing my own thing.
Well, you're usually making it.
Yeah, I make it. I don't like to watch as much as I like to do.
What else is coming up for you?
After this, I go back, and I'm going to do a fundraiser for my college, Ohio Wesleyan.
Oh, nice.
I'll be doing a performance of Love Letter for my dear friend Dan Lauria. And then I come back, and I'm doing another episode of American Housewife where I play her mother. That's a recurring thing that I do. And then I have other stuff that's pending after that.
And I saw on IMDB that there's a movie hovering out there with Thomas Lennon and Jason Alexander?
Oh, that one I don't even know about.
Oh! Interesting. Someone scarfed your name and put you in that movie, huh?
Well, you know what, it happens. I hear a lot of rumors about a lot of stuff going on out there, so we'll see which ones are actually going to come to fruition. We all have great aspirations, very high hopes for things. That doesn't always happen. I'm just so grateful that it happens as often as it does for me.
When Calls the Heart Review: Two of Hearts
It seems like you were always around. You know, which-
I like to think that [laughs].
No, that's a good thing. You know, it would make me sad if you weren't appearing in more things. Because I really do, I just enjoy your performances so much.
Oh, thank you so much. Thank you. Well, I love doing it and it's a gift to be able to do the things you love. I take great pleasure and I have great gratitude for it.
--------------------------------------------------
Witness to Murder: A Darrow Mystery airs Sunday, September 8 at 9/8c on Hallmark Mysteries & Movies.
Carissa Pavlica is the managing editor and a staff writer and critic for TV Fanatic. She's a member of the Critic's Choice Association, enjoys mentoring writers, conversing with cats, and passionately discussing the nuances of television and film with anyone who will listen. Follow her on Twitter and email her here at TV Fanatic.