What to Watch: A Salvatore Brothers Reunion, Last Pre-Crisis Arrow, Christmas Goes Crazy & More

Carissa Pavlica at .
If you're worried you're going to be bored this holiday season when it comes to your television viewing, you have nothing to worry about.
Not only is holiday programming going absolutely crazy, but the streaming series dropping this week are over the top!
Find out what else you need to schedule to remain fulfilled in your own living room.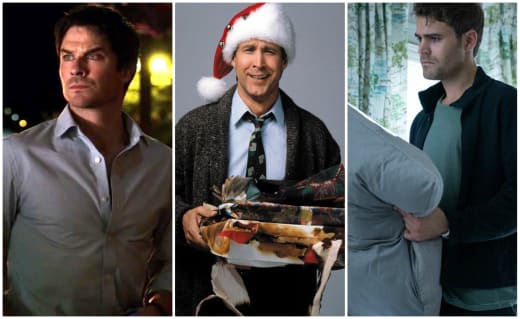 Sunday, December 1
4:45 The Year Without A Santa Claus (AMC)
This classic playing on an off on AMC, but it's not to be missed. Is there anything better than the Miser brothers?
National Lampoon's Christmas Vacation (AMC)
AMC is running this classic all night long. One of the most quoted and spectacular Christmas productions ever made!
There is no Christmas quite like the Griswold Christmas.
8/7c Santa Claus is Comin' to Town (ABC)
Fred Astaire plays a mailman explaining why Santa has whiskers, lives at the North Pole and brings presents once a year in this classic.
8/7c Christmas Town (Hallmark)
Wynonna Earp's Tom Rozon joins the Hallmark family starring in this movie with Candace Cameron Bure.
Lauren Gabriel leaves everything behind in Boston to embark on a new chapter in her life and career. But an unforeseen detour to the charming town of Grandon Falls has her discover unexpected new chapters – of the heart and of family – helping her to embrace, once again, the magic of Christmas.
8/7c You Light Up My Christmas (Lifetime)
Inspired by true events, Emma (Kim Fields) returns to her hometown built around her family's pioneer Christmas Light Factory two weeks before Christmas.
However upon Emma's return, she discovers the lights have gone dim in the once festive town, prompting her to reconnect with an old flame to set their hearts and the town ablaze with light again.
Monday, December 2
8/7c Rudolph the Red-Nosed Reindeer (CBS)
The Johnny Marks song comes alive as Rudolph gets bullied but prevails as the hero with a bunch of new, loyal friends that help Santa Claus through a bad storm on Christmas Eve.
8/7c 9-1-1 (FOX)
Tis the season for holiday-themed accidents. Shortly after we got a taste of them on The Resident, they're coming to 9-1-1.
They include a shopper pushed over the edge (hey, Black Friday isn't even a big deal anymore, amiright?), a woman who is literally having a "blue Christmas," and a luggage handler accident on the tarmac.
Elsewhere, Maddie revisits her past to embrace her future, and Bobby receives shocking news.
8/7c The Great Christmas Light Fight (ABC)
Can any of the latest families in the great fight make the Griswolds proud?
10/9c Making It (NBC)
Clear your schedule for Amy Poehler and Nick Offerman because they're going all-holidays for their second season.
Making It Season 2 is holiday-themed (although what holidays or all of them, who knows?) and airs this week from Monday-Thursday and next week from Monday-Wednesday.
Tuesday, December 3
8/7c The Resident (FOX)
The midseason finale of The Resident delivers in ways you can't even imagine.
How far will Red Rock go to take down Conrad as they attempt to conquer Chastain?
8/7c Brad Paisley Thinks He's Special (ABC)
If there's one thing I know after talking with Brad's wife, Kimberly Williams Paisley, their entire family is special, so this should be a fun ... special!
And hey, there is a Jonas Brothers spotting in the trailer!
9/8c CMA Country Christmas (ABC)
Hot on Brad's heels is an entire lineup just to treat fans to a little Christmas cheer.
9/8c Arrow (The CW)
The entire gang returns to Lian Yu in this final episode before the Crisis on Infinite Earths.
You know what that means, right? There are only four episodes left to the series that began the Arrowverse on The CW.
Wednesday, December 4
8/7c 87th Annual Christmas in Rockefeller Center (NBC)
The Macy's Thanksgiving Day Parade is big, sure, but not as big as the Christmas tree in Rockefeller Center!
Get even more holiday spirit with this annual celebration.
9/8c The Moodys (FOX)
I reviewed this stellar entry into your holiday programming, so don't miss Denis Leary, Elizabeth Perkins, and Jay Baruchel as they get The Moody family through Christmas.
There are two episodes airing tonight and the remaining six episodes will air next Monday and Tuesday. It's well worth your time. Read our review of The Moodys for more.
Thursday, December 5
It's a The Vampire Diaries Reunion! The Salvatore brothers both return to TV today.
V Wars (Netflix)
Ian Somerhalder leads this adaption of Jonathan Maberry's vampire comics in which a genetically mutated outbreak leads to the first vampire vs. human war.
The series that is not available for critics to review beforehand, and the only clip I've seen isn't scintillating, so that's a bit troubling.
What isn't troubling is that Ian is still having a blast doing what he does -- looking hot and being personable. Check out his ideas for a DIY vampire hunter kit (can you believe he'd hunt his own brother??).
9 a.m. Tell Me a Story (CBS All Access)
It's time to revisit the twisted fairytales brought to you from Kevin Williamson.
Paul Wesley and Danielle Campbell are joined by new cast members Carrie-Ann Moss, Odette Annable, and Matt Lauria in the adaptation of Cinderella, Beauty and the Beast, and Sleeping Beauty.
8/7c A Charlie Brown Christmas (ABC)
Linus helps Charlie Brown understand the meaning of Christmas beyond presents and lights, and later Charlie Brown Christmas Tales features a vignette of each Peanuts' character.
9/8c Same Time, Next Christmas (ABC)
ABC offers an original Christmas movie starring Leah Michele and Charles Davis.
Sparks fly between a young woman and her childhood sweetheart when they reunite at the same Hawaiian resort where they met years earlier.
Friday, December 6
Fuller House (Netflix)
The fifth and final season of Fuller House begins streaming. Get ready to wipe your eyes!
The Marvelous Mrs. Maisel (Amazon Prime Video)
What treats will come as a result of Midge's decision to tour the world with her show?
Will Midge and Joel divorce? How long will Susie tour with Midge? Surely, all will be revealed during The Marvelous Mrs. Maisel Season 3
Reprisal (Hulu)
Hulu drops all ten episodes of this revenge series, starring Abigail Spencer as a woman pretty angry to have been left for dead. As you would.
Truth Be Told (Apple TV+)
Octavia Spencer stars in this adaptation of Kathleen Barber's true-crime novel, Are You Sleeping.
Reese Witherspoon produces and Serial Host Sarah Koenig consulted on the series about a podcast host (Spencer) revisits a case in which she made an impact imprisoning the accused (Aaron Paul) in the murder of a husband and father of two (played by Lizzy Caplan in a duel role).
Elizabeth Perkins, Mekhi Phifer, Annabella Sciorra, and Ron Cephas Jones also star.
8/7c A Storybook Christmas (Lifetime)
If event planner Celeste Everett (Ali Liebert) is going to save her business and give her niece a happy Christmas season, she is going to need help.
When the nanny she hires turns out to be a man (Jake Epstein), Celeste surprisingly realizes she may have also found Christmas love for herself.
Saturday, December 7
6/7c Mistletoe and Menorahs (Lifetime)
This one gets an early premiere, but hey, Menorahs are in the title, so we'll take it! There isn't enough Hanukkah on television.
When a determined toy company executive, Christy, must learn about Hanukkah in a hurry in order to land a big account, she enlists the help of her co-worker's friend Jonathan, who happens to also be in desperate need of turning his bachelor pad into a Christmas Wonderland to impress his girlfriend's father.
8/7c A Christmas Love Story (Hallmark)
Kristin Chenoweth is a youth choir director who needs to write a big song for a Christmas Eve show but gets distracted when a boy with a golden voice joins her choir, something that comes as a surprise to his father, played by Scott Wolf.
This isn't just any Hallmark holiday movie, but a Hallmark Hall of Fame production.
8/7c Christmas Unleashed (Lifetime)
When Becca's (Vanessa Lachey) dog runs away on Christmas Eve, she must team up with her ex-boyfriend Max (Christopher Russell) to find him.
As the pup leads the exes on an all-day-and-night search through their North Carolina hometown, they revisit people, places and things that remind them of the Christmas pasts they spent together.
Carissa Pavlica is the managing editor and a staff writer and critic for TV Fanatic. She's a member of the Critic's Choice Association, enjoys mentoring writers, conversing with cats, and passionately discussing the nuances of television and film with anyone who will listen. Follow her on Twitter and email her here at TV Fanatic.